| | |
| --- | --- |
| Chicago Cubs: Fly the W, Hendricks stellar, Bryzzo hits, injury updates, Chatwood to start, and more | |
---
| | | |
| --- | --- | --- |
| Saturday, April 20, 2019, 8:25 AM | | |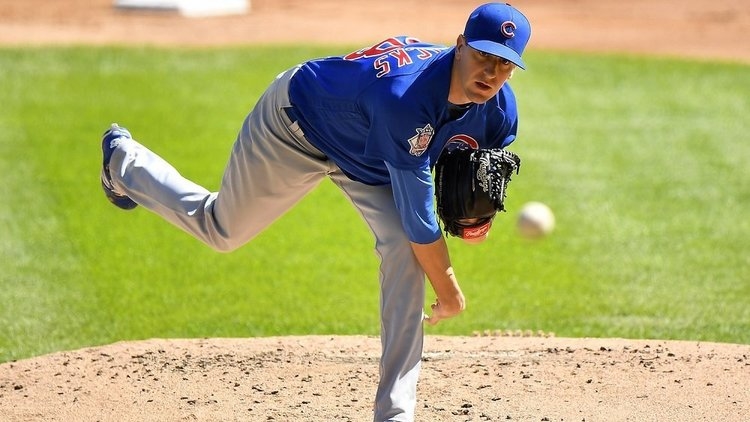 Next Game: Today: 1:20 PM, D-Backs vs Cubs. Zack Greinke (2-1, 5.79 ERA) vs RHP Yu Darvish (1-2, 6.11 ERA)
CUBS NEWS AND NOTES:
Friday's Game Recap: Arizona (10-9), coming off a sweep of the Braves, traveled to Wrigley Field yesterday to begin a 3-game set with the Cubs (8-9). RHP Merrill Kelly (1-1, 3.79 ERA) was sent to the mound for the D-Backs, to face-off against a struggling Kyle Hendricks (0-3, 5.40 ERA).
In short, Hendricks was brilliant, lasting 7.0 shutout innings, and the offense was chugging away, seeing even the most slumping members of the offense hitting the ball. If the bullpen hadn't given up a run in the ninth, this would have been the Cubs' third consecutive shutout, but it is what it is, and in the end, the Cubs flew the W for a fourth straight game.
Final score 5-1

D-Backs/Cubs Probable Pitchers: Sunday: Robbie Ray (0-1, 3.52 ERA) vs RHP Tyler Chatwood (0.0, 6.00 ERA).
The Professor: Kyle Hendricks broke out of his slump today, looking both fantastic and dominant in 7.0 innings of work. Until yesterday, Hendricks had been dealing with a control issue during each of his first three starts. Not that he couldn't hit the strike zone, as he'd only walked only five guys all year, but rather because he couldn't keep balls out of the strike zone. With Hendricks' lack of velocity, he relies heavily on being able to paint the corners and edges of the zone, but until yesterday, everything he tossed hung in the zone, and hitters made him pay the price.
Before yesterday, Hendricks' longest appearance this season was only innings, but being able to control where his pitches hit the zone bought him a couple of extra innings, tossing exactly 100 pitches. With his 11 punch-outs yesterday, Hendricks more than doubled his strikeouts for the year, as he'd only fanned a total of 10 in his three previous outings. The last time Hendricks rang-up 10 Ks in a single game was August 13, 2016. He should have whiffed two additional men yesterday, but a couple of bad calls (not egregiously wrong) cost him a pair of Ks, with one of those calls resulting in a walk. Hendricks also had one wild-pitch yesterday, his first in the last 6,640 tosses to the plate.
Advanced Placement. #EverybodyIn pic.twitter.com/dLAXZBFn9J

— Chicago Cubs (@Cubs) April 19, 2019
What slump? Three out of four of the Cubs' slumping batsmen came to life yesterday: Anthony Rizzo: 1 for 2 with an RBI triple (the Cubs 1st triple of the season); Kris Bryant: 2 for 4 with a pair of RBIs and a walk; Kyle Schwarber: 1 for 3 with a walk. Albert Almora came in late to play CF but did not receive an at-bat.
Triple trouble! #EverybodyIn pic.twitter.com/ImKiuZZsAh

— Chicago Cubs (@Cubs) April 19, 2019
Chatwood to start: After losing the opportunity for a start last Sunday, Tyler Chatwood is about to get another shot at it. Joe Maddon has elected to start Chatwood on Sunday (vs. Arizona) instead of Jose Quintana, who was initially scheduled as the starter. The Cubs are off again on Monday, then Q will be used on Tuesday for the opener vs. the Dodgers.
Maddon's decision to use Chatty (which was pretty brilliant), was based on the fact that the D-Backs are only hitting .248 with a .758 OPS against right-handers, while they've hit .304 with a .881 OPS against lefties. In contrast, the Dodgers are hitting just .258 against southpaws (.825 OPS) but are tagging right-handers for a .274 average with a .884 OPS.
Of Note: Between Hendricks, Steve Cishek, Brad Brach and Pedro Strop, Maddon fed the D-backs a steady diet of nothing but righties yesterday, and Arizona only ended up batting .212 (7 for 33) as a team.
Injury Update: Mike Montgomery will have one more rehab assignment before returning the team, while Jon Lester is said to be progressing and will throw a sim game soon. Xavier Cedeno (wrist injury) with have another rehab game with the Tennessee Smokies today.
Maddon on Bryant: Kelly Crull (NBC Sports Chicago) asked Joe Maddon about how the slump was wearing on KB, both mentally and physically, to which Maddon said, "I've just seen that he's very pensive. He's constantly thinking about it. After an at-bat, I can see he's looking out there & trying to figure it out. I think he's fine conversationally & handling it pretty well."
Maddon on bat-flips: The Cubs skipper has a little bit of a different take on the celebratory bat-flip:
Cubs manager Joe Maddon is forward thinking in many regards, but he is not on Team Bat Flip... pic.twitter.com/YkgqjN7rjR

— Jordan Bastian (@MLBastian) April 19, 2019
Cubs acknowledge the fans: A team's attitude (and to some degree, success) depends largely on the support of their fans, and the Cubs recognize this:
This place. #EverybodyIn pic.twitter.com/bQnR2hPDUk

— Chicago Cubs (@Cubs) April 19, 2019
Nico Hoerner: Nico Hoerner (SS), a top prospect in the Cubs' system is making a splash. With his three hits on Thursday, Hoerner now has the highest wRC+ (180) in the entire Cubs' farm system. I've said since he was drafted that this kid will be gold, but he's advancing quicker than even I expected.
Yesterday's Cub Birthdays: Happy birthday to ex-Cubs… Nobody. The only other day of the year in which no Cub, past or present, celebrates a birthday is December 28th.
NL CENTRAL SCHEDULE (April 14 – April 20, 2019)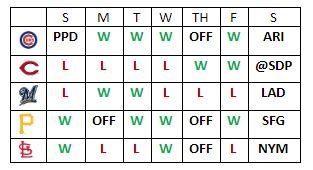 YESTERDAY'S NL CENTRAL SCOREBOARD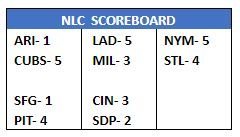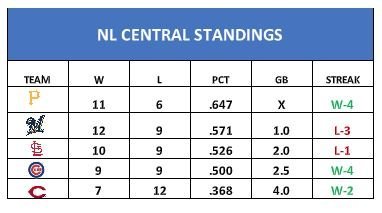 Tags: Cubs Baseball
,
Yu Darvish
,
Kyle Hendricks
,
Tyler Chatwood
,
Anthony Rizzo
,
,
Kyle Schwarber
,
Jose Quintana
,
Steve Cishek
,
Pedro Strop
,
Mike Montgomery
,
,
Xavier Cedeno
,
Addison Russell
,
Joe Maddon