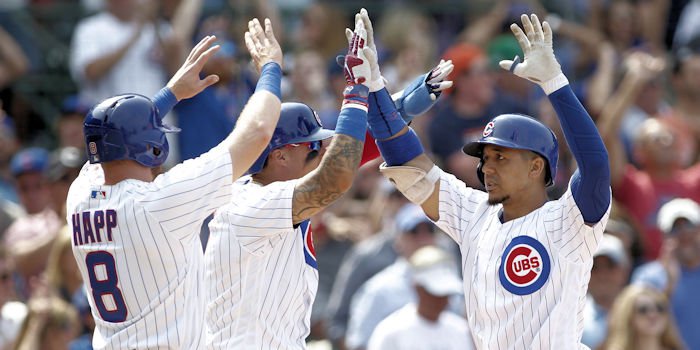 | | |
| --- | --- |
| Jay's pinch-hit homer energizes Cubs comeback win | |
---
CHICAGO -- The Cubs finally had a big-time comeback with reserve outfielder Jon Jay and rookie Ian Happ starring in prime roles during Wednesday afternoon's 7-3 win against the Tampa Bay Rays.
The Rays got off to a fast start in the first inning with third baseman Eva Longoria's RBI single on a ground ball to centerfield to score Mallex Smith to go up 1-0 over the Cubs. In the third inning, Corey Dickerson hit his 22nd double of the season to score Smith again to put the Rays up 2-0. The Rays were not finished adding insurance runs as Longoria added a sacrifice Fly to score Smith for a Rays' 3-0 lead.
Smith scored all of the Rays' first three runs of the game.
The Cubs were floundering at the plate going 0-for-6 with RISP and stranded seven runners on base through five innings. However, the veteran outfielder Jon Jay came through in the clutch as he smacked a three-run pinch-hit homer in the six-inning to tie the game at 3-3. He received a curtain call after his second homer of the season.
Jay is 11-for-28 (.393) as a pinch-hitter this year for his new team. He is only one hit behind the National League league in pinch-hits for the season.
Jay's exploits helped John Lackey off the hook for another loss in a Cubs uniform in 2017. Lackey pitched decent going six strong innings giving up six hits, three runs, and three strikeouts to lower his season ERA to a ridiculously high 5.20. The encouraging part of Lackey's performance is that he didn't allow a homer during his start.
The team continued to show offensive life in the seventh inning with a two-run single by rookie sensation Ian Happ to score Anthony Rizzo and Kris Bryant to make the score 5-3 in favor of the Northsiders.
It got quite dicey for the Cubs in the eighth inning but reliever Koji Uehara got out of a huge jam with a strikeout on Evan Longoria to end the threat. Uehara is certainly the Achilles heel for Longoria as the star infielder has struck out thirteen times in only twenty-five at-bats against Uehara.
Rizzo added two important insurance runs in the ninth inning with a two-run double in the gap to put the Cubs up 7-3.
All-Star representative Wade Davis shut down the Rays in the ninth inning.