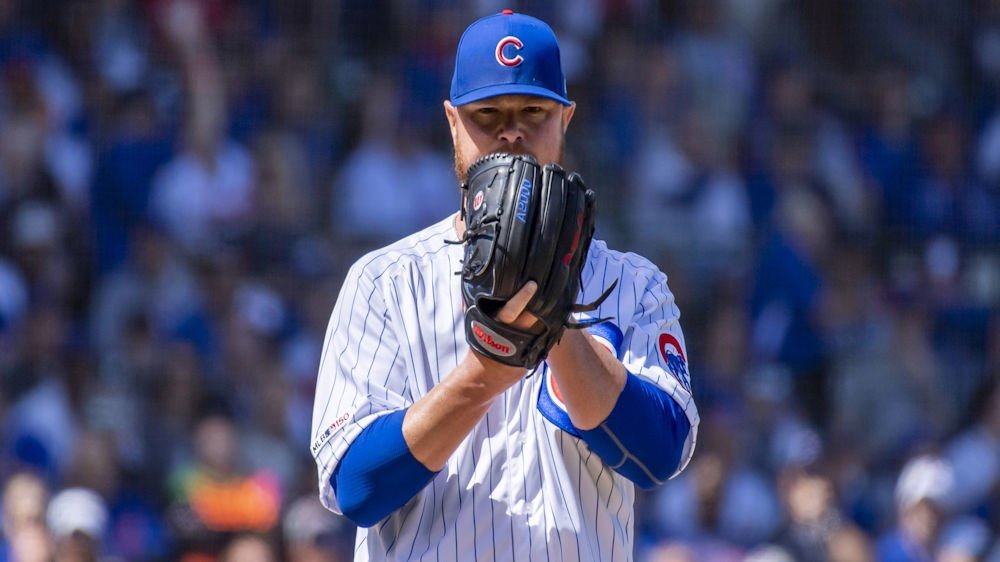 | | |
| --- | --- |
| Jon Lester clobbered in Cubs' loss, Bryzzo at work, Vandalism at Wrigley, more | |
---
Next Game: Today, 1:20 PM CDT: Reds @ Cubs. RHP Anthony DeSclafani (2-2, 4.60 ERA) vs RHP Kyle Hendricks (4-4, 3.21 ERA).
CUBS NEWS AND NOTES:
Thursday's Game Recap: In the final game of the series, Jon Lester took to the mound to square-off against Aaron Nola for the Phils. If you thought Lester's last outing was rough (10 hits, 5 ER, 1 HR, three strikeouts and two walks in 4.1 innings), it was nothing compared to this one. By the time the top of the fourth ended, Lester was done for the day, having given up seven runs (4 ER), seven hits, two homers, and a walk. He did strike out five, but that's almost trivial in the grand scheme of things.
The Cubs' offense worked hard at a comeback, but they couldn't produce enough. The Cubs scored their first pair on Anthony Rizzo's double in the fourth, then added another one when Albert Almora, Jr. grounded into a double play with nobody out. The Cubs would go dormant until the bottom of the seventh (now trailing 8-3), but they weren't done yet. Chicago would grab another pair of runs on Kyle Schwarber's no-doubter to right, then two batters later, Rizzo went deep (no property damage this time). With runners on first and second in the ninth, Tyler Chatwood hit a bonafide double to left for the Cubs final RBI of the day, but it wasn't enough. Final score: Phillies-9; Cubs-7.

Cubs/Reds Probable Pitchers: SATURDAY (1:20 PM) RHP Tyler Mahle (1-5, 3.51 ERA) vs RHP Yu Darvish (2-3, 5.06 ERA). SUNDAY (2:20 PM): RHP Tanner Roark (3-3, 3.51 ERA) vs LHP Jose Quintana (4-3, 3.30 ERA).
Rotation woes: What is going on with this starting rotation all of a sudden? A bad outing or two is one thing, but this is becoming habitual. I never thought I'd say this, but in the last ten days, Yu Darvish is the only starter who's had a quality start. Walks hit, and runs are being given up faster than I've ever seen out of these guys, and I have no explanation for the sudden turnaround. I could see one guy slumping, but four?
Time for technology: I have argued, perhaps as much as anyone, that baseball had absolutely no place for more technology, especially when it comes to having an electronic strike zone. After watching I don't know how many egregious calls yesterday, I've changed my mind.
Jason Heyward had walked four times yesterday (most of the 16 balls called were actually balls), but as the Cubs were hurting for base-runners in the ninth, what should have been Heyward's fifth walk of the game, turned into a strikeout. J-Hey had no problem displaying his displeasure in the matter, promptly shattering his bat across his knee. StatCast may be shedding light on just how terrible home-plate umps are these days, but MLB needs to do something to ensure consistency. Human error adds to the excitement, but this is getting ridiculous.
.@Cubs lose 9-7 after several exciting comeback attempts. Cincy in for the weekend at Wrigley. #GoCubsGo pic.twitter.com/1qr68KJuBX

— Billy Krumb (@ClubhouseCancer) May 23, 2019
Cubs Charities: Cubs Charities and McCormick are working hard to make a difference across the Windy City.
#CubsCharities and the @McCormick_Fdn celebrated a commitment of more than $1.5 million to 63 organizations across Chicago yesterday at the annual Diamond Project Grants Brunch. pic.twitter.com/5Nu4n7EXkf

— Chicago Cubs (@Cubs) May 23, 2019
Cishek's streak: After Wednesday's game, Steve Cishek (the guy who should be considered the Cubs' closer at this point) had gone 13-1/3 innings without allowing a run. He's limited the opponents to a .133 average and a .353 OPS during the streak and held them to an average exit velocity of just 80.5 mph, which is the lowest mark for any pitcher who's had a minimum of 50 balls put into play.
Bryzzo rockin' the bats: Take a look at the power Bryzzo has produced since April 19: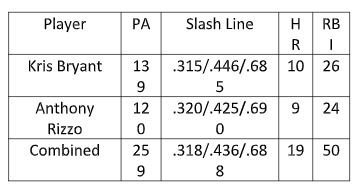 Vandalism at Wrigley: According to the Cubs, a 29-year-old, south-Florida man vandalized the video board at Wrigley Field on Wednesday night. No arrests have been made, but local authorities do know his identity.
Florida man vandalizes Wrigley Field video board. pic.twitter.com/g9tORMNKvB

— Chicago Cubs (@Cubs) May 23, 2019
Cub Birthdays: Celebrating yesterday were ex-Cubs Ramón Ortiz (46), Ricky Gutiérrez (49), and posthumously, Augie Galán (107), Herbert "Duke" Brett (119), and Algie McBride (150).
What is LA putting in the water? From 2014 through 2018, Tommy La Stella had a total of 828 at-bats, in which time he hit a total of ten home runs. Fast forward to 2019: 139 at-bats, 12 homers including a grand-slam yesterday. Nice job, 3-AM.
NL CENTRAL SCHEDULE (May 19 – May 25, 2019)
(Wins are in green, losses in red)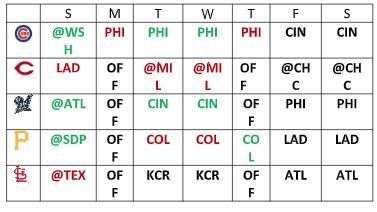 YESTERDAY'S NL CENTRAL SCOREBOARD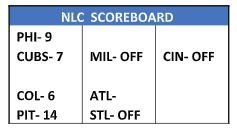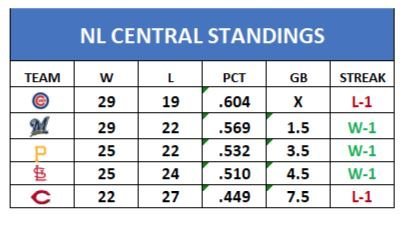 Tags: Cubs Baseball
,
,
Kyle Hendricks
,
Anthony Rizzo
,
Kyle Schwarber
,
Tyler Chatwood
,
Yu Darvish
,
Jose Quintana
,
Jason Heyward
,
Steve Cishek
,
Tommy La Stella