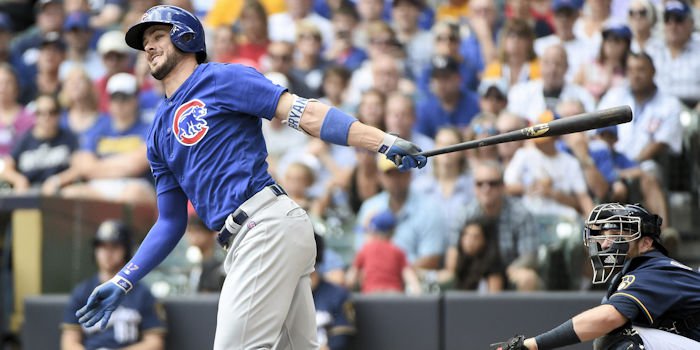 | | |
| --- | --- |
| Kris Bryant ready to bat leadoff for Cubs | |
---
CHICAGO -- It seems like Deja Vu all over again.
One of the burning questions of last season was unsolved and carries over into this season once again. Who is going to bat leadoff for the Chicago Cubs? It's reached a point where the possibility of 2016 NL MVP Kris Bryant may be an option.
"I'll do it," third baseman Kris Bryant said via Paul Sullivan of the Chicago Tribune. "I'd love to. I did it in college. My whole junior year (at the University of San Diego), I was leadoff."
Though I do not think Bryant leading off for the Cubs would be in the best interest of the team, it may be something we see this year if the Cubs need a pick me up in that spot in the order. Bryant wouldn't be the worst man for the job either. He is a patient hitter who always seems to get into deep counts more often than not and boasted a .385 OBP in 2016 and a .409 OBP last year. However as Bryant is arguably the best batter in the Cubs lineup, new wisdom says he should be batting in the two hole.
This, of course, would mean that the Cubs would need a productive leadoff hitter. Who will fill that void remains to be seen, although there are a few candidates out there that could be the guy next year.
Kyle Schwarber: This is the guy who was supposed to be the guy last year, but it didn't seem to pan out for Schwarber. In his first full season in the majors, he got sent down to AAA and had a skeleton .211 average and a .315 OBP. Though in the second half of the year he posted a .344 OBP. Plus if you have been following the Cubs this offseason you know that Schwarber has worked hard, slimmed down and seems poised for the breakout year we all thought was coming in 2017.
Albert Almora Jr.: Another possible "in-house candidate" for the position is another player that I thought was going to play a bigger role in the Chicago Cubs in 2017 is Albert Almora Jr. When the Cubs brought in Jon Jay, I liked the move as someone who could mentor a young outfielder like Almora, and at some point, I thought Almora could and would have been the everyday Center Fielder for the Chicago Cubs by seasons end. Make no mistake though I believe Almora did take quite a few steps forward this year and like Schwarber came on stronger as the season progressed posting a .343 OBP
and a 156 WRC+ in the final month of the season in 49 At Bats. He could very well take a step forward this year and earn a spot.
Lorenzo Cain: Lorenzo Cain is an interesting piece to discuss. There are hot stove rumors that the Cubs currently have a three-year deal on the table for Cain. Though to fill this spot in the lineup may be a challenge for Cain should he and the Cubs mutually agree on a contract. Cain last year had a decent .363 OBP and a .300 AVG. He had a WRC+ of 115. The issue with him batting leadoff is he hasn't hit leadoff since 2014 for the Royals and only had a BB% of 8.4. However, Cain can surprise people and perhaps change his approach for the Cubs while earning the leadoff and center field spot.
Either way, you slice it, it's not clear-cut who is going to fill that spot for the Cubs, it will be interesting to watch it all play out this spring training and early on in the year. Hopefully the Cubs can find some stability this season otherwise it may be rough sailing once again for the North Siders.