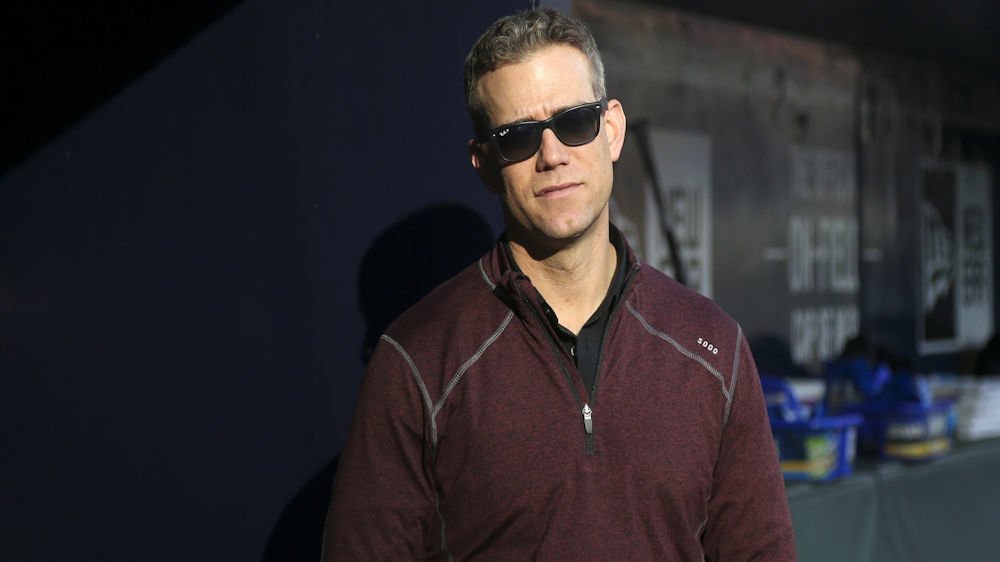 | | |
| --- | --- |
| Maybe Next Year- Part-6: The Cubs' payroll remains an obstacle | |
---
As I sat here and poured over the Cubs' wants, needs, and commitments, I began to realize that somehow, the numbers don't add up. The Cubs can certainly keep Nicholas Castellanos if they shave enough salary, and they might even get Gerrit Cole, but I can't see them having nearly enough money to fill every void the team has.
Payroll Commitments
Chicago has already committed roughly $110 million to eight players next season: Yu Darvish, Jon Lester, Jason Heyward, Craig Kimbrel, Kyle Hendricks, Tyler Chatwood, Daniel Descalso, and David Bote. Another $31M will be spent to pick up the 2020 team options for Anthony Rizzo and José Quintana, with still another $3M being spent on buying out Brandon Morrow.
Even if Tom Ricketts were to open his checkbook to the tune of another $225M in 2020, the Cubs still wouldn't be starting this winter with a ton of extra cash.
Let's assume for just a minute that the Cubs scrub every player that I mentioned earlier (including Kris Bryant); the net result would be approximately $87.1M shaved off the books. Please note below, that Brandon Morrow's $3M buyout was subtracted from the $12M he'd have received for playing in 2020.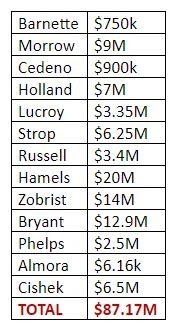 Kyle Schwarber will earn a raise through arbitration this winter, and while Javier Baez was also due for arbitration, the Cubs have said they want to extend him. With the Cubs already committed to $141M, you can expect Schwarbs to grab at least $5.5M in a pre-arbitration settlement and even on a deal with a graduated pay scale, Nicholas Castellanos is going to rake at least $20M in 2020.
Now sitting at roughly $166.5M in salary earmarks, Theo and the Cubs can rest assured that Javy won't sign a deal nearly as team-friendly as the one David Bote signed last winter. Even on a deal structured with a "less now, more later" approach, I'd think Javy would still rake a minimum of $10M to start any multi-year extension, and that's probably being conservative. At $10M for Javy, the Cubs' payroll would stand at roughly $176.5M, and they still haven't paid Willson Contreras, Victor Caratini, Ian Happ, Nico Hoerner, Tony Kemp or any of their remaining bullpen arms, among others.
If every other remaining player on my list earned their 2019 salary plus only an additional 10% (to cover raises in the league minimums or new contract agreements), you'd be adding another $16.766M, bringing the total payroll to $193,266,200.00. Oh, by the way, 10% is extremely conservative.
If Chicago chooses to keep Kendall Graveman, it'll cost them another $3M. They must have seen something they liked about him, as they paid him $575k to convalesce in Iowa this season, after undergoing Tommy John surgery last year. Even if the Cubs find the answer to replacing Hamels, I can't see Graveman going anywhere (assuming he shows promise), as he's only 28 years old. Jon Lester will be retiring in the next year or two, and while I'm not suggesting that Graveman can fill those shoes, I am suggesting that he could help the Cubs trend toward a younger starting rotation.
I mentioned an extension for Anthony Rizzo earlier, but as I run the numbers, it becomes more and more evident that such a project might have to wait. Chicago could feasibly bypass an extension for Rizz this year, but the team will run out of options on him after 2021; then what? This isn't something the Cubs should wait on, but then again, money only goes so far.
That places Chicago's payroll at approximately $196.3M, without ever signing a leadoff hitter or any additional relief help, which is where trades for players like Kris Bryant would almost have to come into play. Unfortunately, the Cubs don't have many players with a lot of trade value, making Kris Bryant that much more valuable as a trade piece. There's a ton of names out there on the free-agent list, and virtually no player is untouchable, that is, if the Cubs are willing to deal enough pieces to acquire him.
Guess what? The competitive balance tax (also known as the luxury tax) had a $206M ceiling for 2019. That figure does increase in 2020, but only by another $2M, meaning the Cubs have just about $11.7M to spend, before crossing the line again. Tom Ricketts will spend to stay competitive, but just how much is only known by Tom and the rest of the upper echelon at 1060 W. Addison.
The tax isn't cheap and escalates each (consecutive) year that a team crosses the line. The rule, as per MLB.com states, A club exceeding the Competitive Balance Tax threshold for the first time must pay a 20 percent tax on all overages. A club exceeding the limit for a second consecutive season will see that figure rise to 30 percent, and three or more straight seasons of exceeding the threshold comes with a 50 percent luxury tax. To make matters worse, there are also tax surcharges depending on just how far you cross that line. This all reminds me of a sign that I saw in a racing shop when I was younger: "Speed costs money; how fast do you want to go?"
I suppose Theo could get rid of Kendall Graveman and save three-million bucks, but then again, he may just decide to keep Pedro Strop and cost himself an additional three-mil. This time of the year is exciting, but I don't envy Theo for some of the risks that he's about to take. The Cubs have (or at least had) a great group, but Epstein has vowed that changes are coming. When he says that he "hopes to see both KB and Javy in Cubs' uniforms next year," it should serve as a warning that things will happen this winter.
The possibilities are endless, but just know this: The Cubs still have some serious financial baggage to worry about as they proceed into the market while hunting for players.
Stop back tomorrow for the finale to this series.

Upgrade Your Account
Unlock premium boards and exclusive features (e.g. ad-free) by upgrading your account today.
Upgrade Now

Tags: Cubs Baseball
,
Yu Darvish
,
,
Jason Heyward
,
Kyle Hendricks
,
Tyler Chatwood
,
Daniel Descalso
,
David Bote
,
Anthony Rizzo
,
Brandon Morrow
,
,
Kyle Schwarber
,
,
Willson Contreras
,
Victor Caratini
,
,
Kendall Graveman
,
Pedro Strop