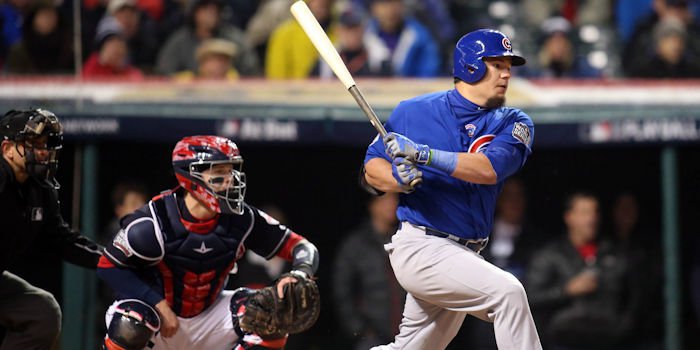 | | |
| --- | --- |
| Possible acquisitions for Cubs outfield in 2017 | |
---
CHICAGO -- After a recent article discussing potential starters and relievers the Cubs could go after, I thought I'd take a closer look at the other position the Cubs have a "hole" in: center field. With Dexter Fowler likely to sign with a different team in the offseason, the Cubs will need to look for someone else not only for the leadoff spot, but to also lead the outfield.
It is important to note that the Cubs already have plenty of outfielders set for 2017. With Kyle Schwarber healthy and Albert Almora looking better and better, it is likely that the Cubs do not go with any more at all. Either way, they will still be the favorites to win the division, and likely the pennant. While it would be a dream to have Yoenis Cespedes, there are some other outfielders that the Cubs can get for pretty cheap. Also, many outfielders could be traded and there are so many different options in this year's market, so why not take a look at them?
Potential OF backups
Austin Jackson (last played for the White Sox): Remember Austin Jackson? The Cubs traded for him late in the 2015 season, making a spot on the postseason roster. In his early days with the Detroit Tigers, Jackson was one of the brightest younger players in the start of the decade. In his first four seasons, he amounted to a cumulative 19 WAR, but since then he has been set back from a ton of injuries. He had a good start with the White Sox this year but went down with another injury. At 29 years old, he is one of the youngest outfielders in this year's market as well. The Cubs can get him for under $10 million for a year, and have a club option if he stays healthy.
Jon Jay (last played for the Padres): Jon Jay batted .291/.339/.389 before breaking his forearm in June. A solid player for the Cardinals the past few years, Jay is primarily a center fielder but has played very well in right field before. Jay is in an interesting position because he could break out and be a starter, but he will need to prove it at the start of the year. Think of him as another Matt Szczur-like player.
I like both of these guys because they are also leadoff hitters. Austin Jackson spent the majority of his career batting leadoff, while Jay bats either 1st or 2nd in the order. Jay might be a better sale as well – the Cubs could sign him for two years and $12-14 million.
High Risk, High Reward
Carlos Gomez (last played for the Rangers): Carlos Gomez is a fascinating case heading into 2017. In 2013 with the Milwaukee Brewers, Gomez was one of the best players in the National League. Not only was he good offensively, but he was the best defensive outfielder that year. When he was traded with Mike Fiers to the Astros for four prospects, the Astros thought that they were getting a great center fielder in the deal. But all of that collapsed, and by the middle of last season, Gomez was released. The Texas Rangers decided to take a chance on him, and he showed some signs of what he was like in the past. Gomez went from a superstar to below replacement level but found a renaissance this past September.
Gomez will try to secure a multiyear deal, but he could settle for a one-year contract to rebuild value. He will be in the $12 million per year range, no matter how many years he receives.
Ian Desmond (last played with the Rangers): Ian Desmond will be the highest paid player on this list. Desmond was a great shortstop for the Nationals before batting .233 in 2015 and signing a one-year deal to rebuild some value with the Rangers. In Texas, he switched to the outfield since they have Elvis Andrus at short, and became one of the best players in Arlington.

Upgrade Your Account
Unlock premium boards and exclusive features (e.g. ad-free) by upgrading your account today.
Upgrade Now