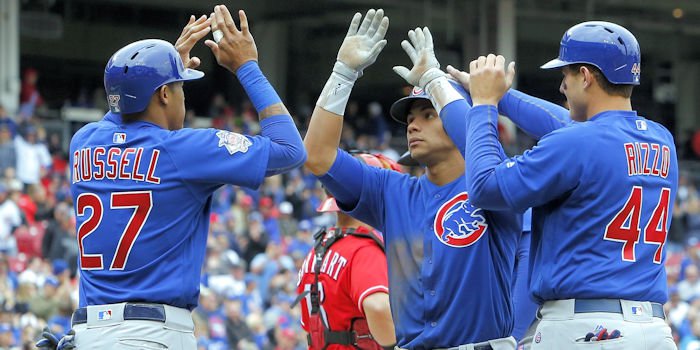 | | |
| --- | --- |
| Possible trade deadline deals for the Cubs | |
---
CHICAGO -- Yu Darvish, Sonny Gray, a week or two back Justin Verlander, and even from some outlets, Chris Archer were tied to the Cubs in trade rumors. However, the Cubs really should focus on is relief pitching, and if they can find the right match, a backup catcher as well.
Or if you want to overspend for a pitcher really…follow the current trend: Yu Darvish was just the fifth pitcher to complete a game the other day, or go more than eight innings at all for that matter, among all of Major League Baseball in the 2017 season. We are headed towards bullpens that will deploy former closers or closers from a year ago and setup men who could close for 25 other teams…so if the Cubs want to unload, and really mean business, why not Zach Britton? He has been named and attached to a lot of teams—including the Cubs. Levels of interest aren't really known, nor are what it would take to pry him from Baltimore and bring him to the Northside, or if the Cubs have the prospects and would even be willing to meet the demand. But he would be a much more valuable pickup in the short and potentially long-term in the day of your six inning starters and bridge men to your closer. If Davis walks, retaining Britton for next year could be an option. This is, of course, the most expensive of all names in the pen being linked to the Cubs, but they pulled off the blockbuster for Chapman last season, and I'm done putting anything past Theo until the trade deadline.
Some much less expensive names are being linked and talked about right now including Miami Marlins closer, 30-year-old A.J. Ramos, who currently is not having the best season of his career, but still boasts respectable numbers with 18 saves, 3.96 ERA, 1.27 WHIP, and 45/19 K/BB ratio over 36.1 IP.
Another option would be lefty-reliever and current everyday Tigers closer Justin Wilson, who is having a fantastic season and would be a great late-innings option for the 7th or 8th inning. He can do more than just get lefties out—as he has been even better against righties, allowing a .120 AVG over 92 AB, opposed to a .243 over 37 to LHB, which is nothing to frown about either. He has converted 11 out of 13 save opportunities since being thrust into the role, but similar to Ramos, if acquired would slide into a late-inning setup role behind Wade Davis. Other Tigers players, Catcher Alex Avila, as well as starter Justin Verlander, are both known to be on the block, and it wouldn't be wise to completely put it past Theo to pull a fast-one, but it is more likely the Cubs would try for a tandem deal with Avila and Wilson as opposed to dealing for Verlander at this point in time.
The Phillies' Pat Neshek is another option that has been talked about or suggested, as they look to sell and he is a prime candidate to be changing uniforms again. That doesn't take away from his fantastic year to date out of their pen—he currently sports a minute 1.14 ERA out of the pen over nearly 40 IP (39.1 to be exact), and would instantly improve the Cubs pen. Being a pending free agent and older (36, and turning 37 this September), he could also come at a lesser cost than some of the other options. He is also currently already in a setup role in Philadelphia, and has worked as a setup man for the majority of his career (to great success, sporting a 2.77 ERA and 1.03 WHIP and just about a K per 9 over his big league career which began over 10yrs ago in 2006 with the Twins).
Addison Reed of the Mets would make sense if they chose to sell, but it is still unknown where they stand. Whispers about bringing back Cahill were floated, but I have not heard much since.
Another possibility could be newly-acquired White Sox "closer" Tyler Clippard, who isn't likely to stay very long and could be on the move to another team before the 1st, or perhaps even after the non-waiver deadline. He has had many years of success as a setup man in the past, and while his arm has seen a ton of use, he could still be a helpful piece if the price is right. The crosstown rivals showed that they aren't afraid to do business, or at least the current regimes aren't, so the idea of Clippard joining the Cubs and changing stripes isn't that crazy and he would likely come cheap.
The fact of the matter is, Cubs have seen Rondon and Grimm drop-off tremendously since their 2015 campaigns, and one can wonder how much trust Maddon has in either of them at all right now. Edwards is still young, and I personally can't help but wonder if something isn't wrong with him. Whether mechanical, a minor injury or what, he hasn't looked comfortable on the mound lately. His velocity is there, which would make me think he is healthy, but he's not pitching to his strengths right now and doesn't seem right. He could and should still be a valuable part of this pen in the second-half if he can figure out what is going on.
In my opinion, Cubs should steer the focus away from acquiring another starting pitcher for this run, though it is only fair I touch on the rumors regarding Yu Darvish. They have been linked, and being a rental, he wouldn't cost as much as Quintana did but the farm has already seen a major decrease in its property and assets, which is why I simply have a hard time seeing them having enough pieces to contend with other teams in the mix (Houston Astros) who may have the pieces as well as needed. If the Cubs do look to trade for Yu Darvish, depending on what they have to pony-up they could also inquire about bringing aboard former Brewers catcher Jonathan Lucroy, who is currently having a down year and is a pending free-agent but is very familiar with the NL Central from his time with the Brew-Crew. A change of scenery and pennant race could awake his bat, and he could make for a nice tandem in pair with Contreras the rest of the way. He has not been linked to the Cubs, but if the Yu Darvish rumors mean anything, it would be logical to think they could try to pursue adding a catcher in the deal as well, and he makes a lot of sense on a buy-low/rental scenario since the Cubs still need a backup for the stretch-run. He wouldn't command much extra, if at all, and the Cubs could potentially help them by taking on salary for the rest of the year. Just food for thought, though—there has not really been any connection other than the fact the Cubs could use a veteran backup still, and Lucroy fits the mold and knows the division well.
Personally, I think a deal for Justin Wilson and Alex Avila makes sense, and they should be on the phone and working on that as soon as they can, but Wilson has also been linked to a number of other teams. Throw in the fact that he would be more than just a rental for the year, and Detroit's asking price may yet prove too high in the end. Avila's resurgence may also have the Tigers asking for more than the Cubs will want to give up for a back-up to Contreras, but that remains to be seen.
It should be interesting to see what the Cubs 25-man ultimately looks like come August 1st, as they have been linked to big fish but may end up dipping into the smaller pond and still walk away winners, knowing the moves Theo seems to make when we least expect it.
Realistically, anything can happen, but I would say I'd definitely expect The Cubs bullpen to be altered by the trade deadline, and in more ways than just addition—subtraction may be coming as well, as it takes something to get something (who knows—maybe guys like Rondon and Edwards may be part of a package, or even Montgomery)?
The simple fact is this: the Cubs bullpen is not good enough to win a World Series even with Wade Davis as dominant as he has been this season if you can't bridge innings 6-through-9 and six is about what you can expect from starting pitching in the regular season these days. A 1-4 of Lester, Arrieta, Quintana, and Hendricks in the playoffs works. Trust in guys like Rondon and Grimm has to be waning, and it is hard to imagine Maddon running them out there game after game. One thing is for sure: for better or worse, as we sit on July 24th, the season feels more like it is just getting started than halfway done. The Cubs are still very much alive, though, and very much looking to continue to add to the puzzle that may help them reach the playoffs and repeat as World Series champions. I would hope to see some new relievers in Cubby blue by this time next week.