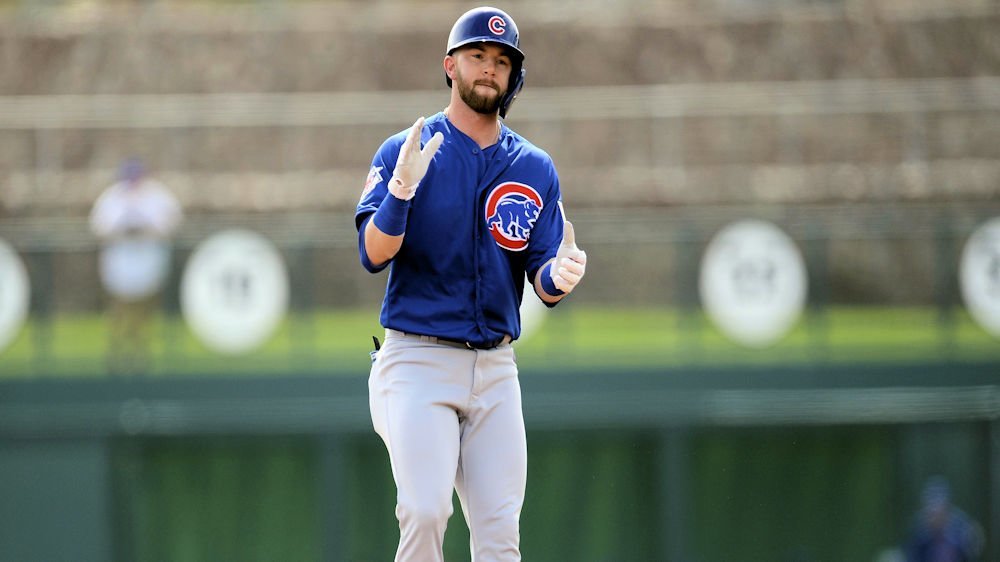 | | |
| --- | --- |
| Report Card Grades: Cubs second basemen prospects | |
---
Yesterday we graded out the second basemen on the Cubs big league roster. Today we will dive into the minor league second baseman, which will be done a little differently. With five teams to cover and so many more players, instead of individual grades, we will grade them as a group for each individual team.
IOWA CUBS: One of the best bright spots for the Iowa Cubs this was undoubtedly the rise of Trent Giambrone. Cub fans got a taste of what he can bring to the table during spring training when he was one of the final cuts before being optioned to Iowa. Once in AAA, Giambrone continued to display his potential leading Iowa in both homers (23) and RBI's (66). His .241 average and lack of overall patience was a concern, but he showed what kind of hitter he could truly be.
Season Grade B: Average aside, Giambrone gets a solid be for a season grade. After putting up a phenomenal spring, Giambrone was optioned to Iowa, where he continued to display the power he showed during spring training. Despite several slumps that saw his average fall near .200 at times, Giambrone always found ways to get out of it, eventually bringing his average up to the .241 mark to finish the season. He could be an interesting trade asset moving forward.
TENNESSEE SMOKIES: The Smokies had their fair share of position players in 2019, but one name that stayed in the lineup everyday was second basemen, VImael Machin. A third baseman by trade, Machin found himself splitting time between second and this season before landing mostly at second as the season went on.
In 117 games for the Smokies, Machin was their best overall hitter, leading the team in batting average (294), tied for the team lead with six homers, and led the Smokies with 61 RBI's in 117 games. That earned him a callup to Iowa for the team's playoff run, where he delivered a .320 average one homer and four RBI's in limited action.
Christian Donahue was another man who saw plenty of playing time at second base in 2019. In his 106 games, Donahue struggled to get hits batting only .208 for the year. His three homers and 28 RBI's were also not the numbers he was expecting, but the Southern League is a tough league to hit in for developing players.
Season Grade B: The Smokies get a B for second base mainly because Machin would have gotten an A. He was by far the team's best hitter in 2019, which is why he stayed in the lineup daily. Even though Donahue did struggle to put things together this season, he managed to pick up some clutch hits throughout the year, which is why I gave him a generous C grade. Donahue will have a great shot at the everyday job this season as I expect Machin to be permanently in Iowa for 2020.
MYRTLE BEACH PELICANS: Just like Tennessee, Myrtle Beach had a pair of second basemen in Carlos Sepulveda and Delvin Zinn, who played very well in 2019. Let's start with Sepulveda. A patient hitter by nature, Sepulveda did a great job working the count recording 57 walks to go with 75 strikeouts. His 14 steals also made him a minor threat on the bases as he did use his legs to set the offense up.
His biggest downfall in 2019 was lack of power as he went all 112 games without hitting a single homer while driving in 36 runs. His 243 average certainly wasn't the greatest but did remain consistent as Sepulveda could be a top of the lineup guy in the future, mainly in part to his keen eye at the plate.
Zinn, on the other hand, spent the first half of the season with South Bend before his promotion to the Pels. In 64 games with South Bend, Zinn hit a respectable .273 with two homers, 14 RBI's, and 14 stolen bases. In his 53 games for Myrtle Beach, Zinn continued to show solid growth at the plate, hitting .242 with no homers, 13 RBI's to go with 16 more steals. Add those numbers up, and you have a .259, two homers, 27 RBI, and 30 stolen base 2019 campaign.
Season positional grade B+: Once again, the Pelicans land a solid grade for second base as this was one of the better positions in the system. Take the Pelicans, for example, who had two guys that lacked in the power department but possess two things that the major league roster lacked. One of those two things was speed as Zinn legged out 30 stolen bases to finish second in the organization. The other trait was the patience from Sepulveda as he was not afraid to take his walks. Both these players look to be components for 2020 as Zinn should remain in Myrtle Beach with Sepulveda potentially landing in Tennessee.
SOUTH BEND CUBS: South Bend was the team that had the most success in 2019, earning a Midwest League championship. The Cubs achieved this goal mainly because of the plethora of players that came and went through the season, but no matter who was on the roster, one thing was for sure, and that was everyone could produce during the year.
For the season, South Bend had four players appear at second base, including Clayton Daniel, Yonathan Perlaza, Levi Jordan, and 2019 second-round pick Chase Strumpf. Daniel saw the most time at that position as Jordan shifted to third midway through the season following an injury to Christopher Morel. That move proved to be a pivotal point to the Cubs season as the defense got better, and it kept Daniel in the lineup as the team's everyday leadoff hitter.
Season Grade C+: This was a hard position to grade based on the number of bodies that played games at this spot. Outside of Daniel's consistency, there was not much of anything else from this position until Strumpf came in and delivered down the stretch. I only look for this spot to getter with time as three players could be back on the South Bend roster in 2020, looking to stabilize the second base spot for the future. Strumpf is a name to watch going forward as he has a similar mold to a young Ian Happ without the switch-hitting abilities.
EUGENE EMERALDS: The Emeralds don't have an actual second baseman listed on the roster, so they get an incomplete grade. That doesn't mean they didn't have people playing second base for them. It just means whoever was at that position was promoted during the season hence doesn't earn a grade for Eugene.

Upgrade Your Account
Unlock premium boards and exclusive features (e.g. ad-free) by upgrading your account today.
Upgrade Now