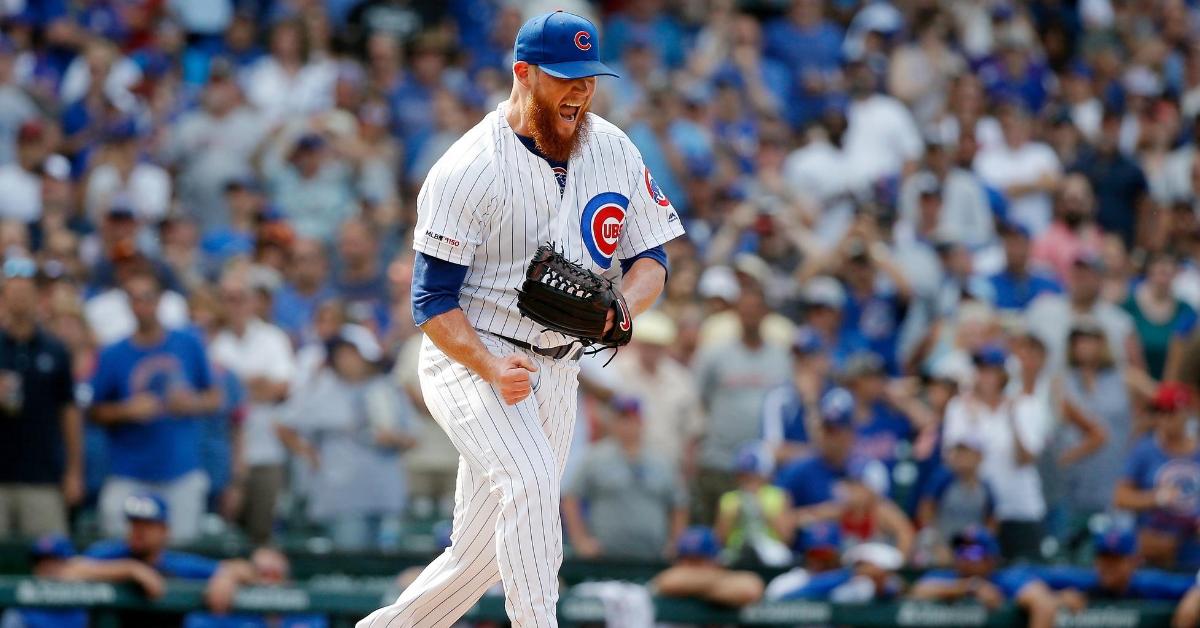 | | |
| --- | --- |
| Cubs News: Report Card Grades: Kimbrel, Morrow, Wick, and more | |
---
The final installment of the season report cards falls on the back end of the bullpen. Or should I say lack thereof? Even before the season started, we knew this was going to be an issue as Brendon Morrow was once again out with an injury, and the Cubs didn't do much to address it until the persistent problem of blowing leads continued.
That forced their hand to sign Craig Kimbrel which at the time looked like a great signing, but proved to be a not so great decision this season as not having a spring training and rushing him through his minor league prep proved to be a disaster for not only him but the team. Kimbrel was never himself this season as the command and velocity never reached where he wanted it to be. Add in some nagging injuries and a high ERA it is safe to say 2019 was a lost season for him as he will look to start 2020 fresh.
Even with this as the Cubs' biggest problem in 2019, two names emerged as diamonds in the rough as they have solidified themselves as future stars in the pen.
Here are my 2019 grades for the Cubs back end of the bullpen.
CRAIG KIMBREL: The prized free agent took a long time to sign as the Cubs plucked him from the field in early June, inking him to a three-year deal with a fourth-year option. Knowing that Kimbrel had no spring training and was without major league hitting in nearly nine months, Chicago expected to bring him up slowly as early-season struggles were adamant.
Not only did the Cubs get away from the script, bringing him up after just six minor league appearances, but his early-season struggles turned in to season-long struggles as Kimbrel was not himself. In only 23 games, Kimbrel blew three saves to tally an 0-4 record. His 6.53 was nearly double than his previous career-high, and his nine homers allowed was also a career-high.
All of that happened in only 20 innings of work as a nagging knee injury followed a sore elbow late in the season made things easy for the Cubs to shut him down. Excited to have a full and regular offseason under his belt again, Kimbrel believes this season was a fluke and aims to get better next year.
Grade D+: I couldn't give this man an F even if I wanted to. After all, it wasn't his fault the Cubs chose to rush him along. It wasn't his fault that he was injured multiple times this season. Sure, the injuries could be blamed for not having a spring, but Kimbrel was working out in some regards, trying to stay in the best shape as possible.
I think signing with the Cubs put him in a bad situation right when he signed on the dotted line. He knows the Cubs would be counting on him to fix the back end of the bullpen that couldn't get it done this season. However, he also knew that by not having a spring, he needed a full month to get to where he needed to be fully. The Cubs felt that ten days and six innings was enough, and I genuinely believe that is the main reason for his failures this season.
BRANDON MORROW: What can you say about Morrow other than utter disappointment. Signed as a free agent in 18, Morrow showed his potential as a closer, posting a sub 2.00 ERA and going 19-21 in saves before an elbow injury ended his season. Following surgery in November, Morrow knew he wouldn't be ready for opening day but had May set as his target date to return.
May turned into June, which turned into July before eventually September as constant setbacks in his rehab process kept him off the field. Finally, another surgery in July ended his 19 campaign before he was even able to throw a pitch as Morrow will end his Cubs tenure by missing the team's final nine months of action he was eligible for.
Season Grade F: The Cubs took a chance on Morrow last season, knowing his injury history. Sometimes those changes work out and sometimes they don't. It seemed like a brilliant move the first half of last season until once again, and those injuries ended what could have been a great time in Chicago. With Morrow having a 12-million-dollar option this season, there is no way the Cubs bring him back in 2020. However, don't entirely rule out a return to the north side just yet. Should he get released, Chicago may sign him to a veteran's minimum to come back where he very easily could serve as the team's setup man going forward.
KYLE RYAN: Signed as a minor league free agent this past offseason, the former Detroit Tiger began the season in Iowa after a solid spring opened some eyes. This was one of those under the radar signings that worked in Theo's favor as Ryan pitched in just one game at Iowa before coming to the Cubs for the rest of the season.
At first, the Cubs looked at Ryan to be a lefty specialist aimed to get one or two batters out in an inning. That plan quickly changed as Ryan appeared in a team-high 73 games posting a 3.54 ERA and 4-2 record. He even went a month without allowing an earned run early in the season, which is when he started to move from long relief to the back end of the pen.
Grade A-: Ryan quickly became one of Maddon's most trusted relievers, and he was not hesitant to use him in any situation. Although not a hard thrower by any means, Ryan has a unique windup that creates a lot of deception, which makes the ball hard for hitters to see. That was on full display many times this season as Ryan took over both middle and late-inning roles throughout the season.
He reminded me a lot of Travis Wood when he was in Chicago as a guy that could fill any spot in the bullpen successfully when needed. This is one of the Cubs' two impending free agents that I expect to be back in 2019 as he would give them many options moving forward.
Rowan Wick: The Cubs have certainly struck gold on a few players during the Theo days, but no player may have had as big of an impact this season as Rowan Wick. The former catcher now converted reliever; Wick was a member of the Padres in 2018 before the Cubs signed him as a minor leaguer in 2019.
Not only did he prove to be a major league talent, but Wick emerged as the team's second-half Bullpen MVP as he may be a diamond in the rough.
In 31 games this season, Wick tossed 33 innings walking 16 and striking out 35. His 2-0 record with a 2.43 ERA is a good indication as to the kind of stuff he has in that arm. Armed with a short compact wind up, Wick can touch 98 with his heater, while his tight rotation 12-6 curve sits around 78, making hitters look silly.
Throughout the second half of the season, Wick went from a one or two batter man to the team's primary set up option late in the season as Maddon could trust him in any situation. Like any young pitcher, Wick did have quite a few rocky outings, but for the most part, he displayed great potential, which could give the Cubs options for the closer role in the future.
Grade A: This was the easiest grade to give out in the pen as his performance certainly deserves high recognition. I was on the Wick bandwagon from the second I saw him pitch for Iowa this season. How could you not be when you post a 1.86 ERA in 24 games in that league. Once he got to the Cubs and fans could see how good his stuff truly it was giving fans a taste of what he could bring to this team long term.
Not only is he a valuable middle relief option, but he is also a late-inning man with the potential to be a closer in the future. With Kimbrel here for a minimum of two seasons, Wick has one of the best in the business to lean on for advice as he may be the team's set up option next year. Should Kimbrel go down with any injury, the Cubs will be confident with this man in the closer role. He has the stuff to do it, but now he needs to get it done consistently.