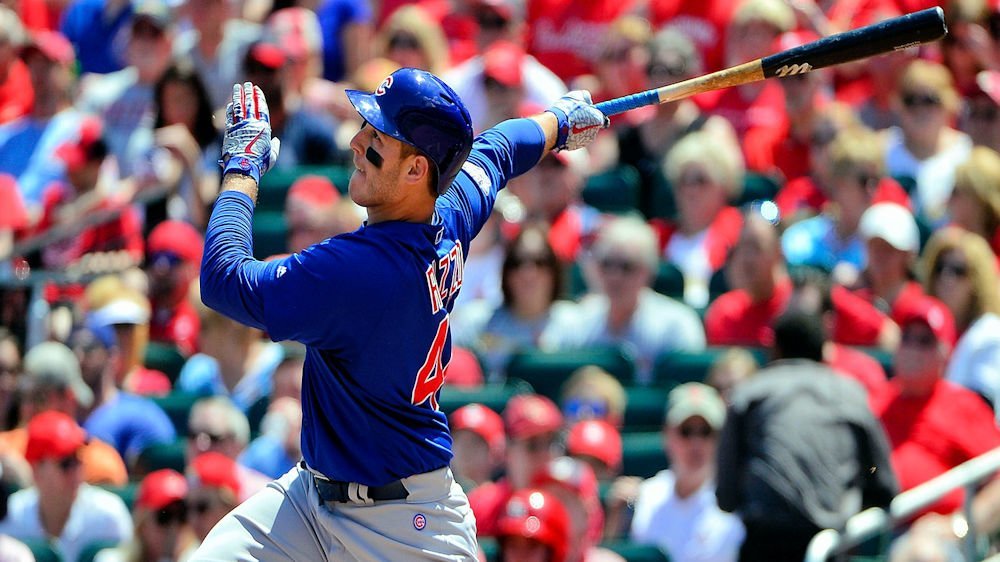 | | |
| --- | --- |
| Rizzo blasts homer as Cubs beat down Mariners | |
---
Coming off an ugly outing against Colorado, the Cubs (8-6) traveled to Peoria, Arizona to face Seattle (7-4) for their first night game of the spring. With the expected starter, Yu Darvish, left behind in Mesa to pitch a sim game, Joe Maddon elected to start righty, Duncan Robinson (0-0, 11.57 ERA) against Mariners' lefty, Marco Gonzalez (0-0, 1.29 ERA).
Plenty of offense in the early innings would have the game put away by the top of the fourth, seeing the Cubs tally six runs on an inning that didn't want to end. The Cubs would end up winning by a score of 9-3.
T1: (SEA: LHP- Gonzalez): The Cubs got off to a solid start last night as the game opened up with a trio of singles from Albert Almora, Jr., Anthony Rizzo, and Javier Baez, giving the Cubs their first run. Next, David Bote would reach on a flyball to right that was misplayed due to the wind, loading the bases. Ian Happ would give the Cubs their first pair of outs, grounding into a 6-4-3 double-play, but Rizzo would score on the play. The inning would end on a groundout by Taylor Davis. Cubs lead 2-0.
Things you love to see. #EverybodyIn pic.twitter.com/xL438diBw3

— Chicago Cubs (@Cubs) March 9, 2019
B1: Duncan Robinson would get off to a good start with a strikeout (Gordon) to start the frame. Haniger would tag Robinson for a one-out double, followed by a towering home run to right (Bruce) to tie the game. Robinson would end the inning on a groundout (Encarnacion) and a flyout (Seager). Game tied: 2-2.
T2: (SEA: LHP- Gonzalez): The second would start with a pop-single to shallow center by Jim Adduci, but Mark Zagunis would hit into a 6-4-3 double-play to wipe the bases clean. Trent Giambrone wouldn't let the inning die, doubling to the far corner of left field, but after successfully swiping third, Giambrone would come off the bag, being tagged for the third out.
B2: Robinson would start the second with a called third strike on Santana, on a questionable call (chest-high), then backed that up with a groundout (Narvaez) and a flyout (Crawford) for a 1-2-3 inning.
T3: (SEA: LHP- Gonzalez): Almora would fly out to start the inning, but Rizz would put the Cubs ahead with a towering homer to right. Javy would ground out, followed by a Bote single to center, but Happ would line out to end the frame. Cubs lead 3-2.
B3: Jen Ho Tseng would take the mound in the third, sending the Mariners down in order, thanks in part to a rather generous call at first base on a groundball by Gordon. Tseng collected another groundout (Suzuki) and a strikeout (Haniger) in the inning.
T4: (SEA: LHP- Gonzalez): Davis would draw a leadoff walk, followed by an Adduci strikeout, but Davis would advance to third on Zagunis' double. Giambrone would ground out, scoring Davis, followed by Almora's double which scored Zagunis. Rizzo's bloop single then scored Almora, and Javy's double would move Rizzo to third, followed by Bote's would walk to load em. Confused? The Cubs are leading 6-2, and Gonzalez was replaced by RHP, Matt Walker. Happ would walk, scoring Rizzo, then Davis would take his second walk, scoring Baez. Next, a wild pitch would score Bote advancing both Happ and Davis. The inning would end on Adduci's second strikeout, but the Cubs were now up 9-2.
B4: Tseng would have another three-up, three-down inning, retiring the side with a pop-out (Bruce), a flyout (Encarnacion) and a groundout (Long).
T5: (SEA: RHP- Rumbelow): The inning started when Rumbelow hit Zagunis in the hand with a pitch, but he'd be erased when Giambrone grounded into a double-play. The inning would end on Almora's groundout. Cubs lead 9-3.
B5: Christian Bergman would pitch the fifth, opening up with a walk (Santana), followed by a pair of singles (Narvaez, Crawford) to load the bases with nobody out. Bergman would strikeout Suzuki, but the Mariners would add a run on the following play. The inning would end on a double-play (8-4) when Wynton Bernard robbed Gordon of a hit, then doubled Narvaez up at second.
T6: (SEA: RHP- Rumbelow): Jared Young would strikeout swinging, followed by a pop-out from Zack Short. After almost taking a pitch to the face, Bote would rip a double down the left field line. Happ's strikeout would end it with the Cubs up 9-3.
B6: Taking the mound in the sixth, Randy Rosario would strike out Haniger, then give up a single (Bruce), followed by another pair of strikeouts (Encarnacion, Long) to finish a scoreless inning.
T7: (SEA: RHP- Armstrong): The Cubs would go down in order on a Cristhian Adames groundout, Adduci strikeout, and Johnny Field strikeout, but continue to lead 9-3.
B7: Allen Webster would take the bump in the seventh, giving up a leadoff, infield single (Polo), but would retire the next three on a pop-out (Freitas) a strikeout (Crawford) and a pop-foul (Lewis), to escape without allowing a run.
T8: (SEA: LHP- Tenuta): The inning would start when Giambrone struck-out, but Bernard would reach on a broken-bat single to short. Phillip Evans (pinch-hitting for Young, would pop-out, followed by a Short flyout to end the inning. Cubs up 9-3.
B8: Webster would return for the eighth, retiring the side in order on a pair of strikeouts (Negron, Nola) and a groundout (Bishop)
T9: (SEA: RHP- Garton): The Cubs wouldn't score, despite an Adames walk, going down on a strikeout (PJ Higgins) a flyout (Vimael Machin) and a flyout by Zack Borenstein. Cubs still lead 9-3.
B9: Craig Brooks would finish the evening for the Cubs. A leadoff ground out (DeCarlo), would be followed by a walk (Long), but he'd retire the next two on a flyout (Polo) and a groundout (Freitas) to end the game, with the Cubs winning by a final of 9-3.
The Cubs will split the squad and play two games, simultaneously, tomorrow: Angels @ Cubs (Cubs TBD vs. Griffin Canning); Cubs at Giants (Cubs TBD vs. Dereck Rodriguez). Both games start at 2:05 PM Central.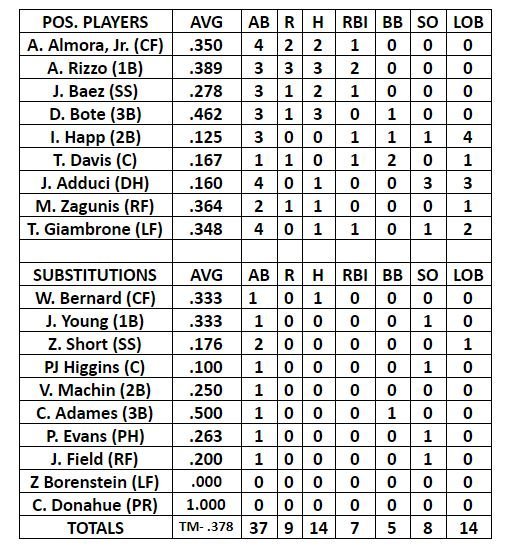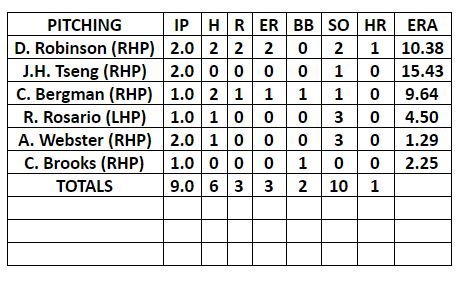 Cubs win!

Final: #Cubs 9, Mariners 3. pic.twitter.com/4LCXQMj47C

— Chicago Cubs (@Cubs) March 9, 2019