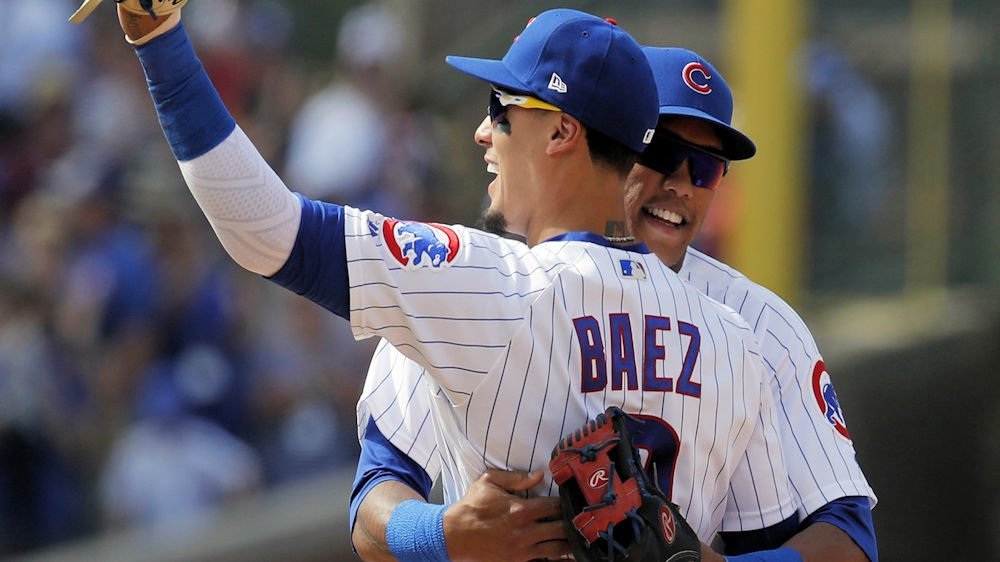 | | |
| --- | --- |
| Cubs News: The Hot Corner: Baez on Yadi, Rizzo ready for 2019, Machado signs for $300 mil, more | |
---
Cubs' news and notes
Cubs' Opening Day: 37 days. (March 28 vs. Rangers)
First Spring Training game: 4 Days. (Saturday, February 23, Brewers vs. Cubs at Sloan Park)
Javy Baez: In his first meeting with reporters this spring, El Mago says that he wants to draw more walks and take on some of the responsibilities of leadership this season.
In a call for more discipline, Baez commented, "I think it's the little things," he said. "Last year, I didn't run full speed to first base, and I would get back to the dugout, and no one would say anything. This year, if I don't do it, someone will hopefully say something, and it's not to show you up, it's to make our team better."
When asked about the KB/Yadier Molina feud, Javy replied, "No I wasn't surprised because I know Yadi. But KB wasn't trying to say anything. It was a comedy show, and he was trying to get our fans going."
"It's not to show you up, it's to make our team better."

Javy Baez on the importance of accountability for the upcoming #Cubs season. pic.twitter.com/5JTyDhuMi9

— Cubs Talk (@NBCSCubs) February 19, 2019
El Mago going through some batting drills at #Cubs practice #OwnItNow pic.twitter.com/5fh0K45etD

— CubsHQ (@ChicagoCubsHQ) February 19, 2019
Anthony Rizzo: Rizz says he's ready for the challenges that 2019 brings to a Cubs' team that was knocked out early last year.
.@ARizzo44: CHALLENGE ACCEPTED! pic.twitter.com/fyPnPnu1rf

— Cubs Talk (@NBCSCubs) February 19, 2019
KB on his injury: During an interview with 670 The Score, Bryant had the following to say about his injury: "There is a lot of medical terms I won't get into," Bryant said. "I just know that there was a bunch of bone bruising from the impact of my shoulder into first base. The only real way to heal it is rest and not [use] it. Me swinging one-handed with that joint in there was probably not good for it. Sometimes your instincts take over."
Bryant has declared himself "ready to go, full steam ahead," after focusing on strengthening and conditioning earlier this winter.
Kris Bryant looking 100 percent healthy at #Cubs camp#OwnItNow pic.twitter.com/lNobzdzP3H

— CubsHQ (@ChicagoCubsHQ) February 20, 2019
Yu Darvish: Darvish took the mound in Mesa today for some live batting practice. He looks to be pain-free as he throws- which is excellent news for the Cubs.
According to Darvish, his fastball was hitting 92-94 mph today.
Yu Darvish throwing live BP. Almora stepping in now. Schwarber also in this group. pic.twitter.com/78jIoOuGpU

— Jordan Bastian (@MLBastian) February 19, 2019
Yu Darvish throwing 'easy' 93 MPH today at #Cubs camp#OwnItNow pic.twitter.com/SVxDx0tPMx

— CubsHQ (@ChicagoCubsHQ) February 19, 2019
Daniel Descalso: Joe Maddon plans on using Descalso as more than a pinch-hitting, backup second-baseman. Maddon had Descalso take fielding practice at first base today.
Daniel Descalso getting time at first base during drills as Maddon looks on. pic.twitter.com/SeX4lhUdHn

— Jesse Rogers (@ESPNChiCubs) February 19, 2019
Miguel Amaya: According to former Cubs' pitcher, Rick Sutcliffe, the best thing he saw at the Cubs' camp today was catching prospect Miguel Amaya. According to Sutcliffe, Amaya is "Talented, physical, and the coaches say he's 'all-in.'"
@notthefakeSVP "Best Thing I saw today" at @Cubs camp was 19yr Old Catcher Miquel Amaya! Talented Physical and Coaches say "He's All In" @espn

— Rick Sutcliffe (@Sut_ESPN) February 19, 2019
Ben Zobrist: According to Joe Maddon, there is still no expected arrival date for Ben Zobrist. The Cubs' veteran has been given an extension for "personal reasons."
Joe Ricketts controversy: Baseball commissioner had this to say regarding Joe Ricketts, his emails and the Cubs: "We've talked extensively with the Cubs about this topic. Mr. Ricketts has no day-to-day role in the club or control over it. It's a bit of a reach for baseball to be involved, given that set of facts."
PECOTA: After infuriating the Cubs and their fans with a prediction that the team would finish last this season with an 80-82 record, the website has struck again. Now that the Brewers have re-signed Mike Moustakas, PECOTA has lowered the Cubs' win total to 79.
Rizzo explaining PECOTA projections for #Cubs #OwnItNow pic.twitter.com/dnSRVUsBY2

— CubsHQ (@ChicagoCubsHQ) February 20, 2019
Other news and rumors from around MLB
Manny Machado Signs: The Harper/Machado saga has now become just the Bryce Harper saga. Manny Machado has signed with the Padres for a ten-year deal worth $300M. The deal also includes an opt-out after season number five. Machado's deal now stands as the biggest free-agent signing in American sports history.
As for those fans who thought the Yonder Alonso factor made the White Sox the favorite for Machado, Jon Heyman offers this: "As the Machado decision proves once again: Blood may be thicker than water, but money is a lot thicker than both of them."
Ken Rosenthal: "For those asking, MLB and the union will not tear up their entire economic system in the middle of a CBA. The two sides will negotiate bigger issues closer to the end of the current deal on Dec. 1, 2021. Lesser changes are under discussion right now."
Condolences: Dodgers' baseball legend Don Newcombe has passed away; he was 92.
Cardinals: The Red Birds have shut down reliever, Carlos Martinez, from throwing for two weeks. While the team has not acknowledged any injury, they have cited a need for strengthening Martinez's shoulder.
Orioles: Baltimore has claimed LHP Josh Osich from the Giants and designated INF Hanser Alberto for assignment.
Padres: The Padres surprised many today with the signing of Manny Machado, but they may not be done yet. Rumors say SD is still in the running for Bryce Harper as well. Even with Machado, the Padres are looking at a payroll of only $111M, giving them ample room to attempt a Harper signing as well.
Reds: Cincinnati continues to build and strengthen, this time by adding infielder, Derek Dietrich, to a minor league deal. Dietrich will be competing for a roster spot during spring training, and if he makes the major league squad, he will be guaranteed $2M.
White Sox: White Sox Executive VP, Kenny Williams, says the Sox felt as though they were the high bidder for Machado. He was quoted today as saying, "I'm wearing my shades so you can't see the shock in my eyes."

Upgrade Your Account
Unlock premium boards and exclusive features (e.g. ad-free) by upgrading your account today.
Upgrade Now