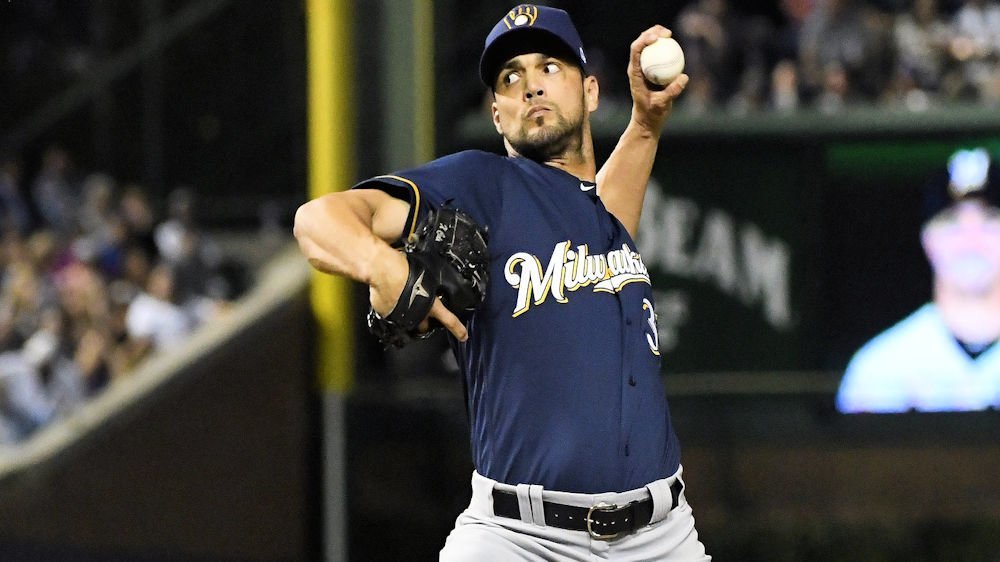 | | |
| --- | --- |
| The Hot Corner: Cubs sign lefty reliever, more from Mesa and the latest Hot Stove | |
---
Cubs' news and notes
Cubs' Opening Day: 42 days. (March 28 vs Rangers)
First Spring Training game: 9 Days. (Saturday, February 23, Brewers vs. Cubs at Sloan Park)
Xavier Cedeno: The Cubs have signed lefty, Xavier Cedeno to a one-year, $900k, non-guaranteed deal. Last year, Cedeno maintained a 2.43 ERA in a total of 48 appearances between playing for both the White Sox and Brewers.
Brandon Morrow: The Cubs closer is showing signs of improvement, though he still won't be ready until after the first month of the season. Morrow was, however, playing catch from 90 feet yesterday.
After an elbow injury derailed his season in July, a timeline for Brandon Morrow's return is still an unknown at the start of spring training. pic.twitter.com/eMoPtX8D9c

— Cubs Talk (@NBCSCubs) February 13, 2019
Yu Darvish: According to the Chicago Sun-Times, Yu Darvish says that last year his mega-contract got in his head at times.
"Last year, I didn't say anything about that, but definitely I was thinking [that] I had to do something for the Cubs. I should win 20 games or something."
Yu Darvish with @meganmawicke on good health, confidence and the feeling extra pressure last season to live up to the big contract. @faridyu is doing interviews in English now and sounds great! @cbschicago #Cubs #SpringTraining #YuDarvish pic.twitter.com/GIjksJ0R3l

— Krista Ruch (@KristaCBS2) February 13, 2019
Pedro Strop: When asked about the possibility that he may have to fill in at closer until Brandon Morrow returns, Strop says he's willing to do anything the team needs.
With Brandon Morrow's elbow rehab and throwing program to continue into the season Pedro Strop talks about filling in for the closer. pic.twitter.com/Wkhf5IcKbm

— Gordon Wittenmyer (@GDubCub) February 14, 2019
Tyler Chatwood: Chatwood said he made a slight mechanical change in his windup and delivery which is expected to help his control issues.
Watch Tyler Chatwood discuss starting anew this season after a forgetful 2018. He's made a slight mechanical delivery change to help his control. https://t.co/pR87ByfWhs pic.twitter.com/l5KmFFeMpf

— Jesse Rogers (@ESPNChiCubs) February 14, 2019
Cubs in last? I sincerely doubt it, but according to PECOTA, a highly respected sports website, the Cubs to go 80-82, finishing last in their division.
According to the site, the Brewers will take first (88-74), the Cards finish second (87-75), with the Reds and Pirates sharing third and fourth (81-81 each), followed by the Cubs.
If anyone values my opinion (and seldom do), either the Cubs or Cards will take first and whoever doesn't will finish second. I think 94 games wins the division, with whoever finishes second tallying 92 wins. Next is the much improved Reds in third (86-76), Brewers in fourth (85-77), and the Pirates (79-83) will finish last.
Panic Mode at Wrigley North: The Brewers announced recently that they are having a presale of all Brewers-Cubs game on Friday to Wisconsin residents only so that the Cubs fans won't be able to represent in such high numbers in 2019.
Ian Clarkin: The lefty pitcher the Cubs twice claimed off waivers from the White Sox this offseason – said: "I've never been to Chicago."
Other news and rumors from around the league
Jesse Rogers: When asked about the Machado/Harper saga (now in Day 107), ESPN's Buster Olney says, "By the end of the month… At some point I think you're going to see either Harper or Machado jump on an offer that the Phillies have made. And the feeling is the Chicago White Sox are a safety net for both those guys as well."
Indians: Cleveland has landed a pair of minor league deals. The first with RHP, Asher Wojciechowski, the second with catcher, Tim Federowicz.
Phillies: At a press conference to announce his extension, Phillies starter, Aaron Nola refused to comment on whether the state of free-agency led to his decision to sign now, saying only that, "This felt right for me at this time."
Royals: KC has signed LHP Jake Diekman to a one-year deal with a mutual option for 2020. The team has also placed RHP Jesse Hahn on the 60-day IL.
Twins: Shortstop Jorge Polanco and the Minnesota Twins are putting the finishing touches on a contract extension that will cover seven years. At least five of the seven years will be guaranteed.