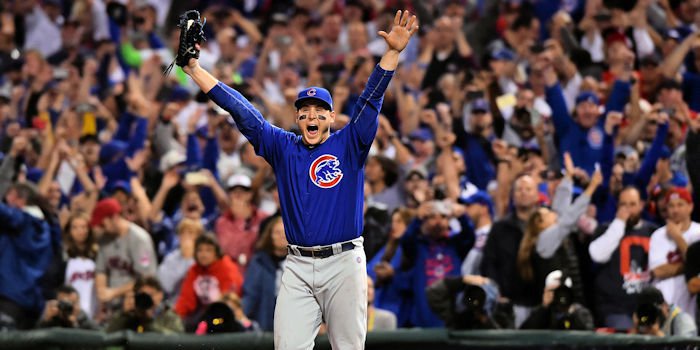 | | |
| --- | --- |
| The Hype of a potential Chicago Cubs Dynasty | |
---
| | | |
| --- | --- | --- |
| Sunday, April 2, 2017, 5:36 PM | | |
CHICAGO -- The 2016 Chicago Cubs World Series Championship team was chalked full of young talent, setting the stage for 2017 to be a huge year for them as well. There is a lot of current chatter about the team being able to be a dynasty for the next several years. The Cubs were the only major league team that won more than 100 games last year and won the National Leagued Central by an impressive 17.5 games.
Yes, the Cubs did lose a couple of talented free agents, but their roster can hold up while the young players progess. Dexter Fowler and Aroldis Chapman left Chicago along with others but the Cubs roster is full of potential that could form in the next five years as the World Series favorite each season. It will be tough to win it every year but the Cubs could grab several trophies within the next half decade to make them the next major league baseball dynasty.
The Cubs have current reigning National League MVP Kris Bryant, first baseman slugger Anthony Rizzo, phenom shortstop Addison Russell and defensive wizard second baseman Javier Baez are all locked up with Chicago until 2021. Veteran Ben Zobrist, also second baseman, has a contract with Chicago until 2019. It is very exciting news because if the Cubs continue on the right path, and their young infield continues to develop, they could have tremendous players in place for the next four to five years.
Right field for the Cubs, veteran Jason Heyward, could wind up being in Chicago with his massive contract until 2024. Slugger Kyle Schwarber, left field, is under contract until 2021 as well. All of this young talent that Chicago has in the infield and outfield and we haven't even started talking about pitching yet.
Opening Day starter Jon Lester is under contract until 2021, the 'Professor' Kyle Hendricks could be here until 2020 and talented reliever Justin Grimm is under contract for the next three seasons. Older veterans Jake Arrieta, Wade Davis and John Lackey are all unrestricted free agents next year that could possibly stay in Chicago.
With all of these great caliber players under contract for the next couple of years, who are we to say that the Cubs do not have a shot at forming a dynasty. You have the 2015 National League Manager of the Year, Joe Maddon, who is arguably the best manager in the majors right now to handle this type of talented roster. Theo Epstein as the president as well, who was name "World's Greatest Leader" by Fortune magazine, knows how to win. The Chicago Cubs could be a dynasty in the making, I certainly would not count them out and will enjoy the ride!

Tags: Cubs Baseball
,
Anthony Rizzo
,
Dexter Fowler
,
Aroldis Chapman
,
,
Addison Russell
,
,
Ben Zobrist
,
Jason Heyward
,
Kyle Schwarber
,
,
Kyle Hendricks
,
Justin Grimm
,
Jake Arrieta
,
Wade Davis
,
John Lackey
,
Joe Maddon
,
Theo Epstein