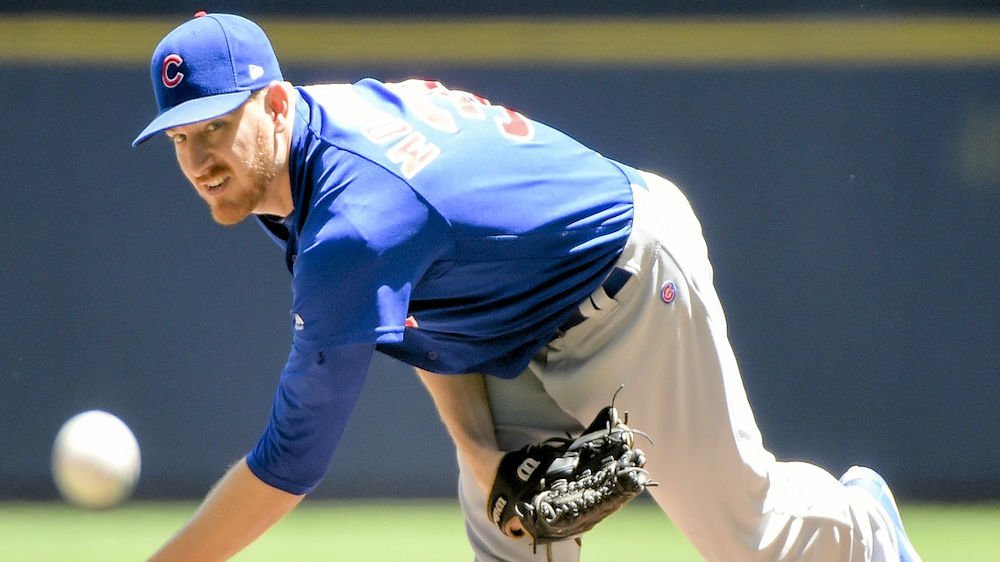 | | |
| --- | --- |
| Two interesting trade scenarios for Cubs | |
---
It's that time again- summer trading season, and the Cubs seem to be looking to buy, sell and rent. Theo Epstein said on the eve of Craig Kimbrel's signing that the Cubs would continue to look at ways to strengthen their bullpen via the use of trades, as Epstein realizes that while Kimbrel filled a considerable hole in Chicago's bullpen, he can't do it all. The Cubs have a solid starting rotation, talented position players, a ton of power at the plate and plenty of depth, but the bullpen seems to continue to be their Achilles' heel.
They have a plethora of right-handers in the pen, so many so that they can quickly afford to change pitchers when one gets himself into trouble, but the southpaw situation has been bleak. Currently, only Mike Montgomery and Kyle Ryan serve as the left-handed relievers, and neither has been impressive this year.
Montgomery came out of the pen last year to take over for Yu Darvish as the Cubs fifth starter, but after several quality starts, Montgomery began to falter and fade as the season wore on. He had a rough spring training this year and has failed to return to his previous form, despite a stint on the IL. The Cubs had hoped that Kyle Ryan would be able to provide some quality innings, especially after Ryan had posted a 2.86 ERA in 66 innings of work in Iowa last year, but that, too, has failed to materialize into much of anything.
Here's where things start to get a little interesting.
The Texas Rangers are looking for "controllable starters." While there's been no mention of who they'd be willing to deal in return, Mike Montgomery might become a person of interest to them, as he has experience as a starter and remains controllable for another two full seasons. The Cubs and Rangers have a well-documented trade history, and Montgomery has made no bones about his desire to be in a rotation somewhere.
I'm not sure that the two teams will figure out to dance together this year (barring a Jerry Dipoto-style, multiple team deal, because at this point, the Cubs' trade-deadline objective- bullpen help in the form of left-handers- is something Texas is not very rich in. The Rangers possess only two lefties in their pen, neither of whom has an ERA of less than 5.47.
The Cubs are, however, reportedly showing interest in a pair of lefty relievers who are currently stationed in San Francisco- Will Smith and Tony Watson. Smith would be a straight rental, as he's eligible for free agency after this season, but his 2.19 ERA through 24.2 innings this year, make him enticing, nonetheless.
Smith has been functioning as the Giants' closer and already has 14 saves this season, but he'd make an excellent left-handed option for a set-up man while providing Joe Maddon an effective alternative for closing duties against predominantly left-handed batting orders. Smith's playing for $4.23M this year, but by the time the trade deadline rolls around, he'll only be owed half of that. If dealt as part of a trade which could (would) include Ian Happ, it's highly unlikely that the Cubs would have to spend much cash on him at all.
I'm not as excited about the Cubs signing Tony Watson, especially if he's the only one of the two that's being offered. Watson just turned 34, is a rental, and makes just slightly less than Smith, but is four-years Smith's senior (not to mention that he's a product of the Boras Corporation, which generally means trouble if a team wants to re-sign). His ERA (2.55) is more than respectable, but even if he worked out, his age is going to preclude him from any long-term deal to stay with Chicago.
Last year, when the Cubs were looking for some way to get out from under Jason Heyward's contract and his subterranean stats, the Giants seemed willing to work on a deal: The two pitchers for Heyward and Ian Happ. The Cubs wouldn't part with Happ last year, and they're unlikely to want to part ways with Heyward now, but Happ and another player (think Mike Montgomery) might seal the deal.
Montgomery could be of some interest to the Giants, as lefty-starter, Drew Pomeranz, has been horrific this year. In 11 starts, the southpaw has only lasted only 44 total innings (average of 4.0 per start), has posted a 1-6 record, and been walloped to the tune of a 7.16 ERA. In 19 starts last year, Montgomery posted a 5-5 record with a 3.69 ERA, while lasting a total of 97.2 innings, for an average of 5.14 innings per start.
I think Ian Happ's days as a Cub are numbered. He's buried away in Iowa, and he's not like to be seeing any time in Chicago anytime soon. Even if Happ were to be promoted, he'd undoubtedly continue to be platooned, which will do nothing for his offense, causing him to languish even further. Happ has value; I don't think that at this point he's valuable to the Cubs, other than as a trade chip. If Monty could get back to being consistent, he could easily fit into the Giants' rotation, making this a potential win-win trade for everyone, as it would be mutually beneficial to not only the teams but the individual players involved as well. For Happ, it would mean- at the bare minimum- a major league deal, while for Monty, it would mean a shot at being a starter again.
Do it, Theo- it makes sense.

Upgrade Your Account
Unlock premium boards and exclusive features (e.g. ad-free) by upgrading your account today.
Upgrade Now