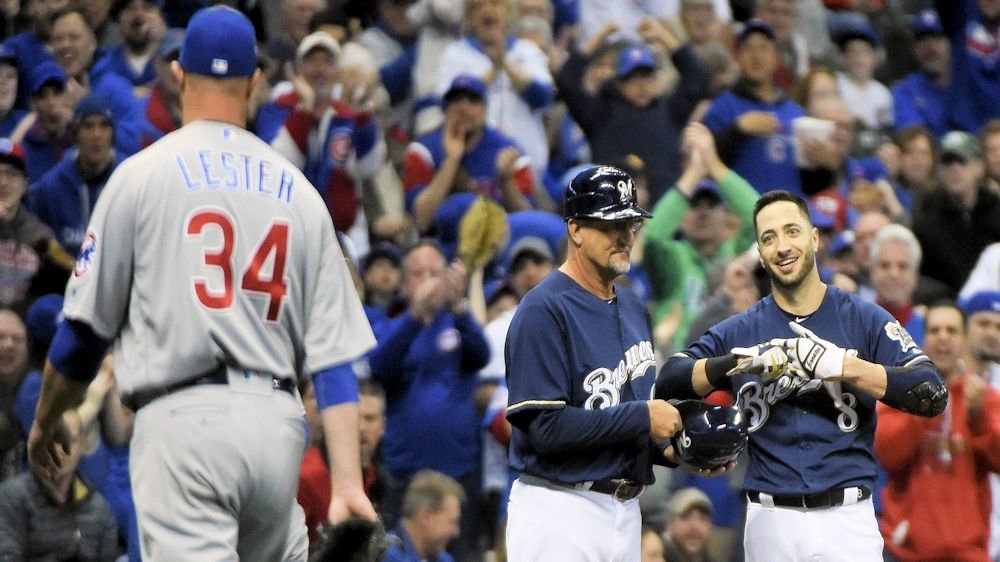 | | |
| --- | --- |
| Who is really the main rival of the Cubs? | |
---
| | | |
| --- | --- | --- |
| Saturday, May 12, 2018, 11:43 AM | | |
This weekend's "Crosstown Classic for the BP Cup" had me wondering about rivalries in major league baseball. Growing up in the Midwest in a time before the internet or cable, imagine that, we heard about, but weren't up to speed on, two major rivalries in other parts of the country.
The Red Sox/Yankees rivalry is considered by ESPN, FOX Sports, MLB Network, and every other media outlet East and North of Philadelphia to be the number one rivalry since they schedule 142 games between them a year and put them on national TV every day. By now everyone in North America knows every stinking detail about this rivalry.
West of Denver, another rivalry is considered the one. Giants/Dodgers is a pretty big thing out here, (full disclosure I now live in Palm Desert), I can tell you the level of dislike for either team by both player and fans is pretty intense. A few years ago, the Giants beat the Dodgers on opening day in LA, and a poor Giants fan got himself beat nearly to death in the parking lot afterwards. He suffered permanent physical injuries and brain damage. I don't condone this behavior but use it to point out the level of dislike.
For the great flyover region of America Cubs/Cardinals is it. As Cubs fans, you are all well aware of this I-55 grudge match and need no further details to know why the fans and players have a love-hate relationship with each other. It is a more friendly rivalry but intense in its own way. So I ask you, is it really the rivalry for Cubs fans?
Let's explore a couple of others over the years and see how this one stacks up.
Cubs/White Sox are the rivalry du jour this weekend. There is no doubt people in the Chicago area have fierce loyalties to either team depending on where you grew up or who your family rooted for over the years. The problem for me with the rivalry is that #1 it is a contrived one by MLB because of a flawed concept of interleague play and #2 the White Sox fans have always hated the Cubs and their fans because of a perceived bias in the local media to the Cubs. This has been disproved at least 1000 times, and yet they still feel slighted. It is hard to understand as a Cubs fan because, frankly, I never give them a second thought and winning the coveted BP Cup is way down on my list of things I look forward to.
Cubs/Brewers is heating up as an excellent rivalry. When visiting fans start referring to your stadium as Wrigley North, that will get your attention and piss you off. While it is still a rivalry in its infancy, there are growing indications that this one could have some legs. Wisconsinites have some small-town nicknames for Chicagoans that pre-date playing baseball against each other, and they have a head start against Chicago fans dating back to the White Sox rivalries, so we have some catching up to do. I see this one becoming something to keep an eye on for the future.
Cubs/Mets hate dates back to, well you know when. Both teams played in the Eastern Division from 1969 until 1993 and after a monumental start to this rivalry it never waned. It was as feverish and frenetic as it gets between two teams for years. Throw in the whole NY-Chicago thing, and it was like a ticking time bomb of animosity. Name one NY area team you like……Exactly.
20+ years after he retired and was broadcasting Cubs games on the radio, Ron Santo would still refuse to go to NY and broadcast games from Shea Stadium, that my good friends is dislike. I'm pretty sure that up until the day he died, Santo would have taken off one of his legs and clubbed that cat if he could do it again. This rivalry was more significant than the anything else for the Cubs for many, many years.
Which brings us back to Cubs/Cardinals and 123 years of history against each other. These teams are so close over the years it is almost unbelievable.
Cubs lead the series 1197-1147-19.
Cards lead in runs scored 10,358 – 10,308
Cards lead in World Championships – a lot to a little.
It is hard for fans around the country to understand how this can be a rivalry when there seems to be respect for each other by both the players and the fans. What they don't understand is how many families have competing loyalties for each team. From the Missouri-Illinois border to Kankakee many families are split over who they cheer for, so it is hard to develop the hate you see between NY and Boston or LA and San Francisco. Do you expect junior to slap grandma around because she is a Cardinals fan?
The bottom line is Cubs/Cardinals is still it with many fond memories of how much I hate(d) the Mets, but I'm starting to get an itch for the Brewers/Cubs. Someone grab me a brat dammit.