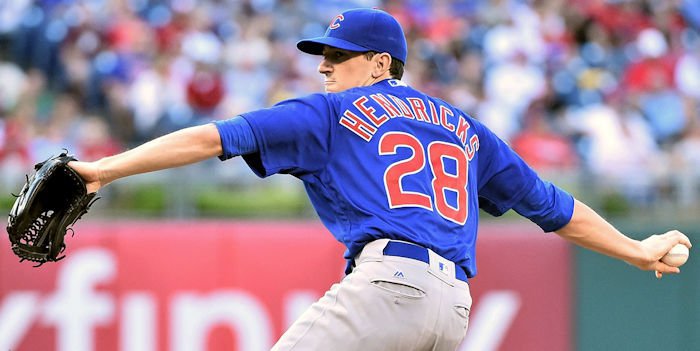 | | |
| --- | --- |
| Cubs News: Why is Kyle Hendricks so dominant this year? | |
---
| | | |
| --- | --- | --- |
| Friday, September 2, 2016, 1:56 PM | | |
Let's play "Which player is which?" by looking at some statistics. After looking at these, you might be thinking that they are practically the same player! Before revealing it, I will put it as "Player A" and "Player B" and list a series of numbers.

Player A is Cubs pitcher Kyle Hendricks. Player B is… Kyle Hendricks. Surprise! A is his 2015 stats, and B is his 2016 stats. He has been so consistent in strikeout rate, walk rate, and ground ball rate, which has made his Fielded-Independent Pitching (FIP) and Wins Above Replacement (WAR) the same, according to Fangraphs.
This year, however, Hendricks has moved his ERA from 3.95 to an NL-best 2.19. But why are his overall numbers relatively the same? It helps that he plays around one of the best defensive teams in baseball. Just how good are they? The Cubs' team batting average on balls-in-play (BABIP) for pitchers is .255, which is 29 points higher than the second-best team, the Blue Jays. 29 points!!
It is a collaboration of good pitching and great defense that make Kyle Hendricks great. I thought I'd make a case for both. You can be the judge on which one has altered the numbers more.
The Case for Hendricks
Here is one of my favorite parts about Kyle: he throws at the exact same angle. Here is a graph of his horizontal vs. vertical release point, colored by the different pitches that he throws: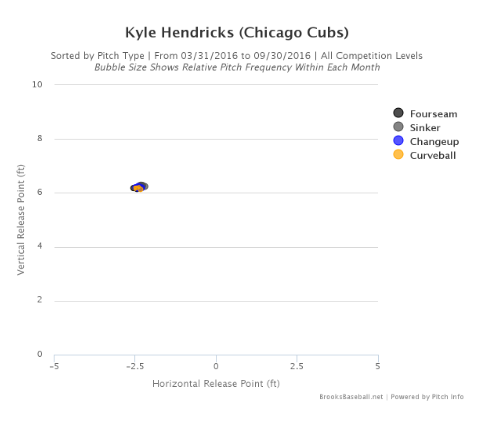 No matter what the batter tries to read, he surely will not be able to tell based on his arm point. However, he has similar numbers dating back to last year, so it is not like this is anything new for him.
What is new is that he took out his cutter, a pitch he did not use too much in 2015, but used 12.4% of the time in 2014. Instead, he has used his changeup at a better clip, which is starting to become his best pitch. Hendricks has no flashy pitches, but his changeup allows him to throw more pitches at the bottom of the strike zone to produce ground balls. He has also used his fastball more than his sinker, which has led to more consistency of framing pitches inside the strike zone. Here is a heat map of Hendricks' sinkers and fastballs for 2016: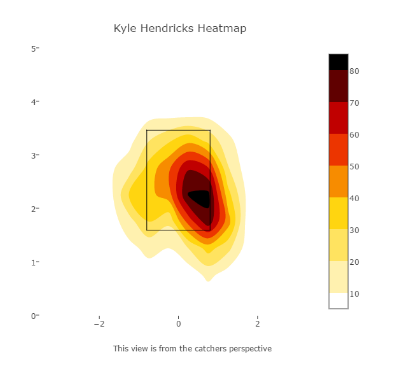 Hendricks is great at getting pitches inside on lefties and outside on righties while trying to keep it low. If the majority of his pitches were just a tad higher, then more batters would be hitting line drives than ground balls. This has helped him lower his opponent batting average to .205, compared to .241 last year.
The Case for the Defense
Put it this way – did you see Addison Russell's catch recently? According to the Statcast data, Russell went almost 107 feet to make that catch, saving at least two runs. You can make the argument for half of the Cubs starting lineup that they deserve a Gold Glove, most of which is in the infield.
Regarding defensive runs saved, the Cubs are in 2nd with 54.1 DRS, behind the Kansas City Royals (a well-known defensive team). These two teams destroy the rest of the competition, however: the Indians have the 3rd highest team DRS at 37.1. When it comes to the team's Ultimate Zone Rating (UZR), the Cubs are the highest at a whopping 60.1, 14 points greater than the Royals.
I mentioned the team BABIP earlier and how it blows out the competition. In fact, it is a humongous outlier – check out a simple boxplot of the league's BABIP: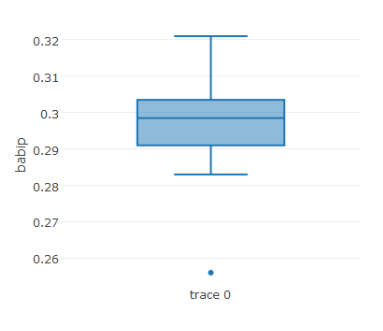 And yes, that little dot is the Cubs.
It is important to note that it is not just the defense that is helping Hendricks – it is the entire pitching staff. The team's ERA is at 3.13, which is the best in the majors, and have also given up an MLB-best 926 hits (hence the low BABIP). Also, the team's Fielded-Independent Pitching is at 3.77 – that difference of -0.64 is the largest than any other team. Clearly, the defense has helped Hendricks and the rest of the team.
Whether you believe that Hendricks is having a Cy Young season, or if you think that this is the best Cubs defense since Tinkers to Evers to Chance, one thing is clear: the consistency on both sides makes them a dangerous team. Now entering September, the Cubs have the division title in sight, and their best chance to win it all since, well, 1908.
(Evan Boyd is a senior studying statistics at the University of Wisconsin-Madison. As a writer and a data analyst, Evan is looking into sports analytics for a career. Evan also is the Station Manager at WSUM 91.7 FM Madison student radio. Feel free to reach out to him at enboyd@wisc.edu for any questions or a resume, and follow him on Twitter @eboyd42)

Upgrade Your Account
Unlock premium boards and exclusive features (e.g. ad-free) by upgrading your account today.
Upgrade Now