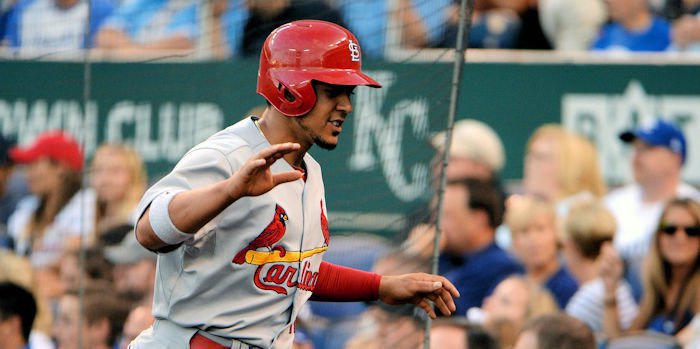 | | |
| --- | --- |
| Why the Cubs' signing of Jon Jay is a Great Move | |
---
| | | |
| --- | --- | --- |
| Wednesday, November 30, 2016, 9:13 AM | | |
CHICAGO -- The Cubs have shown in the both the distant--and recent past that they are not afraid to take fliers on risk/reward types, or the cheaper alternative who may or may not work out. At other times, they've overspent on overpaid players who did not pan out, circa the Hendry regime. So far, the current administration's track record has one big X on it, and that is the Edwin Jackson contract, but even with that signing, it came when the team was in transition, and it could have potentially been a more condemning contract like Anibal Sanchez if not for a (then) untimely Twitter leak. If that's the only black mark, I can really think of when it comes to free agency and this regime, that's not bad at all by my count. Last I checked, another team that "team Theo" had worked with (which has been succeeded by a very savvy front office in its own rights), the Red Sox, blew 70mil+ on Rusney Castillo. That's arguably much worse than the Edwin Jackson deal, and that's just one example not named Pablo Sandoval. I could go on, but that wasn't the point of this write-up.
The point was to highlight some prior success stories (at one point, many years back in the J. Hendry regime, taking a chance on Dempster who turned into a great Cubs player & netted them Kyle Hendricks, who has turned himself into a Cy Young contender with the current regime; Jake Arrieta, obviously; Cashner for Rizzo, on his 2nd team and a half of a season in San Diego of looking completely overmatched; Hector Rondon, a one-time top-SP prospect who had needed TJ, was left exposed in the 40-man and plucked by the Cubs' from CLE, only to become at times a very successful closer and reliever ever since his recovery; Luis Valbueno trade, which in return netted us Dexter Fowler, which paid dividends in a huge way (and has to do with this article more than any other name mentioned) ...and on, and so on. This regime's track record on taking chances on some lesser names or potential flameout prospects has been pretty damn good...
Recently, there were some rumors which I felt carried some substantial weight regarding a potential trade to the Rockies to acquire Charlie Blackmon, a great center fielder in his own right--last year's silver slugger, a guy who can run (40 SB speed in the right situation is fair to assume?), and a good defender. Good average and solid OBP, plus he is under team control for several more seasons. Sounds like a great trade target, right? One of those lesser-known guys, because he's buried out in Colorado; someone who could *really* flourish in Chicago over the next three years. Sounds like the perfect guy to go after to replace fan-favorite Dexter Fowler, who is being seriously courted by 3-4 teams, most recently reported the Blue Jays, and is very, very unlikely to return to Chicago no matter how many fans want to think that Soler being very much available may mean it will open up a hole for Dex [Fowler]. His time in Chicago will go down in history, and he will be beloved here for a long, long time, but his time wasn't meant to last forever. If it was, one could argue the Cubs should find a place for Fowler in CF by trading Soler and somehow moving some salary elsewhere, because he [Dex] was a significant cog in their well-oiled offensive machine last year; that is NOT something I am denying, or will deny for one second! The Cubs played better when he was in their offense all season and arguably at times in the playoffs--period.
But they also spent the entire season without Schwarber until the World Series, who as we all saw, lengthened their lineup in a big way in the 2-hole in the WS when *in the lineup*, with the irony of Kluber getting the All-Star game W and giving his Indians home-field advantage is that without Schwarber, you can make a strong argument the Cubs' lineup down 3-1 would not have come back without Schwarber in it--ergo, under National League rules. It is a very strong case to be made, not bringing up how ironic it is that Kluber got the AL it's ASG Win as it is, which is a terrible way to decide home field advantage...
I had heard of the Blackmon rumors as late as 3, 4 pm, but was also following some news about a potential Jon Jay signing--which has been rumored here or there and was something I very much preferred. When the news was announced, I was very pleased--especially after seeing it was only a 1yr commitment and for only 8mil total.
Had Blackmon produced, arbitration cost would have gotten up there and who knows what we would have had to deal? A nice bundle of prospects for certain--likely Ian Happ, but a lot of money over the next couple of seasons is also something to consider, and the Coors factor has to be brought up to some extent and it always will be brought up so long as the Rockies' players are playing half of their games there, or close to it (everyday players--especially those like Blackman who may lose about 10 HR, and be a 10-12 HR guy in Wrigley suddenly...not what fans will likely be expecting at all, even if he carries other intangibles with him...Chicago is not Colorado and not as easy to play in--that is the truth).
Jon Jay gives the Cubs the perfect stopgap--a guy who can and has also played all three OF positions, has good range, a nice glove, decent--albeit not great (and best-suited for CF, which is where he should see most of his starts anyway) arm...and only for one season at eight million. This is a bargain in this market, even with the saturation of bats available. It also allows the Cubs to make a run at additional starting pitching(and other risk/reward types out there that they won't have to throw a lot of money at, but can afford to take chances on with many open 40-man spots still, and not many 25--or 26 man spots needed to fill to have a top team in 2017 as it currently stands!
Guys like Jansen are not out of the question, and it would not surprise me to see the Cubs make a run at him, especially after the Marlins spent 11mil annually on Edinson Volquez, one of the teams who had been mentioned alongside Jansen the most. I don't think Melancon fits the mold of what the Cubs would be looking for, but maybe even a late-run at Chapman? Which I don't think will happen, but consider that they traded the AFL MVP in Gleyber Torres for that rental... and then consider that the AFL Title Game's MVP, Cubs 1/2 prospect Ian Happ, w/ his two HR during said game would likely be demanded in return for Blackmon / at the least the main starting piece in discussions, and THEN think about how he could be ready by mid-season next year (at the earliest, I'd say--or up in September, maybe a playoff push?)--then ask yourself: is it worth it more for Charlie Blackmon?
Albert Almora flashed moments of brilliance and needs about one more year to work on hitting skills in my opinion, but his glove is ready (and the extra 26th roster spot will definitely help in allowing the Cubs to carry him and the pitching they desire, and use him in the outfield as well or in a platoon with Jay even, if they wish). He may be a very good fourth outfielder, and Happ may well take more steps forward this upcoming season and be up and platooning by June or July or seeing starts somewhere in that outfield, but between the two of them, a potential return from another team in a trade/package including Soler that is still unknown, and all of the other talent in the Cubs' system that made another top-CF prospect (Billy McKinney) also expendable in that same Chapman deal makes me very happy to see the Cubs taking a flier on Jon Jay for 8mil/1yr instead of pursuing a replacement and purging more prospects--TOP prospects, who could be ready by mid-season at the pace which they are maturing.
These could be more young talent to an already-amazing core of players 24-or-younger. Torres may well be somebody the Cubs regret dealing, but it did get them a World Series, or at the very least, helped get them one. There is no doubt Chapman played a huge role in that title, and that's all I could have asked. Anything short and I would be very disappointed, but I wish Torres nothing but luck in what should be a bright big league career--just not for the Cubs. I don't want to see more great prospects dealt for players who could be "bought" on the FA market so-to-speak. Jay may not be Blackmon's caliber, but he is a great bargain and just what that outfield needed.
Ian Happ and Eloy Jimenez are two names to definitely keep an eye on and not guys I would have been happy to trade for Charlie Blackmon, no matter how pretty his stat card is. In one year, or until guys like Happ and Almora--and potentially, depending on how 2017 goes for him, even Eloy Jimenez are all ready, Jay can slot in at CF and platoon, or any other OF position--sounds perfect. For a 'platoon player' from the strong side (hits RHP better) who can play all three OF spots and hit .291 (will have a lot more protection in the Cubs' stacked lineup & won't be expected to lead-off), 8mil is about the going rate...if not a bit of a bargain in this case.
Just consider: Eric Thames got paid five million annually over three years today, & hasn't even been in the states for over three seasons--his KBO stats could mean nothing; he could be Tuffy Rhodes at the MLB level, but he still got paid for three years on potential alone. While teams like the Brewers can make moves like that and hope for the upside in them as they're in a rebuild with a ways to go, the Cubs can as well (as stacked as they are); Jon Jay flourished at times on some of those great Cardinals teams from about 2011-onward. He could be a great piece to the team in 2017, and I don't think the Cubs are done making moves by any stretch of the imagination. I won't say I'll be shocked if they don't sign a closer--but I'll be shocked if they don't sign OR trade for one, heading into spring training with the current pen they've shown. Saving 'bullets' for that, if needed, is wise in itself...
The Cubs have depth to make a trade for a closer if they want to, and money to spend as well on a guy like Jansen, or maybe, just maybe even Chapman, if things don't happen to go so glossy in talks when it comes to his rumored return to the New York Yankees. It just depends on the route they go, but saving the money in center field and not wasting prospects to acquire someone when the market is saturated with bats was a smart move. Hopefully another gold star for Team Theo--we shall see, but this off-season is only beginning. The CBA has about 24hrs, but I remain faithful that they won't have a lockout NOW!....Oh, that would not be fair. Let's not think about that, and let's just keep the vibe going off of the World Series, and hopefully exciting Winter Meetings & the rest of the off-season for the Cubs that has yet to come!

Upgrade Your Account
Unlock premium boards and exclusive features (e.g. ad-free) by upgrading your account today.
Upgrade Now