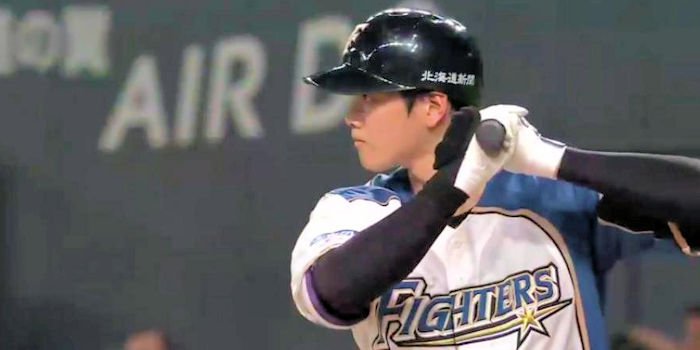 | | |
| --- | --- |
| Will Cubs acquire the Babe Ruth of Japanese baseball? | |
---
CHICAGO -- News broke recently that the Cubs may be saving bullets (ergo: money) this off-season to go after Japanese superstar Shohei Otani at the end of 2017. He is twenty-two years old and considered the "Babe Ruth" of Japanese (Pacific League) baseball for his ability to both dominate from the mound and in the batter's box, many Cubs fans were more than joyed to hear this.
Otani throws 102 MPH and had a 10-4 record with a 1.84 ERA and 174 strikeouts this season and as a hitter, he batted .322 with 22 home runs, 67 RBIs and a 1.004 OPS. He is the first player in Pacific League history to be selected as 'Best Nine' as a pitcher and a designated hitter.
This player, as anyone following the situation may know, has been touted as a starting pitcher and an outfielder here or there on the side. And who better, if not an American League team where he could DH, to deploy such a talent than the mad professor Joe Maddon at the helm?
One problem: under the new CBA regulations, teams cannot spend more than five million per year on a free agent unless that player is over 25. That led many to speculate Otani wouldn't be over quite so soon, as he wouldn't be able to land that massive contract until 2019--when he would finally turn 25. Had he the ability to outright test free agency right now, or even after next season, talk was he could have to potentially come at the asking price and total in excess of $200-300 million (over approx. 10 years, would be my personal presumption), even if that was just the initial starting point and the final result was for less, he likely would have still ended up far north of 150--or even 200 million. If his body were to hold up, even at 25, he still could have a large chuck of money coming. It's not wise to jump the gun so soon, as many expected Otani to stay in Japan until (at least) 25 unless MLB made a change or exception to the rule in lieu of his situation, but evidently, he is dead serious about coming over despite the lack of a hefty paycheck.
With that news, the Cubs may not have to wait until 2019 or beyond--or continue to hold back money that would have gone towards such a mega deal next off-season, which now can be reallocated, as Otani has gone on record saying he still would like to come stateside after next season. Per a blurb from Twitter on DEC 8th, by Japanese pro baseball journalist Jim Allen: "Hideki Kuriyama, Otani's manager in Japan, said Thursday, he still expects him to go in 2018 on minor league deal because it's about the game."
So the 200-300 million he could have potentially pocketed apparently doesn't matter so much to him as making it to the states in his prime and establishing himself with a team earlier than [even three years] later into his career. At least that's what is being tossed about right now.
Where this particularly helps the Cubs--under the new CBA rulings within the agreement, which will run through 2021 (as announced recently)--Otani would be opting to sign a minor-league deal, which means he would remain under control with whichever team signs him--say, the Cubs' n this instance-- six seasons. The potential 300+ million dollar payday may never even come, and if it does, it would come sometime during arbitration years (3 years of service time or if super-two eligible, a bit earlier), and if the Cubs went year-to-year (again--hypothetically speaking), it wouldn't be until around age 27-28 in which he could be a true free agent.
Is Otani going to risk this? It sounds like he just may, and if he wants to be in a Cubs uniform after next season, that's a decision that he can make and money won't necessarily break. This may just help the Cubs out a lot in retaining talent and staying in the market or making a surprise move this off-season. It allows them to head into negotiations on an extension with 2015 Cy Young winner Jake Arrieta, who seemed due to walk with Scott Boras as his agent, heading onto the other side of thirty, and looking at his one big shot at a payday. Will it come from the Cubs? I'm still unsure. I don't think I would be opposed to a short-term deal with a high AAV, but boy, do long-term (five-seven year) deals make me nervous when it comes to pitchers in their early thirties--even when they're freakish athletes like Arrieta is.
The Cubs have been briefly linked to a few other interesting names, such as former Padres all-star starting pitcher Tyson Ross (coming off of shoulder surgery), 2016 breakout starting pitcher Danny Duffy of the Royals (who is looking at a big raise next off-season and may be on the Royals' trade block, linked to numerous other teams in addition to Chicago), and rumors of interest surrounding Detroit's lefty reliever Justin Wilson. How much, if any of this may come into fruition and come true is unknown. The roster has already started to take shape nicely for 2017, and projects well as it is, but reinforcements definitely won't probably hurt the Cubs.
Is it fair to think Shohei Otani could change his mind if the CBA doesn't make an exception for his case in seeing the talent that is at hand? Perhaps, and maybe he will stay until 25 and then come to the states. Still so, he seems as though he feels he has nothing left to prove in Japan, bent on testing himself against the world's highest competition by coming to the MLB after next year's off-season. If the Cubs felt they had a chance before, there's no reason to believe they don't now--even if there will be 29 other suitors, potentially. And if any NL team could pull off a player like this and utilize all of his talent in the best ways possible, it would be this Cubs team, with help from its manager and 'mad professor' Joe Maddon at the helm. I wouldn't be surprised to see him as a 2-way player under Maddon, and for all we know, that may become a driving point in negotiations with teams. It's unclear if playing offense will be something he wants to do daily, when he pitches (at the least), etc. But one thing is for sure: I trust Maddon to figure that part out if Otani crosses that path with this Cubs team.
This is definitely a story to follow into next off-season, as the Cubs having been rumored favorites for his services, on top of news he may come over yet, has to be music to many fans' ears. Even to this skeptic, from all things I have come across, he seems hellbent on coming stateside next year. If such is the case, is it too early to start asking Santa for a signing in advance?