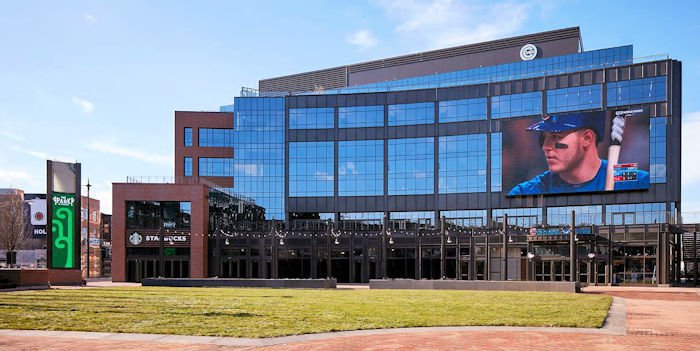 | | |
| --- | --- |
| Cubs News: First Look: The Park at Wrigley | |
---
On the heels of a much-celebrated World Series baseball win, one that many fans waited a lifetime for, this season the Chicago Cubs are giving back more than just a trophy to their Northside home. Directly outside Wrigley Field, in what was once a coal shipping yard turned parking lot, a new office building and public park now stand.
The transformation, years in the making, was led by Stantec's Chicago office. With a goal of creating a vibrant public plaza full of activity year round, the design team drew inspiration from some of the world's great civic plazas, such as the Place des Vosges in Paris, and Chicago's own Millennium Park, both notable gathering places.
"When we first dreamt about what the plaza could be, we wanted it to be more than just a walkway people pass through on game day," said Grace Rappe, principal designer, Stantec. "We wanted to create a park for memories, a place for the community to gather and thrive."
The approximately 39,000 SF Park at Wrigley features food and beverage respites at street level and ample green space for activities and community events, including a farmers' market and outdoor movies in the park. Tiered seating is nested between large-scale planters along the perimeter to enclose the plaza and create intimacy. A centrally located water feature serves as an interactive focal point, and brick paved pathways strategically direct foot traffic toward the newly unveiled West Gate for entry and egress.
The new Park at Wrigley and office building are the latest elements of a multi-year $500 million restoration of this historic sports venue. With a commitment to maintaining the character and tradition of one of America's most beloved ballparks, Stantec architects have also had a lead design role in other aspects of the restoration program, including the clubhouse, facade restorations, and bleacher seating enhancements.
The @parkatwrigley is officially open! What a great space for our neighbors and fans. ?? https://t.co/raXGN1n97I pic.twitter.com/5umAQYH3K3

— Chicago Cubs (@Cubs) April 10, 2017
The Park at Wrigley set for 10 am ribbon cutting. @cbschicago #Cubs #WorldSeriesChampions pic.twitter.com/f7cVLk68kt

— Mike Puccinelli (@MPuccinelliCBS2) April 10, 2017
It's #OpeningDay at the new @ParkatWrigley! #GoCubsGo pic.twitter.com/JdzhULxtUs

— ChicagosMayor (@ChicagosMayor) April 10, 2017
Some of the festivities at the @parkatwrigley ribbon cutting. Had to jet. @DannyEcker @arielfab @paschutz @MaryAnnAhernNBC have live updates pic.twitter.com/iQRWoaOuk9

— Tweed Thornton (@Tweed_Thornton) April 10, 2017
The new Park at Wrigley also includes tiered seating within its exterior brick walls. pic.twitter.com/ioevWrw0rj

— Bill Ruthhart (@BillRuthhart) April 10, 2017
Beer and wine for sale in The Park at Wrigley next to the new west gate. #Cubs pic.twitter.com/MQzmGYpcBI

— Danny Ecker (@DannyEcker) April 10, 2017
Park at Wrigley will have events by Old Town School, Green City Market, Music Box Theater pic.twitter.com/0PXVS2ifKz

— Paris Schutz (@paschutz) April 10, 2017
Motorola activating inside trophy room at The Park at Wrigley with some company history. #Cubs pic.twitter.com/6up8kepgkn

— Danny Ecker (@DannyEcker) April 10, 2017