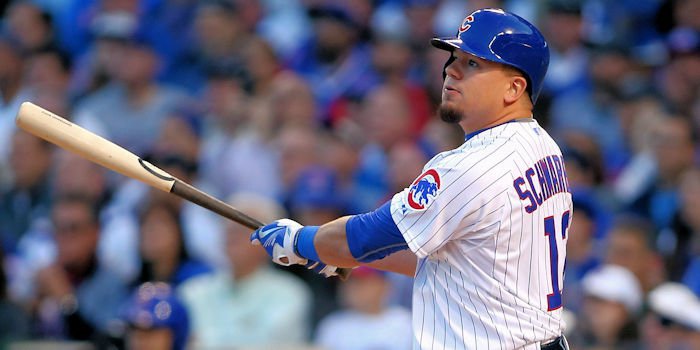 | | |
| --- | --- |
| Cubs News: Kyle Schwarber injury update | |
---
Cubs injured catcher Kyle Schwarber has been sitting out the major of the 2016 season as he rehabs from his torn ACL and LCL in his left knee.
Schwarber was interviewed by 670 The Score on Thursday afternoon and discussed his rehab progress.
"So we're shooting for spring, but I'm going to push myself as hard as I can to come back as soon as I can. It sounds like it's going to be spring," Schwarber said.
Schwarber has taken his rehab seriously and is trying to be patient with the process.
"I feel good," Schwarber said. "Everything's right where it needs to be. Doctors said it's looking good. I'm starting to jog now on the ground, straight lines, no cutting. Everything's going according to plan; it's just a low process. I'm just happy to be here and be able to watch some baseball and cheer these guys on."
Schwarber is still working hard mentally on the things he can control while cheering and supporting his teammates.
"I want to be ready for anything, so I want to keep the same mindset," Schwarber said. "Even through this injury, I want to prepare as a catcher and keep studying everything I possibly can to be ready for next year."
In 2015, Schwarber hit .246 with 16 home runs, 43 RBIs with an outstanding .842 OPS in only 69 games (273 at-bats) in his rookie season.