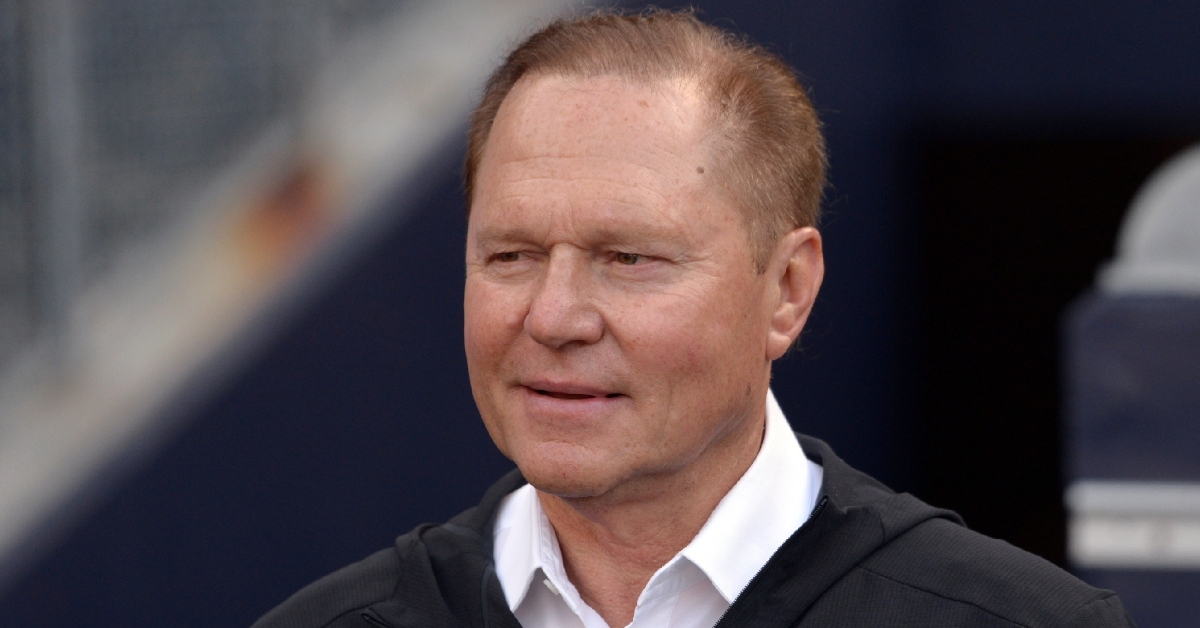 | | |
| --- | --- |
| Agent Scott Boras calls out MLB over Kris Bryant's injury | |
---
| | | |
| --- | --- | --- |
| Tuesday, September 24, 2019, 7:01 AM | | |
NEWPORT BEACH, Calif. — Scott Boras, the most powerful agent in professional baseball, represents Chicago Cubs third baseman Kris Bryant, and he was far from pleased when a wet first-base bag caused Bryant to suffer an ankle sprain on Sunday. Bryant was diagnosed with a Grade 2 sprain after slipping off a base on a rainy afternoon at Wrigley Field.
The Cubs' 3-2 loss the St. Louis Cardinals on Sunday featured light drizzle throughout, but no rain delays ever came to fruition. Bryant hustled to try and beat out a throw to first in the third inning, but he skidded off the bag and rolled his right ankle while falling to the ground. Adding to the unfortunate nature of the injury is the fact that Bryant has been nursing a right-knee injury since the All-Star break, and it was potentially exacerbated by Sunday's mishap.
Visible pain on Bryant's face as he's helped off the field. The #Cubs group of walking wounded keeps growing. Such a hard thing to watch... https://t.co/lYSIk7YWTB pic.twitter.com/gxFKmFQNlA

— Kelly Crull (@Kelly_Crull) September 22, 2019
@MCarmenSnchez4, @_karlacortes_, @azurri_10 y @KeriCubbyBear estos pueden ser los últimos momentos de @KrisBryant_23 como tercera base de los @cachorros en el #wrigleyfield

Let's go @Cubs#EverybodyIn pic.twitter.com/A3ZtCkpXNS

— ???????????? ??. ????????é?? (@rafaeljcortes) September 22, 2019
Kris Bryant exited today's game with a sprained right ankle.

Initial X-rays did not reveal a fracture. pic.twitter.com/VpXCCbF8jp

— Chicago Cubs (@Cubs) September 22, 2019
Cubs beat reporter Gordon Wittenmyer of the Chicago Sun-Times chatted with Boras about Bryant's ankle injury and revealed in an article that Boras was deeply perturbed by the weather-related conditions that Bryant was forced to play through. Interestingly, superstar outfielder Bryce Harper, who is a close friend of Bryant's, is also represented by Boras, and he suffered a knee injury by slipping on a wet bag in 2017.
"What have they done since Harper?" Boras rhetorically asked Wittenmyer when taking MLB to task. "The answer is: nothing. They're focused on other factors, economic factors, all things relating to how they can administer the game, and, yet, the safety of players and resolution of this issue has gone without any attention."
Due to a substantial amount of weather delays and postponements in the 2018 season, MLB opted this past offseason to be much more lax in implementing rain delays, with games typically progressing in the midst of light rainfall this year. However, many people affiliated with the big leagues, such as Boras, are irked by the danger that playing through wet conditions presents for players.
Boras said, "There's been no discussion, no resolution, absolutely nothing done in this area, except the player is to bear the burden of slippery and wet bags."
There is even chatter that the league should adopt softer bags to prevent base-related injuries, including those caused by hard slides, like the thumb fracture recently suffered by Cubs shortstop Javier Baez. MLB publicly commented on the issue on the Monday with a statement claiming that there is no other bag on the market that is safer than the one used in major-league competition. Regardless, Boras and other critics will continue to rail against MLB for allowing games to be played under subpar weather conditions.
"The issue for me is they've done nothing," Boras said of MLB. "They have completely skirted this issue."