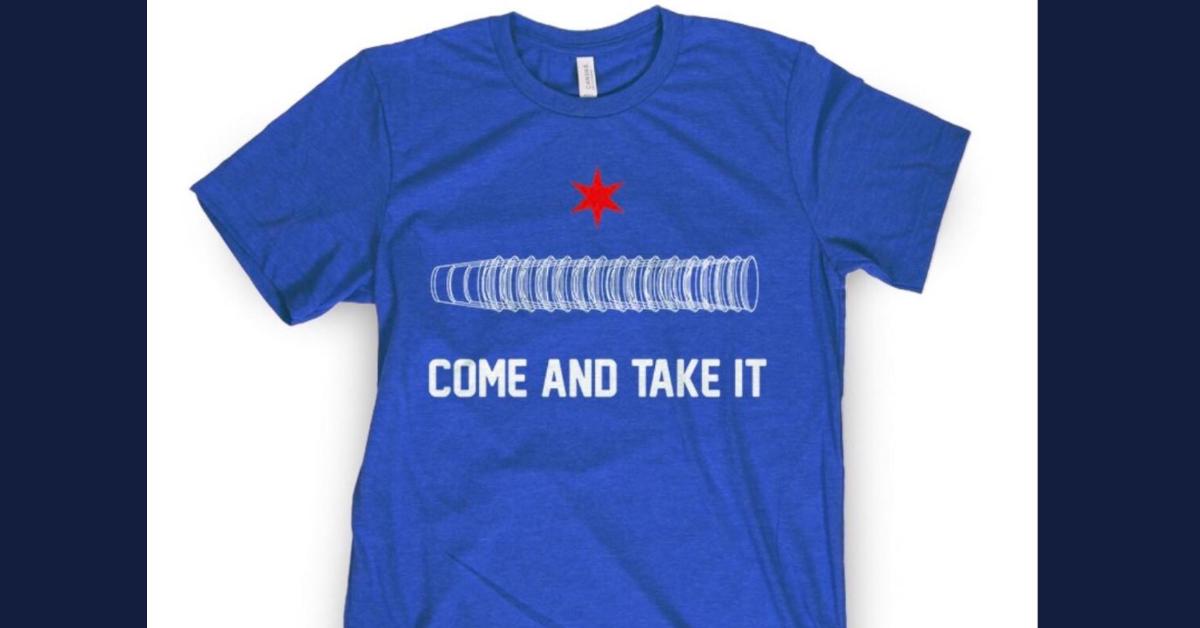 | | |
| --- | --- |
| Barstool Chicago wages war with Cubs over beer snakes | |
---
| | | |
| --- | --- | --- |
| Tuesday, July 16, 2019, 9:20 PM | | |
CHICAGO — Last month, a viral video emerged of a security guard at Wrigley Field ruining a group of fans' fun by taking away their towering stack of beer cups, which is known as a "beer snake." Since then, Barstool Chicago has gotten in on the fun and, in typical rebellious Barstool Sports fashion, is encouraging fans to stack beer snakes as high as possible while at the Friendly Confines.
The beer-snake trend has been popular at Wrigley Field since 2017, but Cubs security has cracked down on it as of late. As a result, a feud has developed between the Cubs organization and Barstool Sports, with the popular sports blog selling $20 blue T-shirts adorned with a depiction of a beer snake and the phrase "COME AND TAKE IT" across the front.
Imagine being mad at this? Cubs are the softest team on the planet. pic.twitter.com/e72kagzsNj

— The 7 Line (@The7Line) June 22, 2019
Wrigley security hates fun #LegalizeCupSnakes (Via @rogue_mason) pic.twitter.com/5toMLy66wQ

— Barstool Chicago (@barstoolchicago) June 22, 2019
Some say cup snakes are fueling the team! Don't risk cooling them down, BUY A SHIRT — https://t.co/C4S9Komp7S pic.twitter.com/lbUhoY5YBl

— Barstool Chicago (@barstoolchicago) July 15, 2019
Not amused by the troll job, Cubs Vice President of Communications and Community Affairs Julian Green sent a scolding email to Barstool Chicago that essentially threatened the website's good standing with the Cubs franchise. Furthermore, the T-shirts have been banned inside Wrigley Field, due in large part to the trend of "Stoolies" making videos of beer-snake stacking efforts at games and sending them to Barstool Chicago.
By the time security came these cups were flying EVERYWHERE #LegalizeCupSnakes pic.twitter.com/7Z0Jw4pUdV

— Barstool Chicago (@barstoolchicago) June 26, 2019
Most important job in the world pic.twitter.com/ei1piIIvh1

— Big Cat (@BarstoolBigCat) June 22, 2019
@RedLineRadio @barstoolcarl @PrazMaster the zookeeper pic.twitter.com/h7vgTGMRyY

— Rogan (@rogan_ben) July 16, 2019
Part of Green's email reads, "If this is the posture Barstool is going to take with our business and ex-employees, then, we will have no interest in not only future opportunities with fans, players, etc., but flag our vote of no confidence with the other clubs and Major League Baseball."
Adding fuel to the fire, a former Wrigley Field usher known only by the classy moniker "Ligmaballsack" was recently fired by the Cubs for appearing on the Barstool Chicago podcast Chicago Dog Walk. The usher revealed behind-the-scenes details pertaining to the Cubs' fight against beer snakes, which led to the Cubs terminating his employment with the organization and Green referencing it in his angry email. The fight continues to rage on, though, and, as of now, it seems like a battle that neither side is willing to lose.
Emergency News Brief - Wrigley Field Usher Ligmaballsack has been fired for coming on Chicago Dog Walk pic.twitter.com/MFTsEVQeTX

— Eddie (@EddieBarstool) July 15, 2019