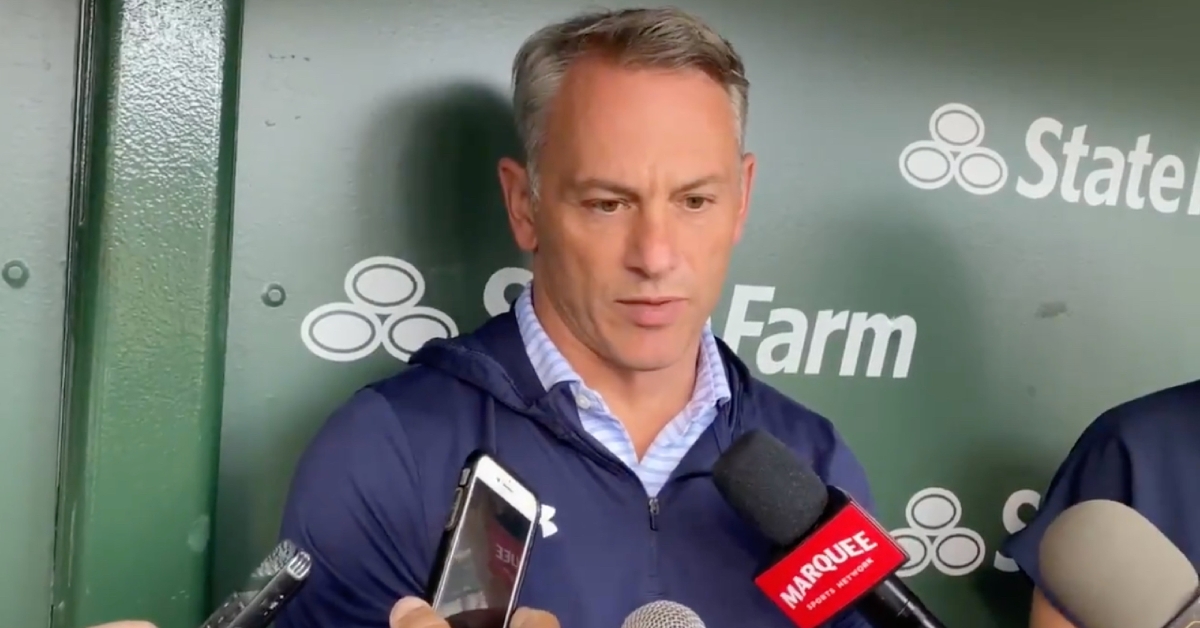 | | |
| --- | --- |
| Cubs News: Jed Hoyer discusses trade deadline plans with media | |
---
| | | |
| --- | --- | --- |
| Thursday, July 8, 2021, 9:08 PM | | |
CHICAGO — Chicago Cubs President of Baseball Operations Jed Hoyer addressed the media on Thursday and was rather transparent in making it clear that there is a decent chance that the Cubs will be sellers at the trade deadline. Hoyer, the former Cubs general manager, is in his first season as the president of baseball operations, and he is expected to be fairly busy leading up to the July 30 trade deadline.
"I think I've always said you try not to look at the standings too much," Hoyer told reporters at Wrigley Field. "You have to look at what kind of baseball you're playing. We came off an 11-game losing streak."
Hoyer touched on the Cubs' lengthy losing skid, which finally came to an end on Wednesday, and implied that it changed his mentality regarding how to approach trades this month. The expectation is that Hoyer will look to begin molding the Cubs' future and crafting his own team in the wake of Theo Epstein's tenure at the helm. While Epstein was reluctant to trade away key players in recent seasons, Hoyer does not seem to be as wary about rebuilding.
"We've believed in these guys since 2015," Hoyer said of the Cubs' core. "They've had a ton of success, and I would never count these guys out. But 11 days ago, we were fully on the 'buy' side of this transaction, and everyone was calling about that. Now, people are calling to see which players are available."
Prior to the 11-game losing skid, the Cubs were considered frontrunners in the National League Central. Now, they are merely trying to stay afloat in the playoff race. With that being said, it would be understandable for Hoyer to trade for assets and prepare for the coming season later this month, as opposed to keeping the team together and risking the Cubs missing out on the postseason with nothing to show for it."
"It's a very different scenario than we expected. Life comes at you fast. 11 days this is not where we were mentally, and, obviously, 11 games certainly changes a lot of things."
Cubs president of baseball operations Jed Hoyer on the team's recent losing streak and its potential impact on the Trade Deadline… pic.twitter.com/qg9hWRzgTU

— Jordan Bastian (@MLBastian) July 8, 2021
Several notable Cubs are considered hot commodities on the trade market, specifically third baseman Kris Bryant and closer Craig Kimbrel, both of whom were just named All-Stars. Bryant is an impending free agent who has been mentioned in trade talks since this past offseason, and Kimbrel, who has a team option for next season, is widely regarded by MLB insiders as the most coveted trade target of the summer.
"Turnover is inevitable," said Hoyer. "We've been as stable as anyone, but at some point there is going to be some turnover on the roster, in part because we're not seeing the results that we need to."
The writing is on the wall for the Cubs to look fairly different come August. However, a quick turnaround could change Hoyer's plans and inspire him to keep the core together for one last playoff push this season. It will likely take a lot of impressive baseball to prevent Hoyer from selling off some of the Cubs' top trade targets later this month, though. The Cubs' front office has aimed to buy at the trade deadline dating back to 2015, but, for Hoyer, this year's deadline could be all about selling and preparing for the future.