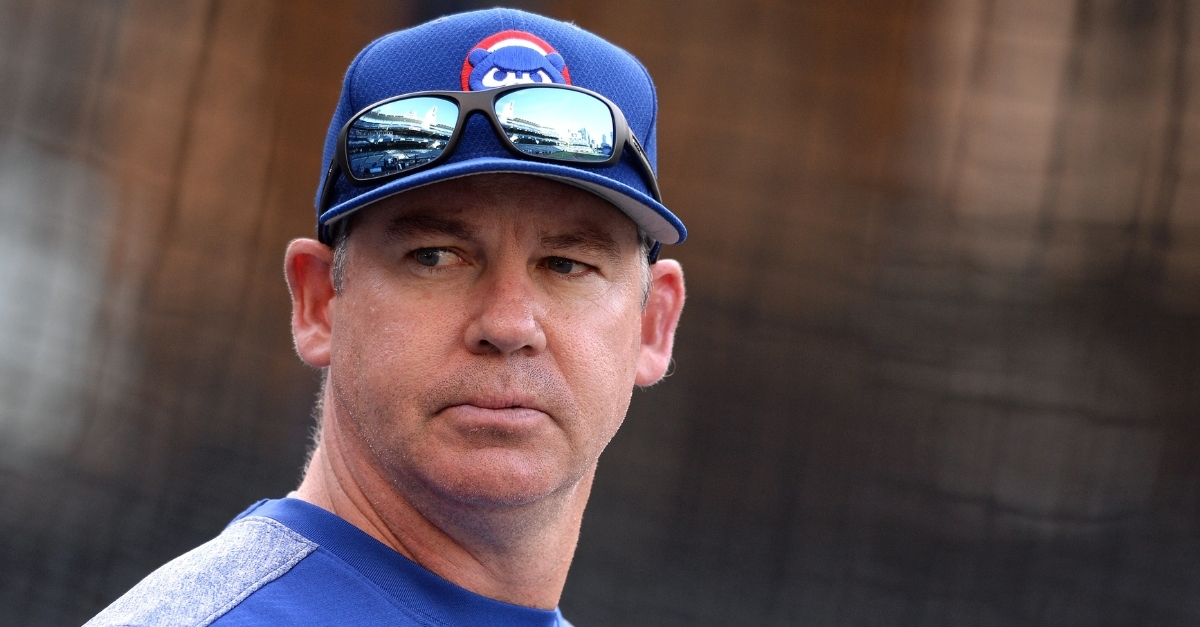 | | |
| --- | --- |
| Cubs News: Mark Loretta rumored to be possible replacement for Joe Maddon | |
---
| | | |
| --- | --- | --- |
| Monday, September 23, 2019, 4:20 PM | | |
CHICAGO — Renowned MLB insider Jon Heyman is well-sourced enough that any rumor that he lets fly should not be taken lightly. Therefore, based on the bomb that Heyman dropped in a radio appearance on Monday, it is worthwhile to consider that first-year Chicago Cubs bench coach Mark Loretta could very well become the Cubs' next manager.
Heywman appeared as a guest on 670 The Score's Mully & Haugh Show on Monday and said that, based on the Cubs' recent downward spiral, "we can all count on the fact that the Cubs will have a different manager next year." Of course, the Cubs are still in playoff contention, but their odds of reaching the postseason are slim. With that being said, should the Cubs miss out on the playoffs, Cubs manager Joe Maddon, who is in the final year of his contract, is unlikely to be retained following the 2019 season.
Former Cubs catcher and team leader David Ross has already been mentioned by several reliable sources as a potential candidate to replace Maddon, and former New York Yankees skipper Joe Girardi, who is also an erstwhile Cubs backstop, has been discussed as a future Cubs manager dating back to this past offseason. Heyman became the first notable insider to insert Loretta into the rumor mill, though, and he also mentioned Cubs first-base coach Will Venable and former Cubs infielder and current MLB network analyst Mark DeRosa as possible candidates.
Loretta, a former big-league infielder, replaced Brandon Hyde as the Cubs' bench coach in January, as Hyde left to become the new manager of the Baltimore Orioles. With no previous coaching experience at the major-league level, Loretta was a somewhat surprising choice to fill the void left by Hyde's departure, and it would it be even more surprising if he were to fill the void left by Maddon's dismissal.
Describing Loretta as "the most likely candidate to be the Cubs' manager," Heyman claimed that Loretta is well-respected throughout the Cubs organization and could also garner interest from other teams with managerial openings. Although Loretta is only in his first season as an MLB coach, he worked in the San Diego Padres' front office for the previous nine seasons and has a great reputation around baseball. Not long after being hired as the bench coach, Loretta was asked by a reporter about possibly being the Cubs' manager-in-waiting and how that could potentially alter his relationship with Maddon.
Loretta responded by saying the following: "It's not strange because Joe's not making it strange. I think he's so sure and confident in his ability that I don't think it's going to be any kind of an issue for him, and I think it will be a trickle-down effect for everybody else. I understand the speculation. Start adding things together, things like that. But Joe is a huge reason why I'm interested in taking this job. I think he's one of the best managers in the game, for sure. One of the best people."