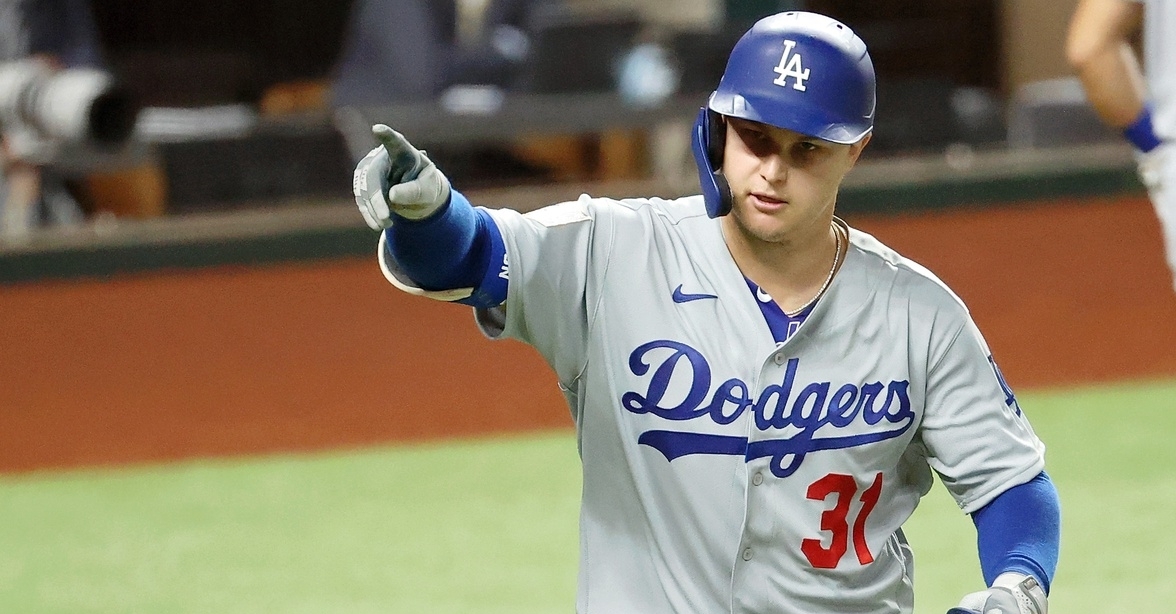 | | |
| --- | --- |
| Cubs reportedly sign outfielder Joc Peterson | |
---
| | | |
| --- | --- | --- |
| Friday, January 29, 2021, 8:35 AM | | |
This should be some good news for most Cubs fans.
The Chicago Cubs have reached an agreement on a one-year, $7 million deal with free-agent outfielder Joc Pederson on Friday, according to multiple reports including Ken Rosenthal.
The deal is pending a physical and no financial information has been disclosed.
Pederson will likely be slotted in left field to replace the absence of Kyle Schwarber who was signed this offseason by the Washington Nationals.
In 2020, the 28-year-old hit .190 with 7 homers and 16 RBIs in 121 at-bats. However, he got hot in the postseason hitting .382 with two home runs.
In the full season back in 2019, Pederson hit .249 with 36 homers.
He is a .230 hitter with 130 total homers with 303 RBIs and .806 OPS for his career.
If Pederson can return to his 2019 form, the Cubs will have a slugger at the bottom of their order to protect some of their other hitters in the lineup.
He is also a little better defender than Schwarber was as he has some experience playing centerfield as well as his customary left field spot.
More to come on this breaking story.
Klye Schwarber career slash line: .230/.336/.480. Joc Pederson: .230/.336/.470. Schwarber in 2020: .188/.308/.393. Pederson: .190/.285/.397. Both LHHs with below avg defensive reps. #Cubs https://t.co/lMs6fbgZRj

— Joel Sherman (@Joelsherman1) January 29, 2021
Pederson is a strict platoon player but in the NL Central there are smaller ballparks and not a lot of lefty starters.Platoon with Phil Ervin likely.

— Bruce Levine (@MLBBruceLevine) January 29, 2021
Joc Pederson to sign with Cubs, per @Ken_Rosenthal pic.twitter.com/gI2fVDUh3G

— FOX Sports: MLB (@MLBONFOX) January 29, 2021
Joc Pederson is a fun player.

"They don't want that smoke" ?? pic.twitter.com/QJ4UqZOx7T

— Cubs Live (@Cubs_Live) January 29, 2021
Cubs were very appealing to Joc Pederson because he's going to get the opportunity to play every day. He's got a reputation as a RH killler, but if he hits lefties and re-enters the market after a strong age-29 season -- Wrigley fits him well -- he could command much more.

— Jeff Passan (@JeffPassan) January 29, 2021
Pederson did not have a great 2020 but saw him up close in the WS. Looked really good at the plate during the playoffs. Weird, though, the Cubs talked about switching up their offense and brought in a very similar player to the one they let go (but paying new guy less)

— Jesse Rogers (@JesseRogersESPN) January 29, 2021
Pederson's deal has a 2022 option. With the buyout component, the #Cubs will be spending much less in 2021 dollars on Pederson than Schwarber, who they projected more as an $8M-plus arbitration salary for 2022. The marginal difference is likely to be redirected toward SPs.

— Joel Sherman (@Joelsherman1) January 29, 2021
The Chicago White Sox offered Joc Pederson a one-year deal worth around $10 million, but he asked for more money and was turned down.

Pederson ended up signing with the Chicago Cubs for a one-year deal worth $7 million.

(Via @jorgecastillo)

— Daniel Greenberg (@ChiSportUpdates) January 29, 2021