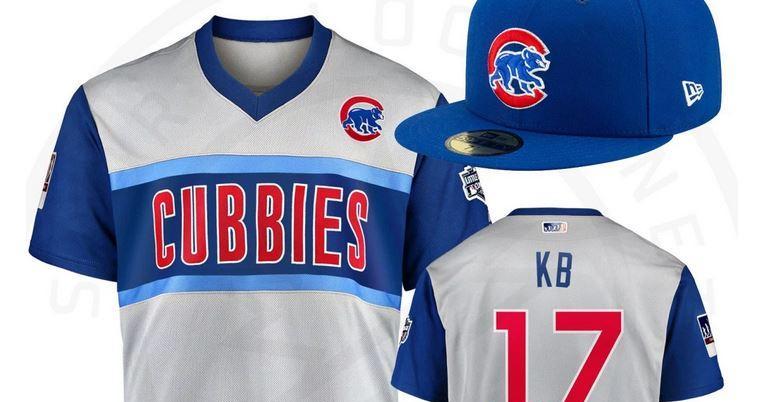 | | |
| --- | --- |
| LOOK: Awesome Cubs jerseys released for Little League Classic | |
---
The Chicago Cubs will head off for the 2019 Little League Classic against the Pittsburgh Pirates in Williamsport, Pennsylvania on Sunday, August 18th at 6 p.m. CT.
The fun third annual event will be played at Bowman Field and air on ESPN Sunday Night Baseball.
The cool-looking Cubs uniforms have been released and they are pretty awesome with 'Cubbies' on the front including a little league patch on the sleeve with their specific Player Weekend nicknames on the back.
Probably one of the cooler and unique uniforms in a long time for the Cubs.
Cubbies vs. The Burgh

Introducing the 2019 #LittleLeagueClassic uniforms. ?? pic.twitter.com/4Awolzh245

— MLB (@MLB) August 9, 2019
Here is a list of all the Cubs player nicknames if you are looking for one particular player's uniform:
Albert Almora Jr.: "TICO"
Javier Baez: "EL MAGO"
David Bote: "BOAT"
Kris Bryant: "KB"
Victor Caratini: "VIC"
Nicholas Castellanos: "ARTIST"
Tyler Chatwood: "CHATTY"
Steve Cishek: "SPEEDPASS"
Willson Contreras: "VENEZUELA"
Yu Darvish: "YU-SAN"
Taylor Davis: "BTD"
Ian Happ: "HAPPER"
Cole Hamels: "HOLLYWOOD"
Kyle Hendricks: "HENDO"
Jason Heyward: "J-HEY"
Derek Holland: "DUTCH"
Tony Kemp: "CHIENG"
Craig Kimbrel: "DIRTY CRAIG"
Brandon Kintzler: "SALT"
Jon Lester: "LEFTHANDER"
Brandon Morrow: "B MO"
David Phelps: "PHELPSY"
Jose Quintana: "LELO"
Anthony Rizzo: "TONY"
Kyle Ryan: "KR91"
Kyle Schwarber: "SCHWARBS"
Pedro Strop: "STROPY"
Rowan Wick: "ROW"

Tags: Cubs Baseball
,
,
Albert Almora Jr
,
,
David Bote
,
Victor Caratini
,
Tyler Chatwood
,
Steve Cishek
,
Willson Contreras
,
Yu Darvish
,
Taylor Davis
,
,
Cole Hamels
,
Kyle Hendricks
,
Jason Heyward
,
Brandon Kintzler
,
,
Brandon Morrow
,
Jose Quintana
,
Anthony Rizzo
,
Kyle Ryan
,
Kyle Schwarber
,
Pedro Strop
,
Rowan Wick