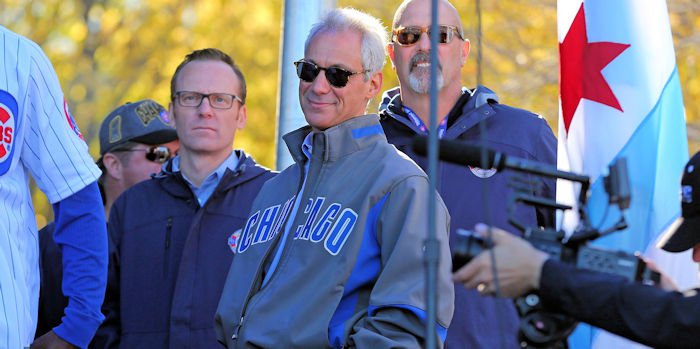 | | |
| --- | --- |
| Mayor slams Joe Ricketts: "Hate has no home in Chicago" | |
---
| | | |
| --- | --- | --- |
| Tuesday, February 5, 2019, 7:11 PM | | |
The website Splinter released private emails from Joe Ricketts showing racist jokes, conspiracy theories about Barack Obama, and anti-Muslim remarks.
Chicago Mayor Rahm Emanuel was disturbed by the emails and released a statement on Tuesday:
"Joe Ricketts once said that I do not share his values. Truer words were never spoken," Emanuel said in the statement. "The ignorance and intolerance he has espoused are not welcome in Chicago. Those are not the values I learned from my parents, and those are not the values Amy and I have instilled in our children. Joe Ricketts should consider himself lucky he has never met my mother. She would teach him a lesson. I am proud not to share his bigoted opinions. Hate has no home in Chicago."
As I mentioned on the radio a few minutes ago, the Council on American-Islamic relations is having a presser this aft re Joe Ricketts emails. The mayor has also put out a statement denouncing them. This is an ugly, ugly chapter for the family name right now.

— Jesse Rogers (@ESPNChiCubs) February 5, 2019
Cubs chairman Tom Ricketts also denounced the emails by his father:
"We are aware of the racially insensitive emails in my father's account that were published by an online media outlet," the statement read. "Let me be clear: The language and views expressed in those emails have no place in our society."
"My father is not involved with the operation of the Chicago Cubs in any way. I am trusted with representing this organization and our fans with a respect for people from all backgrounds. These emails do not reflect the culture we've worked so hard to build at the Chicago Cubs since 2009."
Joe Ricketts has since apologized for the emails that were released:
"I deeply regret and apologize for some of the exchanges I had in my emails. Sometimes I received emails that I should have condemned. Other times I've said things that don't reflect my value system. I strongly believe that bigoted ideas are wrong."