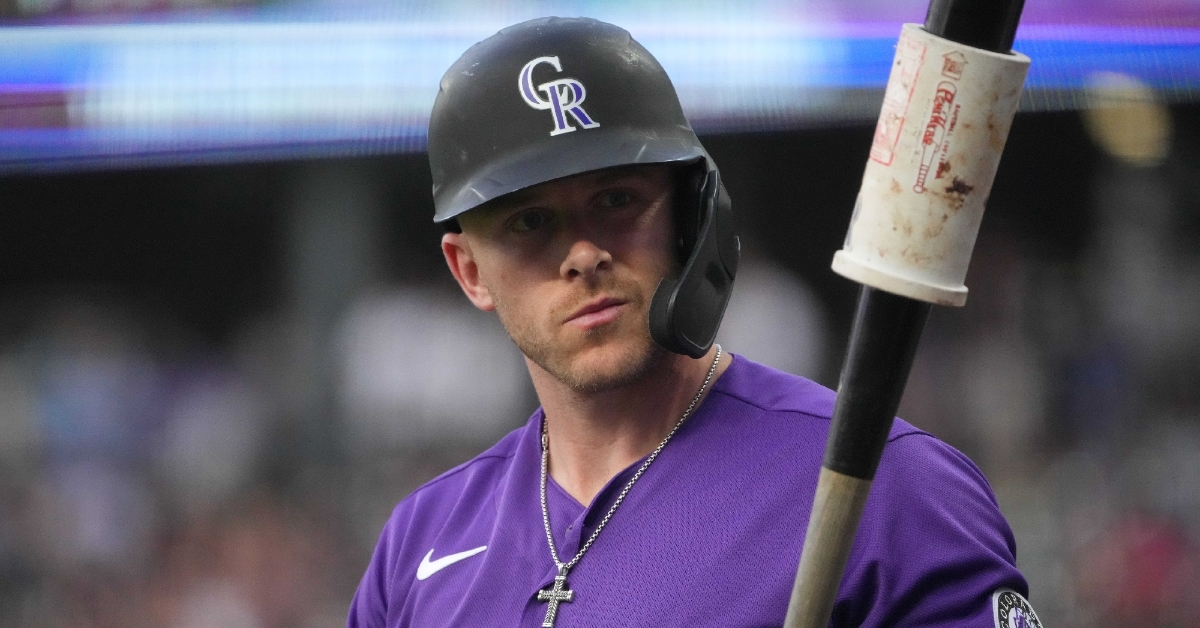 | | |
| --- | --- |
| Trevor Story expresses interest in signing with Cubs | |
---
CHICAGO — With the Colorado Rockies currently in the Windy City to take on the Chicago Cubs, star Rockies shortstop Trevor Story is enjoying the experience of playing at the hallowed ground that is Wrigley Field and did not shy away from speaking highly of the ballpark to the media. Following the Rockies' 6-4 loss to the Cubs in Monday's series opener, Story praised the Friendly Confines and the diehard fans who help make it such an incredible stadium.
"It's a special place," said Story. "I was just talking to our hitting coach, [Jeff] Salazar, about it. When you're here, there's something different about it. Here and New York and Boston, in those three stadiums, you just feel a different atmosphere about it."
The Rockies surprised the baseball world by not dealing Story, an impending free agent, at the trade deadline last month, leaving him to play out the remainder of his contract for a Rockies team with practically no chance of reaching the playoffs. Story was asked about his chances of joining the rebuilding Cubs once he hits free agency this coming offseason, and he answered by stating that he would listen if the Cubs made him an offer.
"Obviously, they're going to do what they think is best for their team to win in the future," Story said of the Cubs. "I think that's to be said for every club."
Story made it clear to the press that he would need to know what the Cubs' rebuilding plans were before signing a deal to join the North Siders, as the 28-year-old is understandably eager to compete for a contender in the not-too-distant future. A two-time All-Star, Story has played his entire big league career, which began in 2016, with the Rockies, and his lone playoff victory came at Wrigley Field in 2018.
"It certainly brings memories back to 2018," Story said following Monday's game. "It was obviously good for my team. It was electric, man. I feel like that's what it's all about, playing baseball."
The 2018 National League Wild Card Game saw the Rockies defeat the Cubs 2-1 in a 13-inning marathon, and the atmosphere at the Friendly Confines on that fateful night clearly made an impact on Story. While Nico Hoerner figures to be the starting shortstop of the future for the Cubs now that Javier Baez is no longer with the club, Story's interest in becoming a Cub could change that.
"From afar, it's such a historic organization," Story said while discussing the Cubs and Wrigley Field. "I love playing here. The fans are great. Just coming here over the last six years, it's a place you look forward to coming, for sure."
As for whether or not Cubs president of baseball operations Jed Hoyer would have any interest in signing an expensive veteran early in a rebuild, that is unknown at this point. However, if Story were interested in patiently waiting for an opportunity to compete for a contending Cubs team after a few years of rebuilding, Hoyer may feel compelled to offer him a contract. For now, the two-time Silver Slugger Award recipient will have to make the most his time spent at Wrigley Field this week and be left to wonder if the one-of-a-kind venue is his future home.