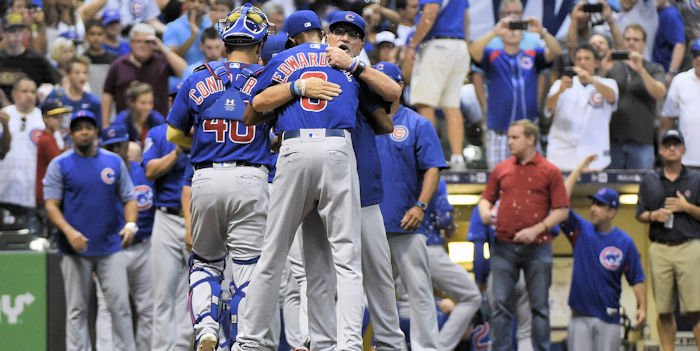 | | |
| --- | --- |
| Twitter reacts to Cubs parting ways with Joe Maddon | |
---
The Chicago Cubs announced Sunday that manager Joe Maddon won't be returning to coach the team in 2020.
Some of Maddon's impressive accomplishments with the Cubs in five seasons includes 471 wins, 18 playoff wins, and breaking the Cubs title curse after 108 years.
Obviously, Twitter was abuzz with the news that Maddon would be coaching his final game on the North Side today.
While it has long been expected that Joe Maddon would not return to the Cubs, it's still one of those moves that shows the frailty of this business, this job. He won a World Series with the Chicago Cubs. Again: He won a championship with the Cubs.

Three years later, he is out.

— Jeff Passan (@JeffPassan) September 29, 2019
And good luck to whoever is next up- you've got a tough act to follow

— Jim Deshaies (@JimDeshaies) September 29, 2019
Whatever happens, there's no doubt that this man will forever be a legend in Chicago. Joe Maddon did one hell of a job as the manager of the Chicago Cubs. pic.twitter.com/ycopBC9cMa

— Cubs Live (@Cubs_Live) September 29, 2019
Breaking: Joe Maddon will not return as manager of the Chicago Cubs, per @JeffPassan. pic.twitter.com/3agFAFi9RL

— SportsCenter (@SportsCenter) September 29, 2019
Joe Maddon during his 5 year tenure as the manager of the Chicago Cubs:

• 471 wins
• 18 playoff wins
• Four consecutive playoff berths
• 1 pennant
• 1 World Series

There is no words to describe what Joe Maddon means to the city of Chicago. Thank you, Joe. pic.twitter.com/i7KMrlC1QC

— Cubs Live (@Cubs_Live) September 29, 2019
"It's a good moment for everybody." —Joe Maddon pic.twitter.com/bRAENyFJ89

— Jordan Bastian (@MLBastian) September 29, 2019
The fact that we all knew this was coming for so long - arguably as far back as this time last year - is softening the blow a bit today, but still. I feel it.

— Bleacher Nation (@BleacherNation) September 29, 2019
Joe Maddon and Theo Epstein confirming to reporters in St. Louis what we've known for awhile: The best #Cubs manager in modern history is out, in some ways a victim of his own success and expectations. Replacing him won't be as easy as it seems. Clean exit, big day.

— David Haugh (@DavidHaugh) September 29, 2019
Maddon: "If anybody wants to denigrate anything we've done over the last 5 years, come see me. There's nothing to denigrate or lament."

— Tony Andracki (@TonyAndracki23) September 29, 2019
Farewell, Joe! Sometimes it's best to walk away. Forever a Chicago legend. Be careful what you wish for @Cubs! ?? pic.twitter.com/tVgkY4GoH6

— Ryan Baker (@RyanBakerMedia) September 29, 2019
Maddon posted a 471-338 record in 5 seasons as #Cubs manager. His .582 regular season winning percentage is 2nd all-time in franchise history behind Frank Chance (768-389/.664). Maddon's 19 postseason wins are the most in franchise history

— Carrie Muskat (@CarrieMuskat) September 29, 2019
We are so proud of you dad!! We will forever cherish the memories with the @Cubs. Thank you Chicago Cubs fans for welcoming our family and allowing us to be apart of something so special!!! pic.twitter.com/UT4Rn8bbDY

— Sarah Maddon (@SarahMaddon) September 29, 2019
Thanks to @CubsJoeMadd for everything. @Cubs #GoCubsGo pic.twitter.com/KXY6Z44cYL

— Billy Krumb (@ClubhouseCancer) September 29, 2019
I completely understand how the life cycle of a manager/coach in sports works. It's a tough industry.

I just never envisioned the Joe Maddon era in Chicago ending this way.

From a lifelong Cubs fan, thank you, Joe. For everything you've done.

2016 World Series Champion Cubs

— Andrew Belleson (@ChicagoCubsPA) September 29, 2019
Thanks Joe. ?? You did it. We are forever grateful. pic.twitter.com/T6IrdLYghq

— Bob Vorwald (@BobVorwald) September 29, 2019
Even though I knew this day was coming, my heart is still broken. My dream was that my dad and I would be able to celebrate a #Cubs World Series together. Thanks to #JoeMaddon, that dream became a reality. Thank you @CubsJoeMadd for the some of the best seasons of my life

— crawly's cub kingdom (@crawlyscubs) September 29, 2019
Four playoff appearances, two division titles, one pennant, and a World Series Championship.

Thank you for everything, Joe Maddon. pic.twitter.com/5plYxai5Kx

— Cubs Insider (@realcubsinsider) September 29, 2019
Thank you, Joe Maddon. Officially the best manager the Cubs have ever had. Brough 5 winning seasons to Chicago & helped create the "Golden Era" of Cubs baseball. Thank you for bringing excitement back to the North Side, playoffs & the 2016 Championship. Chicago thanks you. pic.twitter.com/8yJil93S3e

— Cubs Zone ™? (@CubsZone) September 29, 2019
Joe Maddon has handled this entire "lame duck" season with a grace, comfort, and class that is simply unmatched in my sports recollection. This very much includes today. Remarkable, memorable public maturity as a leader.

— M@ (@MattSpiegel670) September 29, 2019
Many thanks to Joe Madden. He did an incredible job with the Cubs. I met him twice in passing..once on State and Delaware in Chicago- the other in Miami at a hotel ( Bulls and Cubs stayed at same place)-he was genuine, personable and sincere. I wish him all the best.

— chuck swirsky (@ctsbulls) September 29, 2019
Very sad to hear joe Maddon moving on -
Great legendary manager who brought wit enthusiasm grace joy for the game and intelligence to Chicago everyday
He'll always be a cub

— John Cusack (@johncusack) September 29, 2019
Thank you for everything, Joe. pic.twitter.com/nl6av8Xkhi

— Chicago Cubs (@Cubs) September 29, 2019
Had a chance to play 1 season for Joe, & honestly I loved every second of it. I picked @Cubs bc of Joe, bc of the person I meet years before in Tampa, and bc of how highly many other players spoke of him. I learned so much from him. Best of luck in what ever is next. pic.twitter.com/XBYkGSB0iw

— Jason Motte (@JMotte30) September 29, 2019

Upgrade Your Account
Unlock premium boards and exclusive features (e.g. ad-free) by upgrading your account today.
Upgrade Now