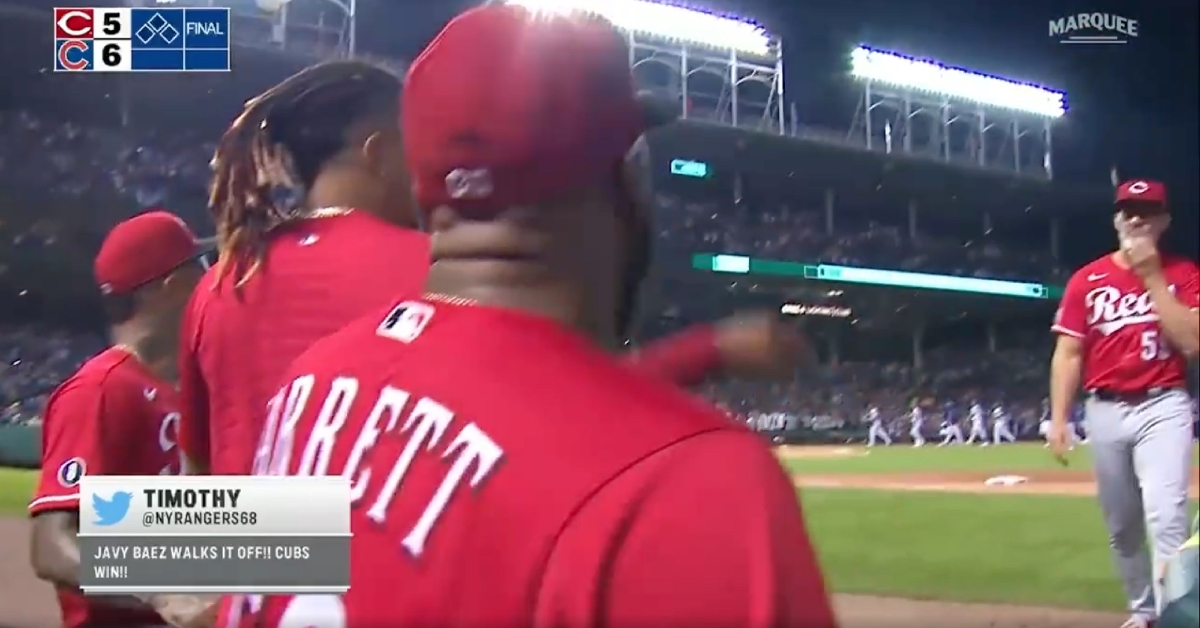 | | |
| --- | --- |
| WATCH: Amir Garrett waited until Javier Baez left the field to start talking smack | |
---
| | | |
| --- | --- | --- |
| Tuesday, July 27, 2021, 10:33 PM | | |
CHICAGO — Chicago Cubs shortstop Javier Baez stole the show in the world of baseball on Monday night via his epic walkoff at-bat. After not starting due to an injury, Baez entered in the bottom of the ninth to pinch hit against his archenemy, Cincinnati Reds reliever Amir Garrett, and needed just one pitch to slug a base knock to deep center field and plate left fielder Patrick Wisdom.
After finishing off a 6-5 Cubs victory over the Reds at Wrigley Field, Baez did not hold back on the showboating antics, as he mocked Garrett's sweeping celebration, which Garrett recently acted out when the Reds swept the Cubs, and took his sweet time heading down the baseline while shouting at Garrett. Baez and Garrett have a long history of hatred toward one another, and the bitter feud does not show any signs of ending anytime soon.
One pitch.

Hit. My. Music.#GoCubsGo #ImLikeThat pic.twitter.com/RW2NCj5AFY

— Chicago Cubs (@Cubs) July 27, 2021
Javy Baez threw the damn bat at Amir Garrett after the walk-off. Keep in mind, AG fought an entire team by himself. This was only the first of a four-game series?? pic.twitter.com/53sht01YvL

— Jared Carrabis (@Jared_Carrabis) July 27, 2021
Baez was even seen mouthing trash talk at Garrett as he dug in at the plate. Garrett, on the other hand, waited until after Baez had already left the field to talk smack, though. Garrett was captured barking at the Cubs from the comforts of the visiting dugout while the North Siders headed to the clubhouse in the wake of their walkoff celebration. Although Baez made no effort to conceal his trash talk, Garrett was not so forthcoming.
Amir Garrett waited until Javy left the field to try & start talking crap ??

(??: @WatchMarquee) pic.twitter.com/axGtIS2qm5

— Cubs Zone ™? (@CubsZone) July 27, 2021
However, Garrett did open up about the incident in his postgame comments to the media, downplaying Baez's walkoff single by calling it "a nice little popup" and essentially calling "El Mago" a hypocrite by recalling Baez saying that Garrett needed to react more toward his teammates instead of taunting the Cubs. The most audacious part of Garrett's press session was him claiming that Baez should thank him for not reacting, as it could have resulted in fines and/or suspensions for them.
In Garrett's full exchange with reporters, the fiery hurler said the following: "He got me. That's all there was. He hit a nice little popup to center. It was a walkoff. Good for him. Right now, we're focused on winning ballgames. We're gonna play our best to keep them in fourth place. I understand that every little thing that gets them excited right now because they're in the trenches right now. We just got to come back today and beat them. That's the best revenge that we can get.
"I'm all for the [trash] talk and stuff like that That's fine. That's one hundred percent fine. But my whole thing is with the Cubs, I remember Javy saying that I need to react toward my team more so [than] them. Last night was directly towards me, which is fine, but whatever you preach, you should stand on that, you know what I mean? He didn't, and that was fine. He should thank me, because I didn't react because we'd have both lost money and got fined and got suspended and hurt our teammates. I wasn't gonna react."
Based on those remarks, Garrett is not likely to make amends with the Cubs at any point in the near future, meaning that more fireworks involving Baez and Garrett could light up the Cubs-Reds rivalry down the road. For now, Garrett should probably prioritize righting the ship on the mound, as the left-hander's ERA currently stands at 6.75, which is certainly something work talking smack about.