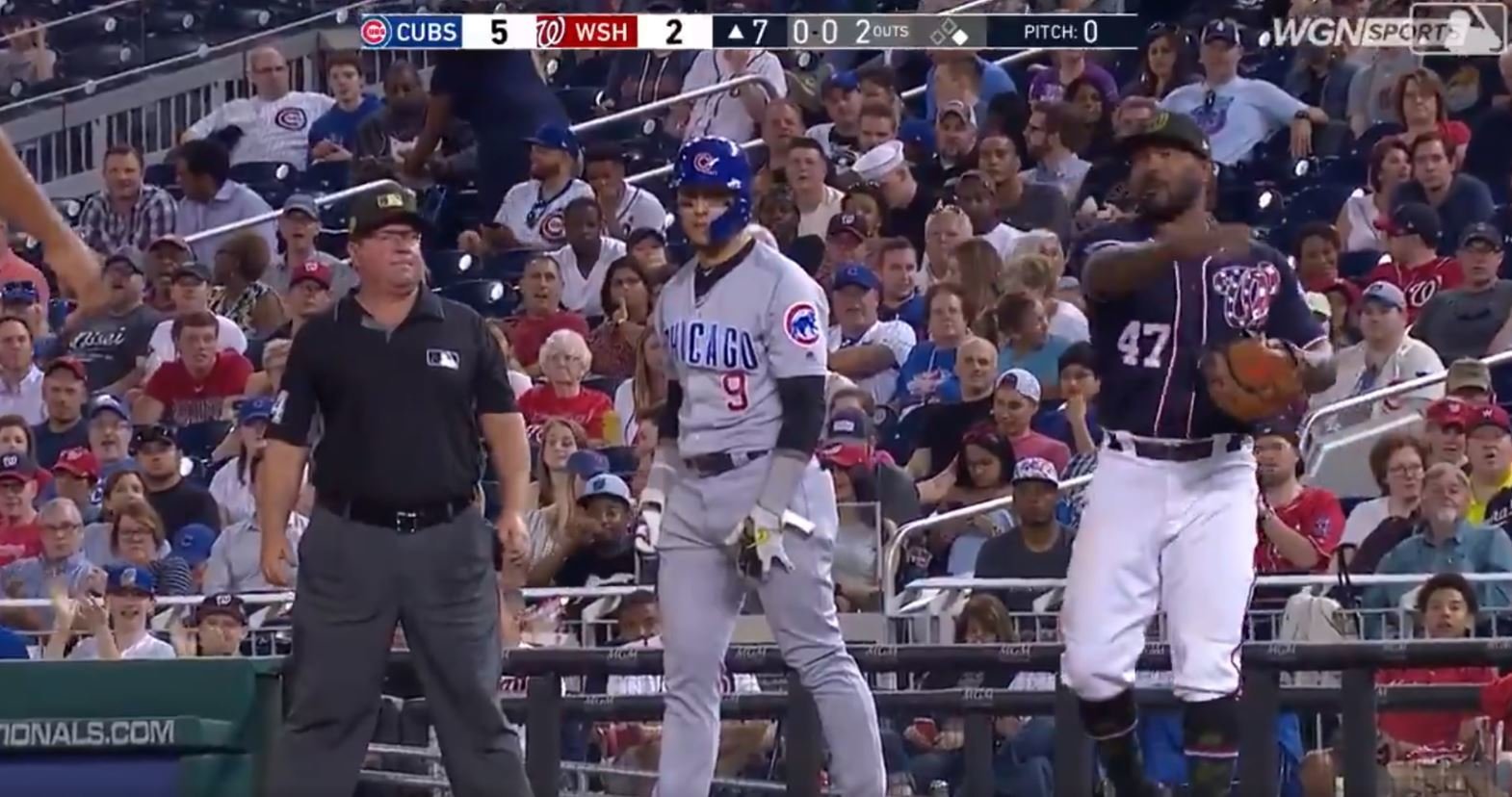 | | |
| --- | --- |
| WATCH: Baez stares into pitcher's soul after unnecessary pickoff attempt | |
---
| | | |
| --- | --- | --- |
| Saturday, May 18, 2019, 10:13 PM | | |
Evidently, Chicago Cubs shortstop Javier Baez is not a fan of the unnecessary pickoff attempts that often incite boos from fans at major-league parks. On Friday night, with the Cubs battling the Washington Nationals, Baez drew a walk with two outs and no one on base, which prompted a pitching change that brought with it a funny exchange.
Nationals reliever Joe Ross entered the game and was either shaken by Baez's presence on the basepaths or trying to shift his weight around and show Baez that he was not intimidated by him. No matter the reasoning, Baez was not fazed in the slightest when Ross attempted a completely unnecessary pickoff at first base.
Hilariously, cameras caught Baez standing as still as a statue with one foot firmly planted on first base and clearly not even remotely considering trying to steal second base. Not only that, but Baez was also directly facing Ross, who, as a right-hander, had his back turned to Baez before turning to throw to first and finding "El Mago" staring into his soul.
Baez remained transfixed on an assuredly shaken Ross before finally cracking a smile and sharing a laugh with Nationals first baseman Howie Kendrick. By channeling his inner Night King and burning a metaphorical hole in Ross' core with his seething glare, Baez likely made Ross question everything that he thought that he knew about the game of baseball. Should the opportunity arise again, the young reliever will definitely think twice before attempting to pick Baez off in the future.
Almost had him there. pic.twitter.com/D2ufhDwxd6

— Cut4 (@Cut4) May 18, 2019