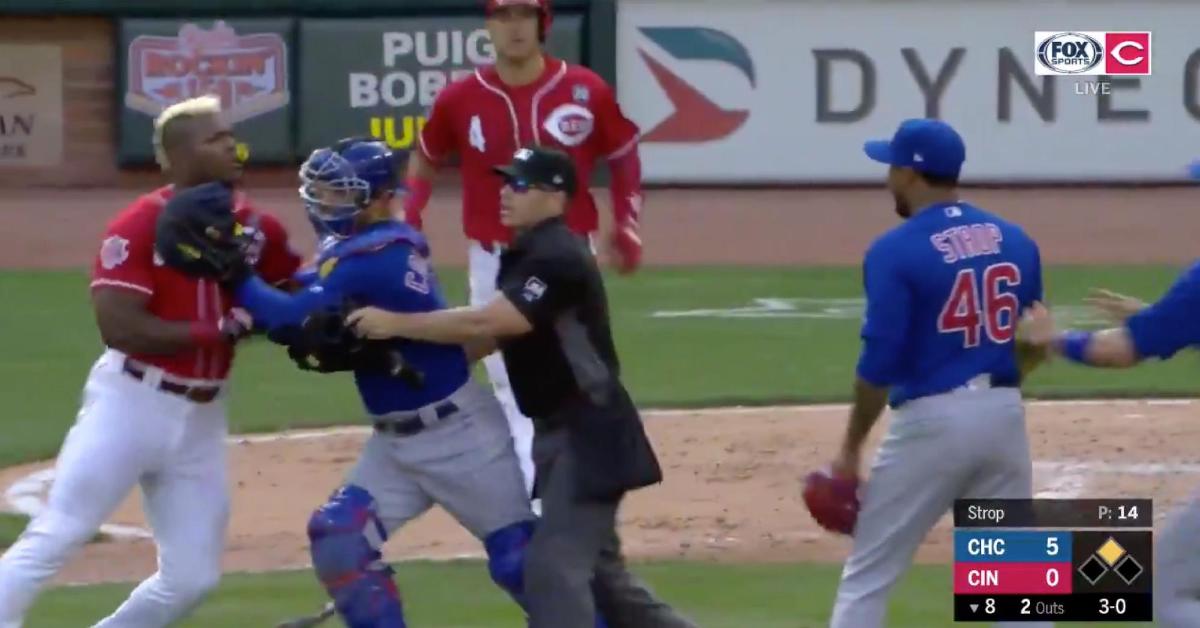 | | |
| --- | --- |
| WATCH: Benches clear as Yasiel Puig, Pedro Strop nearly come to blows over hit by pitch | |
---
| | | |
| --- | --- | --- |
| Saturday, June 29, 2019, 7:09 PM | | |
CINCINNATI — Cincinnati Reds right fielder Yasiel Puig rubs a lot of opponents the wrong way with his persistent antics on the field, which range from showmanship to showboating, and, evidently, Chicago Cubs reliever Pedro Strop is not much of a Puig fan. In his first season with the Reds, Puig has already managed to get on the Cubs' bad side in fewer than 10 games versus the North Siders, with the rivalry leading to Strop seeming to intentionally hit Puig with a pitch at Great American Ball Park on Saturday.
Not long after Cubs shortstop Javier Baez taunted Puig while rounding the bases on his grand slam in the top of the eighth, Strop, who entered to pitch the bottom of the eighth, lofted a four-seamer at Puig's left side on a 3-0 count. With two outs and first base already open, Strop might have decided to finish off the plate appearance that was likely to result in a walk by putting Puig in his place.
After getting beaned in the thigh, Puig glared at Strop, who sauntered toward the plate and irked Puig even more. Puig then became enraged and had to be held back by Cubs catcher Willson Contreras while attempting to charge the mound. Strop continued to mouth at Puig once the outfielder sporting a blonde mohawk reached first base. The benches cleared as a result of the fracas, with the bad blood nearly spilling over into fisticuffs between Puig and Strop. Neither Puig nor Strop was ejected, though, and play continued after warnings were issued to both dugouts.
Hitting Yasiel Puig in the batter's box? Not a great idea. pic.twitter.com/IaeeuSvqy1

— FOX Sports Ohio (@FOXSportsOH) June 29, 2019
Strop and Puig would be an excellent cage match. pic.twitter.com/VDiX1JtUkG

— Tyler Smith (@TylerSmith_ISL) June 29, 2019
Yasiel Puig wears one like a champ and proceeds to force the dugouts to clear. pic.twitter.com/W8o2NMylTH

— Jeremy Chisenhall (@JSChisenhall) June 29, 2019