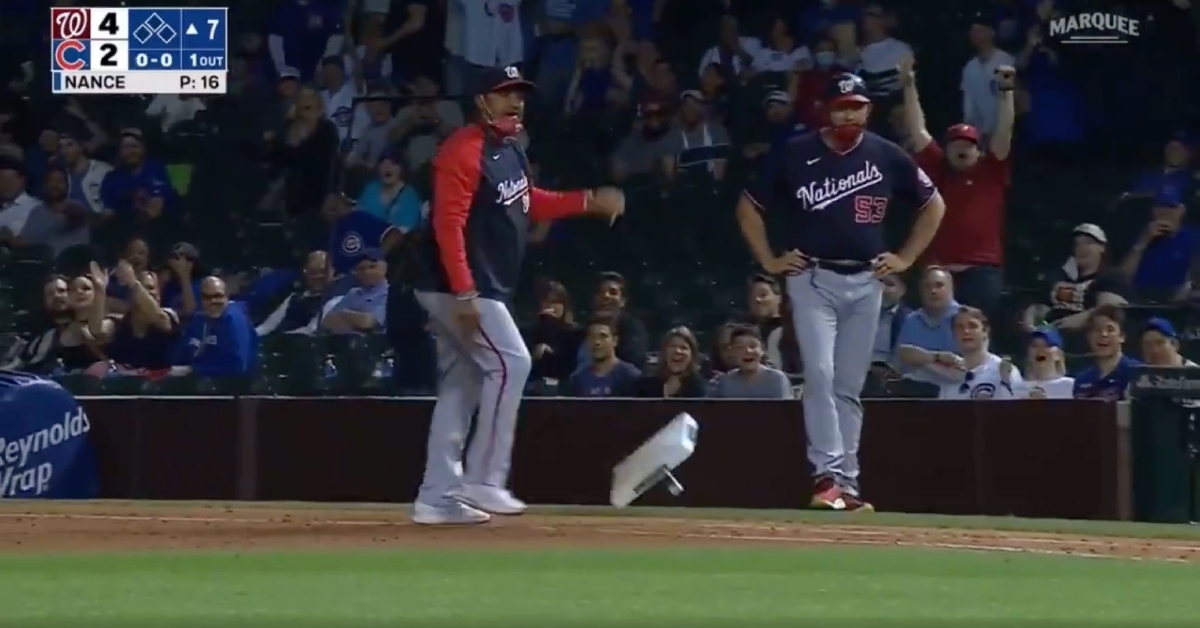 | | |
| --- | --- |
| WATCH: Dave Martinez loses his mind, slams down first base after getting ejected | |
---
| | | |
| --- | --- | --- |
| Wednesday, May 19, 2021, 10:30 PM | | |
CHICAGO – Producing one of the truly great managerial ejections of recent MLB seasons, Washington Nationals skipper – and former Chicago Cubs bench coach – Dave Martinez channeled his inner Lloyd McClendon by pulling first base out of the ground and slamming it down on Wednesday. With the Washington Nationals leading the Chicago Cubs 4-2 at Wrigley Field, Martinez lost his cool after shortstop Trea Turner was called out for running outside the runner's lane.
In the top of the seventh, Turner struck out swinging at a wild pitch thrown by reliever Tommy Nance, leading to catcher Willson Contreras having to track down the baseball while Turner darted to first base. Contreras fired a throw to first baseman P.J. Higgins, and it hit Turner in the back just as he reached the base. The oft-maligned, commonly disliked "runner's lane" ruling then came into the play, with Turner being ruled out for running too far on the inside of the bag.
Can someone tell me how Trea Turner is supposed to run to 1st here? Because he was called out for runner interference. pic.twitter.com/SETvzgwNXh

— ZSG (@wagner_seymour) May 20, 2021
Turner was infamously called out for the same exact reason as part of a controversial ruling in the 2019 World Series, so Martinez, who was also ejected in the aforementioned 2019 incident, might have let off some pent-up steam by letting loose on home plate umpire Ben May, who made the call on Wednesday. An irate Martinez was quickly ejected by May after running onto the field and throwing a tantrum.
Much to the delight of the crowd at the Friendly Confines, Martinez proceeded to remove first base from the dirt and spike it into the ground before kicking it off to the side, leading to raucous approval from the "Bleacher Bums." After Martinez spoke his piece and left the field, the member of the grounds crew who reset the first-base bag received an ovation of his own, making for a hilariously bizarre scene at the Friendly Confines.
Watch @Nationals Mgr. Dave Martinez do his best Billy Martin/Earl Weaver/Lou Piniella impression as he picks up 1st base and kicks it following a disputed baserunning incident.@Cubs #GoCubsGo pic.twitter.com/9RtXPxnSjA

— Billy Krumb (@ClubhouseCancer) May 20, 2021