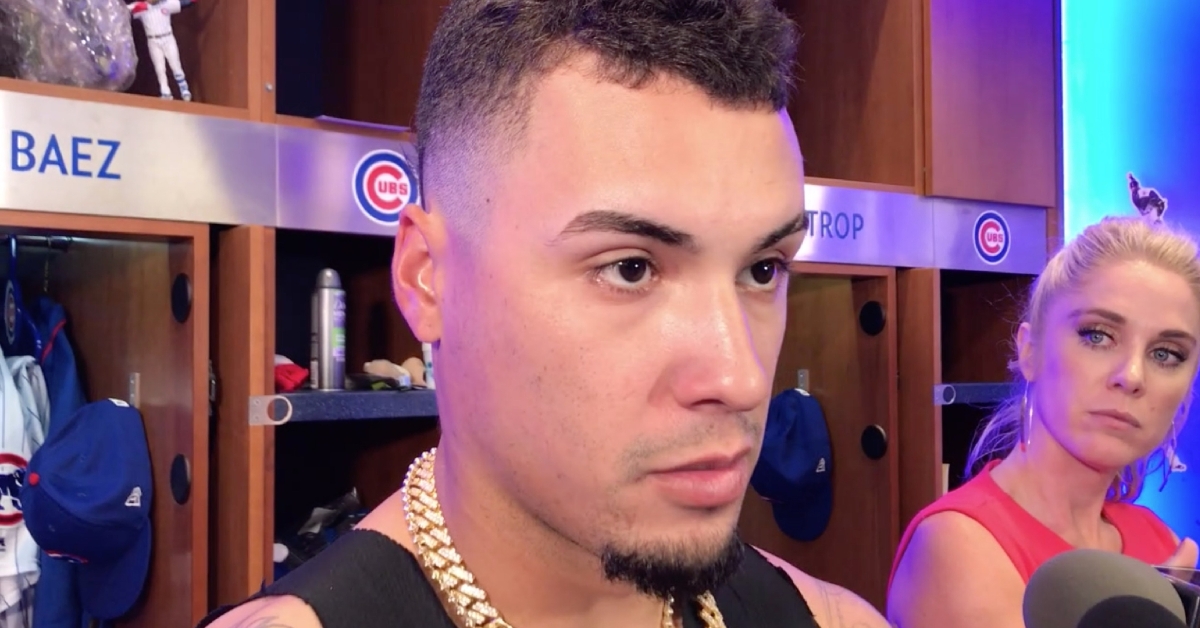 | | |
| --- | --- |
| WATCH: Javier Baez discusses his injury recovery, pinch-hitting appearance | |
---
| | | |
| --- | --- | --- |
| Sunday, September 22, 2019, 1:02 PM | | |
CHICAGO — As exciting as the Chicago Cubs' back-and-forth affair with the St. Louis Cardinals on Saturday was, nothing was more jarring than Cubs shortstop Javier Baez stepping up to the plate as a pinch hitter in the bottom of the ninth. Baez is currently dealing with a hairline fracture in his left thumb and was only just cleared to pinch run and participate in other "light" baseball activities a few days prior.
"I've been getting treatment every day and doing the things that I can do, like hitting off the tee," Baez told the media following the Cubs' 9-8 loss at Wrigley Field. "I've been feeling good. It's still bothering me a little bit, but I'd do anything to help my team."
Marking the final out of the contest, Baez struck out swinging after whiffing at three straight pitches. Baez was surprisingly used as a pinch runner on Thursday, but his pinch-hitting appearance was even more stunning, as it was reported earlier in the week that he could not even grip a bat without experiencing pain. However, the Cubs are in the midst of a late-season slide that is seriously hurting their postseason chances, and that likely incited the team to utilize Baez much sooner than previously expected.
"We're in this together," Baez said of the Cubs' playoff push. "If we're going to give everything, we're going to give everything together."
Baez told the press that he is continuing to improve, health-wise, with each passing day and also said that he expects to resume playing on a regular basis following the Cubs' off day on Monday. While Baez has healed well enough to properly swing a bat, fielding is the most difficult aspect of the game for him right now. Since Baez wears his glove on his left hand, the hard contact of a baseball pounding his glove and the act of closing the glove around a baseball are still causing Baez considerable pain.
"I've been catching the ball. It's feeling less than 50 percent. I said it when it happened that I was worried about catching the ball more than hitting, and that's how it is. It really bothers me."
There is no official word yet from the Cubs regarding whether or not Baez will start for the club in the final week of the regular season. "Javy" is not in the starting lineup for Sunday's Cardinals-Cubs clash at the Friendly Confines, meaning that Saturday's game-ending strikeout might wind up being his final at-bat of the season in front of the home crowd, as the Cubs' final six games are on the road.