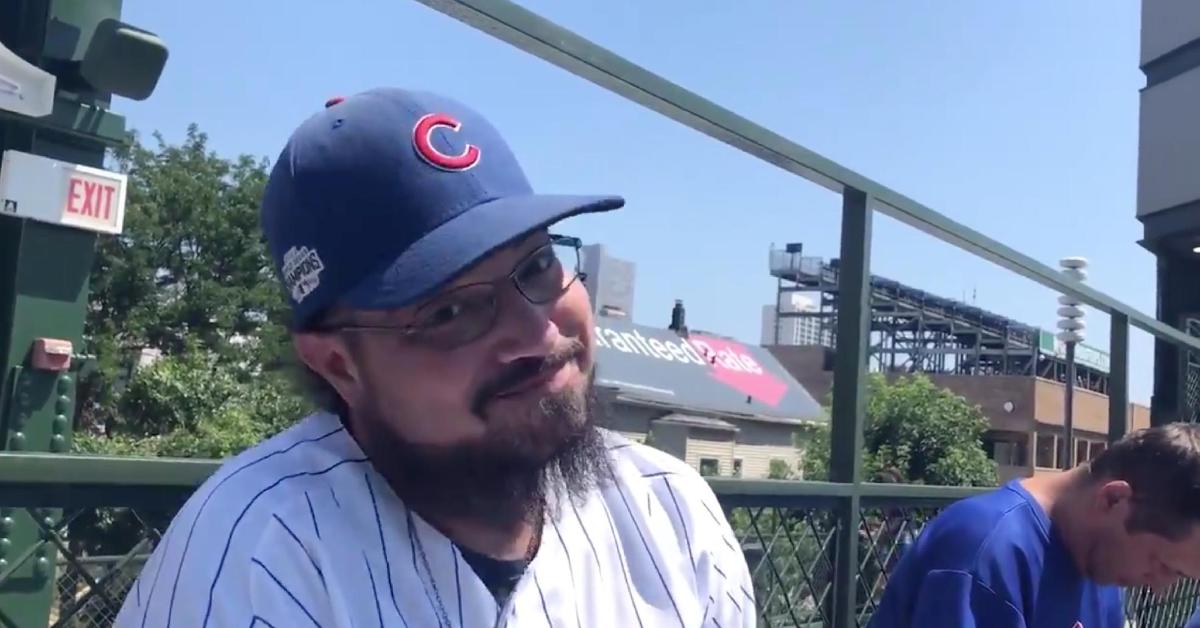 | | |
| --- | --- |
| WATCH: 'Mai Tai Guy' defends himself for snatching home-run ball away from kids | |
---
| | | |
| --- | --- | --- |
| Wednesday, July 17, 2019, 3:20 PM | | |
CHICAGO — Notorious Chicago Cubs fan Christopher Sorley, who is known as "Mai Tai Guy" because of his customized jersey that pays homage to his love for the rum-based cocktail, defended himself prior to Wednesday's game between the Cubs and the Cincinnati Reds. The infamous ball hawk was blasted on social media for being caught on camera snatching Kyle Schwarber's walkoff home run away from two kids who were also attempting to get it out the basket at the top of the wall on Tuesday.
Citing the Wrigley Field guideline that essentially claims that it is "every fan for himself" when it comes to retrieving foul balls and home-run balls hit into the seats, Mai Tai Guy made the point that we was not breaking any rules by battling children for possession of the baseball. However, the shameless Bleacher Bum totally missed the point, as he is being lambasted because he is a grown man who is seemingly unbothered by crushing a child's spirit over a souvenir, which is an unwritten rule not worth violating.
"All the kids are in the front row because we let them go there," Sorley said. "You know what I'm saying? (Schwarber's home run) is a gamer. You know the rules here. The Cubs can't be responsible for the actions of fans when trying to procure a home run or a foul ball. A walkoff home run? It's kind of anyone's game. I feel bad for the kids, but it looked a lot worse than it really was."
I usually notice things like the Mai Tai Guy, but missed this one originally. Due to, you know, rare glee.

Anyway, here's a @Cubs fan who's really proud of stealing the Kyle Schwarber walkoff HR ball from a couple of kids. pic.twitter.com/A7AIMEFVOi

— Billy Krumb (@ClubhouseCancer) July 17, 2019
Mai Tai Guy won't back down. Every man and boy for himself on home run balls in the Wrigley bleachers. pic.twitter.com/DZCsHfhANx

— Paul Sullivan (@PWSullivan) July 17, 2019