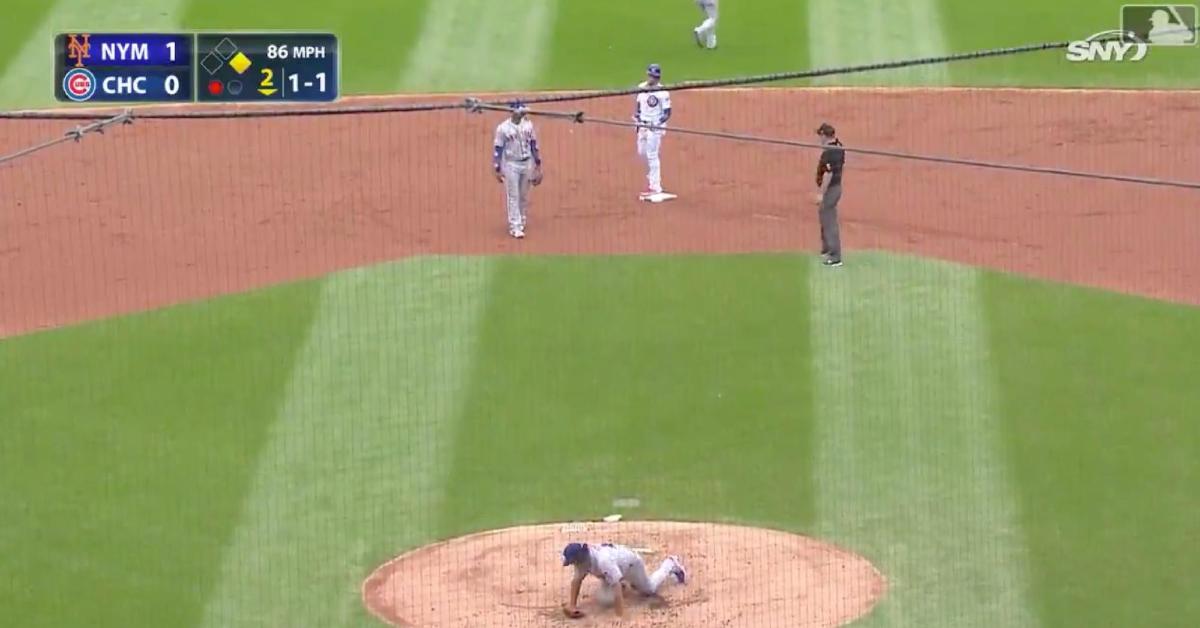 | | |
| --- | --- |
| WATCH: Mets pitcher nearly decapitated by throw from his catcher | |
---
| | | |
| --- | --- | --- |
| Friday, June 21, 2019, 7:02 PM | | |
CHICAGO — New York Mets starting pitcher Jason Vargas endured a roller coaster of emotions on the mound when pitching against the Chicago Cubs at Wrigley Field on Friday. Vargas was visibly frustrated with himself after giving up a 2-run home run at one point in the game and was also livid when the umpires failed to initially rule a swinging third strike as a strike on a confusing strikeout involving Cubs first baseman Anthony Rizzo.
Prior to both of those incidents, though, was an instance that assuredly caused Vargas to feel a much broader range of emotions, including one of abject terror. In the bottom of the second, Cubs shortstop Javier Baez stole second base without facing much of a threat, as the throw made by Mets catcher Tomas Nido on the steal attempt was well off the mark. Nido nearly drilled Vargas in the head on the throw, with the ball appearing to get stuck in Nido's palm before coming out late and sailing directly into the ground behind the pitcher's mound.
Vargas quickly jerked his head on a swivel in order to avoid the baseball, and he tumbled to the ground as Baez slid into second base with ease. The ball bounced right to second baseman Robinson Cano, but, obviously, Nido intended for his throw to reach Cano through the air. Nido proceeded to apologize to a shaken Vargas, who, above all else, seemed relieved to have successfully avoided a potentially disastrous beaning.
Jason Vargas' life flashed before his eyes earlier today. pic.twitter.com/GfA6Dnd0g8

— Cut4 (@Cut4) June 21, 2019