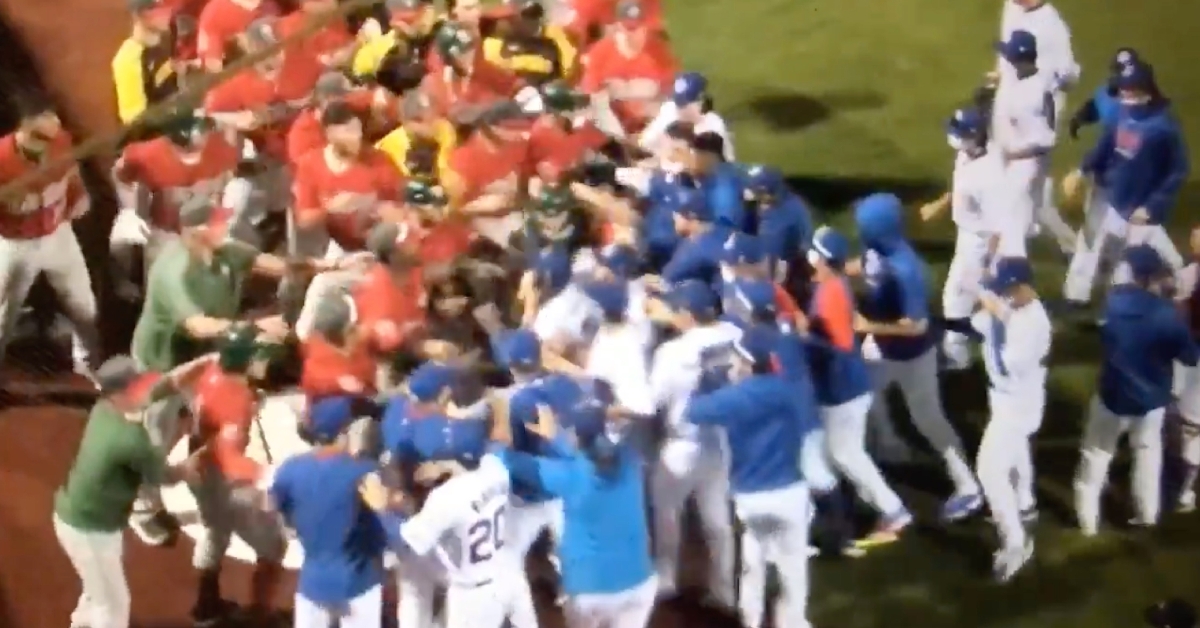 | | |
| --- | --- |
| WATCH: Out-of-control, bench-clearing brawl breaks out in South Bend Cubs game | |
---
| | | |
| --- | --- | --- |
| Wednesday, May 26, 2021, 12:46 AM | | |
SOUTH BEND, Ind. – An insane brawl broke out in Tuesday's High-A matchup between the South Bend Cubs and Fort Wayne TinCaps. The Cubs, a minor league affiliate of the Chicago Cubs, won the offense-oriented contest at Four Winds Field by a final score of 12-10, but an eighth-inning melee overshadowed the rest of the game.
A war of words between Cubs shortstop Delvin Zinn and TinCaps pitcher Sam Williams sparked the fracas, as Zinn reportedly did not take kindly to a remark directed at him by Williams in the bottom of the seventh. Fort Wayne continued to incite the conflict when TinCaps second baseman Kelvin Melean barked at Cubs reliever Brandon Hughes after striking out to lead off the top of the eighth.
Cubs catcher Jake Washer stood up for Hughes and directed Melean to head to the dugout. Instead, Melean chose to punch Washer, which proved to be the final crack in the proverbial dam. From there, a bench-clearing brouhaha unfolded, with players being shoved down left and right and punches being thrown from every direction.
The most dangerous aspect of the skirmish was Melean throwing a baseball that collided with a South Bend player's head. Amazingly, Hughes, Melean, Washer and Cubs manager Michael Ryan were the only ones ejected as a result of the madness, but a slew of suspensions are likely looming.
Holy crap! These two teams still have to play five more games against each other this week. And I only put up about half of the fight pic.twitter.com/eIpdFW5Ek8

— Todd ???? (@CubsCentral08) May 26, 2021
Holy cow, the brawl in South Bend was crazy. Tensions were brewing from minutes earlier when a Fort Wayne player said, something, to Delvin Zinn. After a Brandon Hughes strikeout, Jake Washer and FW batter chirped. Then, total chaos. At one point, a baseball thrown by FW.

— Cubs Prospects - Bryan Smith (@cubprospects) May 26, 2021
South Bend has scored SIX runs since the brawl to take a 12-9 lead. Big hits by Bryce Windham and the in-the-center-of-things Delvin Zinn have pushed the Cubs ahead. What a wild hour.

— Cubs Prospects - Bryan Smith (@cubprospects) May 26, 2021
Full-on benches clearing brawl in the South Bend/Fort Wayne game and it's no joke. Not a normal baseball spat. A TON of punches thrown from both sides.

— Greg Huss (@OutOfTheVines) May 26, 2021
Fort Wayne batter said something to Brandon Hughes after striking out, Cubs catcher Jake Washer told him to go back to the dugout. Batter threw the first punch and then all hell broke loose.

— Greg Huss (@OutOfTheVines) May 26, 2021
Looks like the only people thrown out of the game are Jake Washer, Brandon Hughes, Manager Michael Ryan, and the Fort Wayne batter. Everyone else still on the field. There will be plenty of suspensions in the coming days.

— Greg Huss (@OutOfTheVines) May 26, 2021