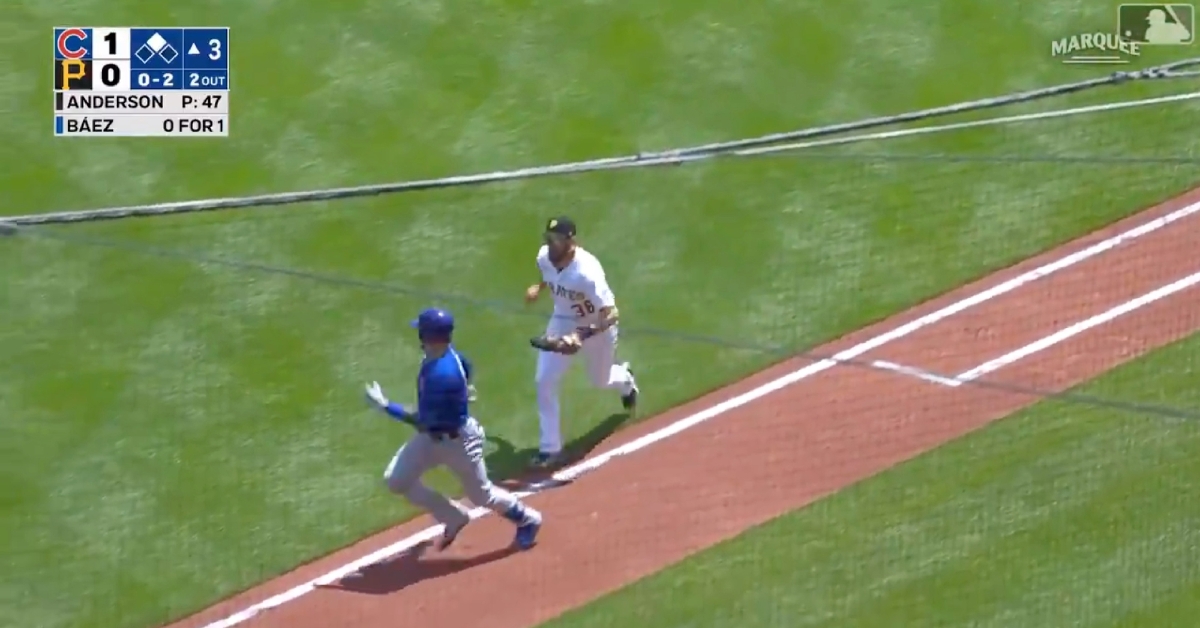 | | |
| --- | --- |
| WATCH: Javier Baez makes mind-blowing play that only 'El Mago' could pull off | |
---
PITTSBURGH – In an instance that could be described as the best play of the season so far for the Chicago Cubs and the worst play of the season so far for the Pittsburgh Pirates, Cubs shortstop Javier Baez somehow stalled long enough on the basepath between home and first on Thursday, allowing a run to score at PNC Park. Baez hit a grounder to Pittsburgh Pirates third baseman Erik Gonzalez that should have ended the top of the third. Instead, it resulted in a run scoring and the half-inning continuing.
Will Craig caught Gonzalez's throw in front of the bag and decided to try and tag Baez instead of simply stepping on first base for the third out. "El Mago" reached into his bag of tricks at that point and ran away from Craig, enabling catcher Willson Contreras, who was at second when Baez put the ball in play, to come home and slide in safely, increasing the Cubs' lead to 2-0.
The Buccos still had an opportunity to get the force out at first base, which would have nullified the run, but no one was covering the bag. Therefore, catcher Michael Perez, who failed to tag Contreras in time after receiving a throw from Craig, fired an errant throw to second baseman Adam Frazier, who scrambled to first prior to Baez sliding headfirst into the base. The throwing error enabled Baez to reach second base, and the comedy of errors by the Buccos resulted in plenty of laughter in the Cubs' dugout.
Scored as an RBI fielder's choice with a throwing error charged to Perez, the remarkable series of events was followed by center fielder Ian Happ plating Baez with a two-out RBI single to center field that placed the Cubs ahead 3-0. Likely still rattled by his bone-headed decision, Craig then suffered a fielding error when David Bote hit a grounder to him.
Starter Tyler Anderson escaped the top of the third without giving up any more runs, but the Pirates' shoddy defense did not help his cause. As for Baez, he never ceases to amaze, and his ability to get inside Craig's head and make the young first baseman overthink what should have been a routine putout led to two runs scoring. Simply put, the unbelievable play has to be seen to be believed.
Javier Báez.
El Mago.
The Magician. pic.twitter.com/yZX7HgUFCU

— Chicago Cubs (@Cubs) May 27, 2021
Just watch. You won't believe your eyes.#ElMago @Cubs #GoCubsGo pic.twitter.com/PQO2NUjcgs

— Billy Krumb (@ClubhouseCancer) May 27, 2021
*ElMago.mp4* pic.twitter.com/crw2ScQ4MN

— Marquee Sports Network (@WatchMarquee) May 27, 2021
The @javy23baez effect. #CubTogether pic.twitter.com/CBSEV6XjKO

— Chicago Cubs (@Cubs) May 27, 2021