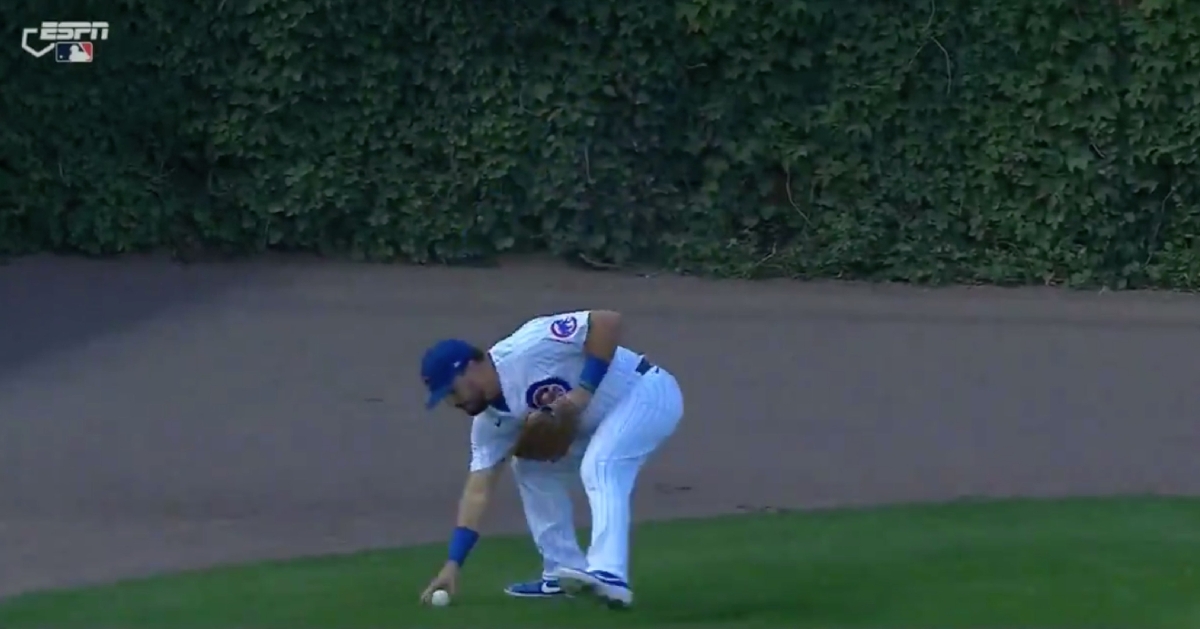 | | |
| --- | --- |
| WATCH: Kyle Schwarber removed from game after misplaying ball in left field | |
---
CHICAGO — Chicago Cubs left fielder Kyle Schwarber was abruptly removed from the lineup early in Sunday's contest against the Minnesota Twins. An injury had nothing to do with the removal, though, as Schwarber was seen in the dugout after Cameron Maybin took his place in left field to begin the third inning at Wrigley Field.
Instead, a lack of effort on a misplay in the top of the second likely caused manager David Ross to take Schwarber out. Jake Cave hit a leadoff triple in the second frame and scored a few at-bats later, putting the Twins up 2-0. However, Cave's triple was made possible by Schwarber loafing to field the ball after it caromed off the basket atop the wall.
Schwarber initially seemed to misjudge where the ball would bounce after ricocheting off the basket, but if he had hustled to glove it, Cave would have likely been limited to a double. Making for an awkward moment, Ross joined the ESPN telecast soon after benching Schwarber and did not explain the decision, other than saying that Schwarber was "fine" when asked about his health.
Although Schwarber is known for hustling in the outfield, Ross may have wanted to send a message that lazy defense will not be tolerated this late in the season, no matter how out of character it is. Every game matters in terms of playoff positioning, so Ross' managerial decision is understandable, even if it did deeply embarrass Schwarber.
Schwarber removed from ballgame by Skipper Rossy, likely for this perceived lack of hustle which allowed @Twins RF Jake Cave a triple in the 2nd.@Cubs #GoCubsGo pic.twitter.com/vWB5IM0DQl

— Billy Krumb (@ClubhouseCancer) September 21, 2020
Here is David Ross on ESPN when asked about Kyle Schwarber. #Cubs pic.twitter.com/2AclGgSNMX

— Crawly's Cubs Kingdom (@crawlyscubs) September 21, 2020