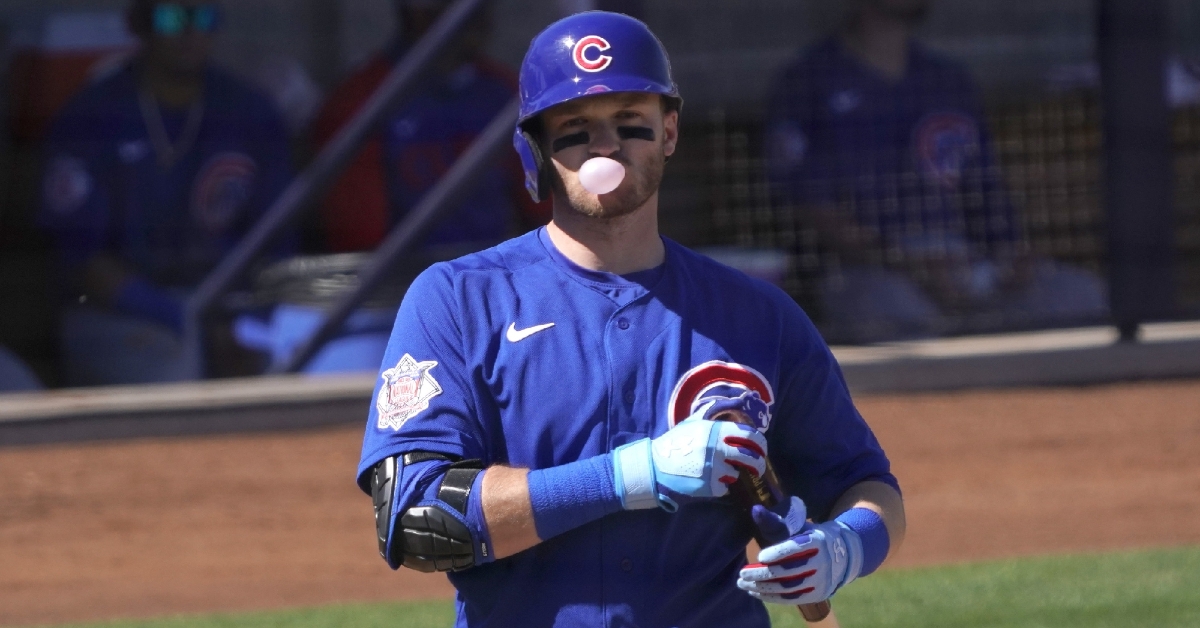 | | |
| --- | --- |
| 2021 Cubs Projections: Center Fielders including Ian Happ | |
---
| | | |
| --- | --- | --- |
| Thursday, March 11, 2021, 1:09 PM | | |
As we patrol across the outfield grass, we land in centerfield today for the next installment of the season projection series. What was once looked at as a position battle between Ian Happ and Albert Almora Jr turned into Happ running away with the position.
A big reason for that was the immense improvement from Happ at the plate coupled with Almora seemingly struggling for nearly two years after a foul ball incident messed with his head. With Almora now on the New York Mets roster, Happ will not only be taking over the everyday CF job without competition but could be in line to be the Cubs breakout star in 2021.
Ian Happ: When the Cubs drafted Ian Happ, there was a lot to like about him. Not only was he an athletic player, but a switch hitter with power from both sides of the plate. Add in above-average speed and the ability to play all over the diamond, and Happ could be a star. After bouncing between 2B and CF most of his first few seasons, the Cubs decided to move him to outfield full-time and let him work on CF.
That proved to be the best decision they could have made as Happ has not only improved as an outfielder but has developed into quite a good player. Across his first two years in the league, Happ showed the Cubs flashes a brilliance which led them to believe he could be a 30 plus homer guy in the future. However, his lack of plate discipline affected his playing time as he seemingly struggled with strikeouts.
Following a difficult 2019 Spring Training, the Cubs made the tough decision to send him to AAA with hopes of him ironing out some kinks. That proved to be the best decision for Happ and the Cubs organization as he has been a different player since returning. Going back to the final month of the 2019 season mixed with the first 45 games of last season and Happ was the best hitter on this team. That was until he fouled a ball off his eye in the final month, which saw him struggle down the stretch.
Happ felt his struggles were more mental than anything down the stretch last season, and he is eager to prove that. Through spring training, Happ continues to produce at a high level, showing everyone why David Ross made the right decision to announce him as the leadoff hitter.
Projection: 140 games, .272 average, 28 homers, 77 RBIs, 15 steals
Happ may not be a typical leadoff hitter, but he has solidified that spot for the Cubs. Since Dexter Fowler left this team following the 2016 season, the Cubs have struggled to not only find a leadoff hitter but find one who can produce at a high level. They have one now in Happ as he took the job by storm last season.
Happ is the perfect leadoff hitter for a couple of reasons.
He has a great eye at the plate and isn't afraid to take his walks. Despite striking out more than you would like, he has cut down on that dramatically and will bring a high on-base percentage with him. His sneaky good speed could make him a threat on the bases, while his power from both sides of the plate gives the Cubs a possibility to score one run before settling in.
When the Cubs offense was at their best last season, it was because of Happ and his ability to jumpstart this offense. With a full season this year and Happ confirmed as the man at the top of the order, let's see if he is the missing piece to get the offense moving.
Jacob Marisnick: Signed as a free agent in Late December, Jacob Marisnick is basically replacing Albert Almora on this roster. Almora may be better average-wise and defensively, but Marisnick offers more speed on the bases, more power potential, and is a lefty. Across his seven seasons spanning time with Miami, Houston, and New York, Marisnick has never settled into an everyday role, and the numbers show.
A 229-career hitter, Marisnick has yet to hit above 250 with a 249 average in 2014 as his career-high. Last season he had a shot to put together his best season as he hit a 333 across limited games. The power potential has a chance to get better with more at-bats, but his speed and defense will be an asset to this team at some point this season.
Projection: 73 games, .245 average, three homers, 19 RBIs, 12 steals
Marisnick has yet to play in spring as he is nursing a lower leg injury. He needs to see the field soon, or it will be hard for him to make the opening day roster out of camp. Regardless of if he is sent to AAA to start the season, Marisnick will play a role at some point this season.
Whether as a fourth outfielder or someone who is used in particular situations, Marisnick will be on the roster at some point in 2021, and the Cubs will use him. Despite the numbers being what they are, I like this pickup by Chicago. Given more of a chance to see time, I think he could be a surprise pickup.
Cameron Maybin: When the Cubs traded for Maybin last season, I felt it was an under-the-radar steal. Maybin is a veteran player who has not only been around the league for a long time but has experience playing all three outfield positions as a starter or bench player. A 256 hitter across his 14-year career, the Cubs, loved what they saw in him last season despite limited action.
In his 18 games on the north side, Maybin hit a 250 with 0 Hrs and 5 RBI's. He also swiped three bases in three tries. Way past his prime in terms of a starter, Maybin was brought back as a non-roster invitee on a minor league deal and will be given a chance to earn the fourth OF spot or even the final bench spot. A perfect guy to use as a PH, PR, or Defensive Sub. I like the Cubs bringing him back.
Projection: 85 games, .248 average, 2 homers, 15 RBIs, 10 steals
Given that Marisnick has yet to play this spring, that leaves the door open for Maybin to make this team out of camp. Not only do I think that is the case, but I think he sticks on this roster all season, even if it is a reserve role. With experience at all three outfield spots, the Cubs can use him to give players days off.
They can also use him as a pinch hitter or pinch-runner off the bench as he not only has the speed to steal bases but can come through with a big hit. His spring hasn't gotten off to a great start, but he did come up with several big hits for the Cubs last season. The team loves his makeup as a player, and his veteran presence is perfect for this team.