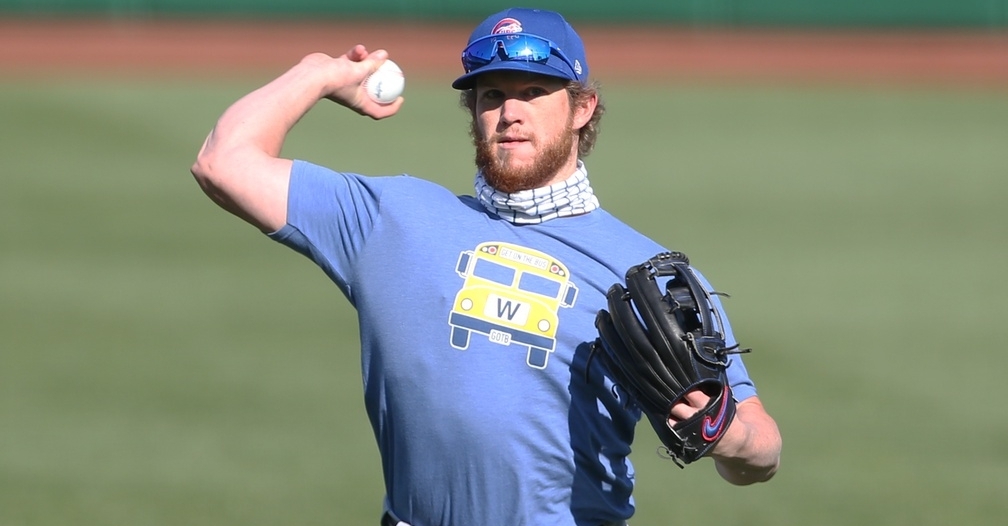 | | |
| --- | --- |
| 2021 Cubs Projections: Craig Kimbrel, Rowan Wick, Brandon Workman, Brailyn Marquez | |
---
| | | |
| --- | --- | --- |
| Friday, March 19, 2021, 10:55 AM | | |
At long last, we have arrived at the final portion of our season projection series. We shift to the most important part of the bullpen, the back end of the pen. A few weeks ago, this was the one position that appeared set in stone for the bullpen, with Rowan Wick, Brandon Workman, and Craig Kimbrel lined up for these spots.
Craig Kimbrel: What else can you say about Kimbrel other than he was a future Hall of Famer until he arrived in Chicago. Since coming to the north side, not only has Kimbrel battled some arm issues, but he has been hit extremely hard while struggling to get outs. Things got so bad last season that he lost the closer job in August to return to form in September.
With his first typical offseason in three years with the Cubs, Kimbrel was named the teams closer on March 4th and hoped the confidence from the final month of the season would carry over. Instead, you have someone who has posted a 30.38 ERA in three outings this season and continues to get pounded in relief. At some point, spring or not, you need to question whether Kimbrel has anything left and fans are at that point.
Along with suddenly losing command and serving up hard contact, Kimbrel has seen his fastball velocity dip from 98.5 to 96.3. There were some signs of that coming back in September as he averaged 97.7, but there are still concerns about what is next for him. I am giving him a pass until the regular season as no one knows what he is working on right. However, if things go south early, look for him to be removed from closing games once again when the season starts.
Prediction: 52 games, 3.00 ERA, 28 saves, 21 walks, and 78 K
Kimbrel will be an interesting case all season, but I have confidence he will bounce back a little bit. No, I don't expect him ever to be the guy that has saved 348 games in his career, but even if he brings in close to 30 saves, fans will be happy. As his velocity continues to dip, Kimbrel needs to work more off his secondary pitches, including a changeup and Knuckle curve.
The curve is an especially huge part of his game as it not only brings 87 MPH velocity with it but one of the sharpest breaks when right. That secondary stuff can only play off his fastball if he can locate it. So far, with the Cubs, that has been the issue. The first month of the season will be telling as to what his future holds.
With Wick still nursing an injury, Kimbrel continuing to struggle, it seems as if Workman may be the most trusted option at this point. As far as Kimbrel goes, let's see what he does once spring is over before completely losing faith in him. Yes, his tenure with the Cubs hasn't gone smoothly, but he did have an incredible September last season and is one of the best closers of all time. There is no way he just lost it like he has the past two seasons.
Rowan Wick: Wick is the biggest wildcard in the pen as his season is dependent on health. Given that he is nursing an oblique injury right now, not only do I not expect him to pitch this spring, but I don't expect to see him until May as the Cubs will want him to get some minor league innings in. That will be a massive blow for this team, as Wick has been an excellent addition to this team.
Drafted as a catcher, Wick transitioned into a pitcher and has done well ever since. His short compact release point is like how a catcher would throw a baseball-only to have a 94-96 MPH heater come off that arm. Wick mixes in a changeup and a hammer-type Curve that is not only 77 MPH but has emerged as one of the better weapons in the Cubs pen. Across 50 career games with Chicago, Wick has gone 2-1 with a 2.81 ERA 10 holds, six saves in as many tries. He also has 22BB to go with 55K.
Prediction: 43 games, 3-3 record with 3.10 ERA, 15 holds, seven saves, 25 walks, and 58 K
Wick is undoubtedly going to be on the club at some point when healthy, and when that time comes, he will be an essential part of the late innings. Watching him pitch the past two seasons, and I have been extremely impressed with him and his ability to get guys out whenever called upon.
Not only that, but it has seemed like no moment is too big for him as he pitches better in higher leverage situations. I expect Wick to be their primary seventh-inning guy this season who will also see time in the eighth and possibly ninth. He is certainly a piece the Cubs need this season.
Brandon Workman: One of the more under-the-radar signings from any team this offseason was the Cubs adding Brandon Workman to the team. With Jeremy Jeffress gone through free agency, the Cubs needed a primary setup man, and Workman appears to be that guy. Take away a rough 2020 season in which Workman posted a 5.95 ERA, and you get someone who brings a 3.89 ERA to the table carrying a string of solid seasons with him.
While that ERA isn't great, it is inflated from three seasons north of 4.70. The other three seasons have seen Workman post ERA was under a 3.30 with a career-best 1.88 ERA in 2019. It was in that season that he not only pitched in a career-high 73 games but went 10-1 in the process to go with 15 holds and 16 saves.
Not your typical high-leverage reliever, Workman doesn't throw hard as he sits in the 92-93 range. Instead, he uses a lot of deception to make the fastball look faster while mixing some of the best breaking stuff in the game. His curveball alone could be his primary pitch, and it has been on full display this spring in terms of how successful it is. This is a low-risk signing for the Cubs that could turn into high rewards.
Prediction: 62 games, 6-3 record with 3.25 ERA, 17 holds, and 12 saves
Workman is the setup guy for now, and I expect him to remain there most of the season. However, if things don't turn around for Kimbrel, I have no issues moving him into the closer role as he has been there before. His 1.88 ERA may never happen again, but even with a low 3.00 ERA, you are getting a solid reliever.
Chicago cashed in on Jeffress last season, who emerged as the best arm in the pen. Given the recent struggles of Cubs closers since Wade Davis left following 2017, maybe it is best to have multiple proven closers on your roster. If one struggles, you still have one in waiting, which is practically what Workman is.
Brailyn Marquez: Yes, No. 1 prospect Brailyn Marquez is on the list because I think he contributes this season. While most fans want him as a starter, and rightfully so, I think he is best suited for a back end of the bullpen role to get the most out of him. Not only is he just 21, but he has a fastball that can touch triple digits. Mix that with a low 90s change and high 80s slider, and you have a three-pitch mix like Aroldis Chapman.
Speaking of Chapman, he too was a starter to begin his career, and the Reds chose to maximize that fastball by making him a closer. That was the best decision anyone could have made for him, and I think Marquez may be on a similar path. He may not be as dominant as Chapman, but I have said this before, and I will repeat it. Marquez could be the Cubs version of Josh Hader, which would be a nightmare for opponents.
Prediction: 10 Games 2.25 ERA, 1 hold 2 saves 13 walks, and 31 Ks
With the minor league season starting late, Marquez will need as much work as possible, especially since he deals with COVID intake issues at camp. Not only do I expect him to start 20 games this season in the minors, but I think he dominates in a lot of those starts forcing the Cubs hand to move him through the system.
With minor league season ending in Mid-September, look for Marquez to once again be added to the roster in a bullpen role. Should he show fans what I think, he is capable of, his days as a starter may be over. Essentially that would make Cubs fans happy as it could mean a quicker ticket to the show.