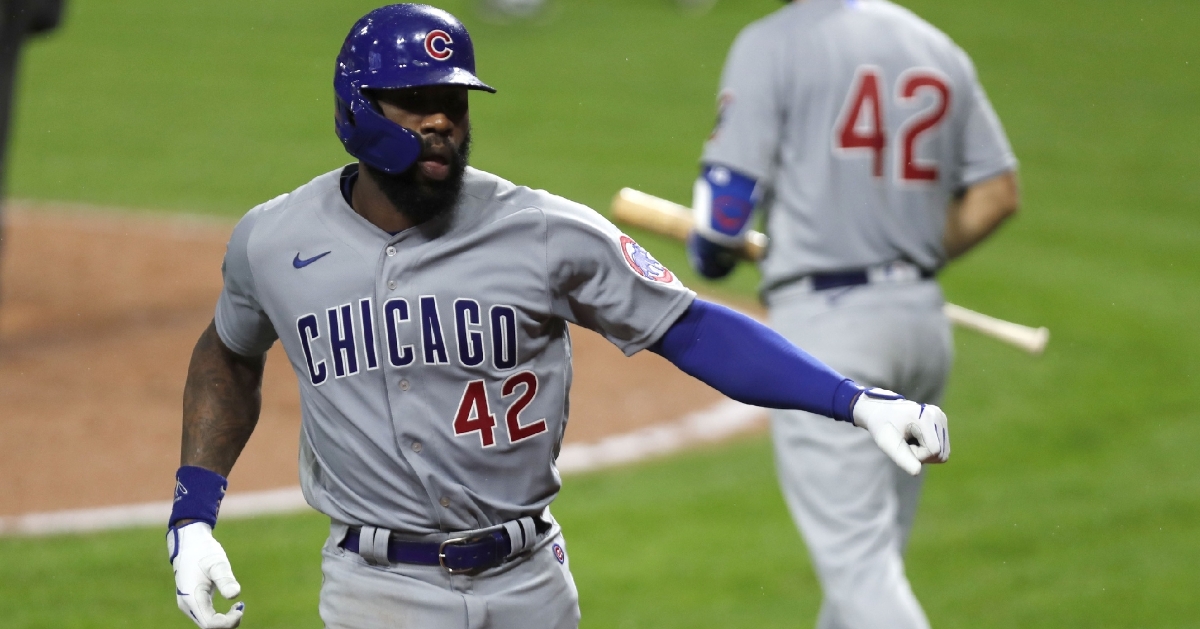 | | |
| --- | --- |
| 2021 Cubs Projections: Right Fielders including Jason Heyward | |
---
| | | |
| --- | --- | --- |
| Friday, March 12, 2021, 8:13 AM | | |
We have come to the final position spot on the roster as we move to right field today. This is the one spot in the outfield that has been set in stone for six seasons now, and unless something drastic happens, you will not have a different Cubs right fielder until after the 2023 season. That spot continues to be occupied by Jason Heyward, who is looking to build off two good years in Chicago.
Say what you want about Heyward and his contract, but he had the opportunity to cash in and did just that. There are not many right fielders in the game from a defensive side of things than him, hence why he has a shelf full of gold gloves. He has a cannon for an arm that is also extremely accurate and knows how to make tough plays look routine.
Heyward is also one of the most beloved teammates in the clubhouse and brings a professional attitude and outstanding leadership. When you ask most players and coaches what they think of Heyward, the word love comes to mind right away as everyone loves him. He loves his team, loves the game, and most importantly loves the city of Chicago, where he is now a full-time resident.
Offensively, Heyward has never lived up to his contract, but if you look at his career marks, what did you expect. Only three times in his career has he topped 20 homers, with two of those coming as an Atlanta Braves member. He hit a career-high 27 with Atlanta to go along with another 21-homer season. The third of his 20 homer seasons came with the Cubs as he slugged 21 for them in 2019. While the numbers are not what fans expected, Heyward has gotten better every season, and those numbers continued last year.
Jason Heyward: When the Cubs decided to sign Heyward in 2016, most people felt they were getting him at a bargain when you look at the season he was coming off. I would say they may have overpaid for him a little bit, but they were paying for what they expected him to do at that time. The glove has never been a question, and that remains the same, but offensively, Heyward has been filled with inconsistency.
Fortunately for the Cubs, it seems as if Heyward has turned the corner the past three seasons hitting north of .270 in all three years and seeing his power numbers steadily increase. He went from a bottom-of-the-order bat in his first few seasons to the middle of the order bat, which can be trusted. As a matter of fact, Heyward was the most consistent hitter on the team in 2020 as he was the only one who didn't go through a prolonged slump.
Coming off a 21-homer season in 2019 and on-base for more of the same last year, Heyward must be feeling good about where he is right now. Cubs fans should also feel the same way as his offensive seems to be catching up to his defensive ability. Hopefully, with three years left on his deal, the Cubs can get Heyward to give them a few more good years before hitting the back nine of his career.
Prediction: 134 games, .275 average, 18 homers, 69 RBIs, 12 steals
Heyward will be close to an everyday player but is still see him getting some games off against lefties. However, look for him to have another strong season and continue his trend since 2018. Those numbers certainly are not 24-million-dollar numbers, but looking at his career stat line, those would fall right about his average to being even slightly above average.
When you look at or stand next to Heyward, you would think this guy is a 40-homer hitter, given the size and how big he is. Watching him crank 27 homers that year with Atlanta, I felt the same way as he was young and still trying to figure things out. Since then, Heyward has changed his swing numerous times, which hurt him as a slugger.
Instead of being your typical launch angle hitter, Heyward is a line drive type of hitter that uses the whole field. He is also the rare breed that uses the opposite field nearly as much as his pull side. While he has enough strength to hit balls out of the yard with line drives, that isn't his game. He is someone who goes up there looking to put the ball where fielders aren't. The production has gotten better recently, and fans shouldn't expect less this season by the last three seasons.
Nick Martini: Before the Cubs opening the checkbooks to sign some more prominent free agents in January, they cornered the minor league market to add depth within the system. A lot of those minor league signings were not only intriguing but made a ton of sense, and Nick Martini is undoubtedly an intriguing pickup.
Much like many outfielders on the Cubs spring training roster, Martini brings versatility with him as he can play both corner outfield spots. He also brings with him a left-handed bat which the Cubs lack throughout the lineup apart from Joc Pederson and Anthony Rizzo. Although he has just 87 career MLB games under his belt, Martini has shown he can hit as his average is .269 with two homers and 26 RBIs. He is also someone that likes to put the ball in play, taking 35 walks and striking out 62 times.
Although that is a limited sample size, let's look at his minor league numbers, where he has nine years of experience. Once again, his .271 average shows he is a decent hitter, but his 44 homers show the power isn't quite there. Martini also has 458 walks to go with 542 strikeouts shows the patience has always been there. Martini is an intriguing option for a fourth or fifth outfielder this season.
Prediction: 45 games, .260 average, one homer, 12 RBIs
Martini is most likely going to start the season in AAA to get as many at-bats as possible. However, he will be one of the first ones called up during the season as injuries and other things will play a role. Don't expect him to be a starter by any means but don't expect him to see some playing time.
His approach to the plate is what may help him get more playing time as the Cubs lack patience as a team. Martini not only shows patience by working counts, but he puts the ball in play quite well even if the hits don't follow. It will be interesting to see what the Cubs do with him this season as to whether they keep him around or trade him around the deadline.