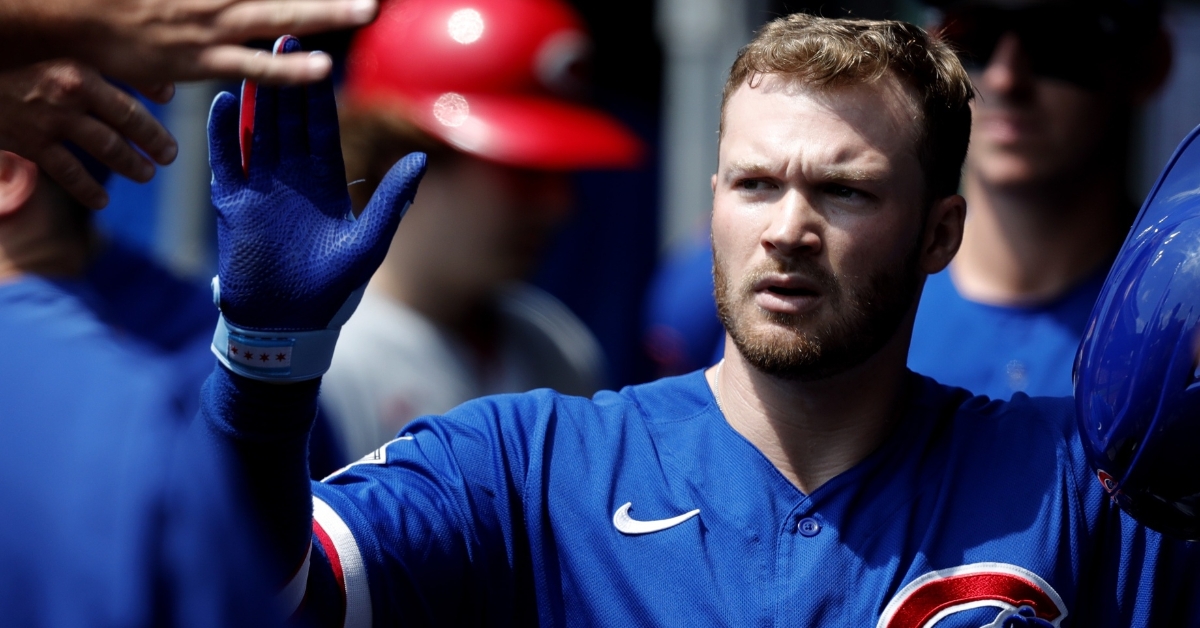 | | |
| --- | --- |
| Cubs News: 2021 Season Report Cards: Ian Happ, Joc Pederson, Nick Martini | |
---
| | | |
| --- | --- | --- |
| Monday, October 11, 2021, 5:00 PM | | |
As we continue to roll down the positional season report card series, we have shifted from the infield to the outfield, as that will be our focus the next few days. Unlike the infield, which is full of questions, the Cubs outfield appears set for 2022, at least in two of the three spots at this point.
Depending on who is available in free agency or the emergence of Brennen Davis, throughout spring training, several tough decisions will be under the microscope. For now, it is time to focus on left field, where the Cubs witnessed a tale of two halves at that position.
It was Joc Pederson holding down the fort for the first half after being signed as a free agent last offseason. The second half was the Ian Happ show in left as he not only saved his tenure with the Cubs for another season, but maybe moving from center field to left field in the process. The Cubs also saw others hold down the fort due to injuries, but it was primarily a two-man job in left field this season.
Ian Happ
You want to talk about a tale of two halves, Ian Happ would be the classic definition of just that. Despite hitting .226 on the season with 25 homers and a team-high 66 RBIs, it wasn't always easy as Happ was going through another rough season. Things haven't gone too smoothly for Happ during his tenure as a Cub as the potential has always been there, but the consistency is lacking.
That was precisely the case this season, where he played in a career-high 148 games while hitting a career-high 25 homers. The first half of the season was a struggle for Happ as he not only struggled to make hard contact, but struggled to make contact at all, hitting just .182 at the all-star break. That was when Rafael Ortega emerged in center field, which had Happ on the verge of being designated as a platoon player once again.
Instead, Happ benefitted from the Pederson trade the most as it allowed him to move from center field to left field to continue playing every day. That proved to save his season as Happ was one of the best hitters in the game across the final 50 games of the season. Not only did he raise his average nearly 50 points, hitting .328 across his last 50 games, but the power numbers were back as Happ looked like the 2017 version of himself. It was a long time coming, but Happ looked like that for much of 2020 also, so there are positive signs ahead.
Grade C: Happ's grade is broken down into two parts. The first half of the season earned him an F, while the second half earned him an A. While the Cubs would love to see more consistency out of him in the coming seasons, the player the Cubs saw in the final 50 games is the version of Happ they have been waiting to see.
He always had that kind of potential, but for some reason, he never could reach that potential consistently. 2020 saw Happ living up to that potential until falling off in September. That continued this season, where he struggled until early August before turning it on late. Happ needs to put together a consistent season from start to finish in 2022, as it could be his final season to prove his worth for the Cubs.
Joc Pederson
Signed to a one-year 7.5-million-dollar contract last offseason, Pederson was brought in with hopes of replacing Kyle Schwarber's offense in the process. The long-time Dodger has continued to produce during his major league tenure despite not being given an everyday role due to his inability to hit lefties.
With a chance to be an everyday player for the first time this season, Pederson got off to a rough start after putting together an amazing spring before landing on the IL with a wrist injury. It may not have been an extended stay, two weeks at most, but that brief IL stint proved to be the best thing that happened to Pederson during his tenure with the Cubs.
From the moment he returned to the lineup, not only was Pederson inserted into the leadoff role, but the dude was on a tear as he started to look like the leadoff hitter the Cubs needed. In the process, the Cubs offense began to look like a well-oiled machine as the team surged into first place in the NL Central.
Eventually, Pederson cooled off, as did the offense before the Cubs moved on from him during the all-star break. Across 73 games with the Cubs, Pederson Pederson hit just a .230, but managed to hit 11 homers to go with 39 RBIs. Put that into perspective, and you are looking at a 24 homer 80 RBI season, so the production was there despite a low average.
Season Grade C: The Cubs and their fans were expecting a lot out of Pederson this season. Instead, what they saw was a three-month rental that landed them Bryce Ball after the all-star break in a trade with Atlanta. There were times when Pederson looked like an everyday player capable of hitting 30 plus homers and driving in 100 plus RBIs.
However, there were also times when Pederson looked like the same player, he was in Los Angeles who couldn't hit lefties and struggled to hit for an average. That is just the player he is. He will see significant time on the field, but will also struggle to hit for a high average. Once he can figure out how to hit lefties, he will become an excellent player instead of a good player.
Nick Martini
Signed in late December to a one-year deal, Nick Martini was viewed as someone who could be the team's fifth outfielder, but landed in AAA Iowa to open the season. Primarily a journeyman outfielder spending most of his career in the Minors, Martini put together a strong showing with Iowa this season which earned him several call-ups to the Cubs this year.
Across 78 minor league games, Martini hit .267, which lines up with his career average, while hitting a career-high 11 homers to go with 40 RBIs. Once he arrived in the majors, Martini played in about a month's worth of games, 25 to be exact. During that time, he hit a .270 to go with zero homers and four RBIs as he looked more comfortable at the plate in September.
Grade: N/A: Martini didn't play enough games to earn a Major League grade, but if I were to grade him based on his AAA production, he would be in the B- or C+ range. He didn't produce at an elite level, but did what you would expect from a journeyman player. Now the Cubs need to decide what his future is within the organization.