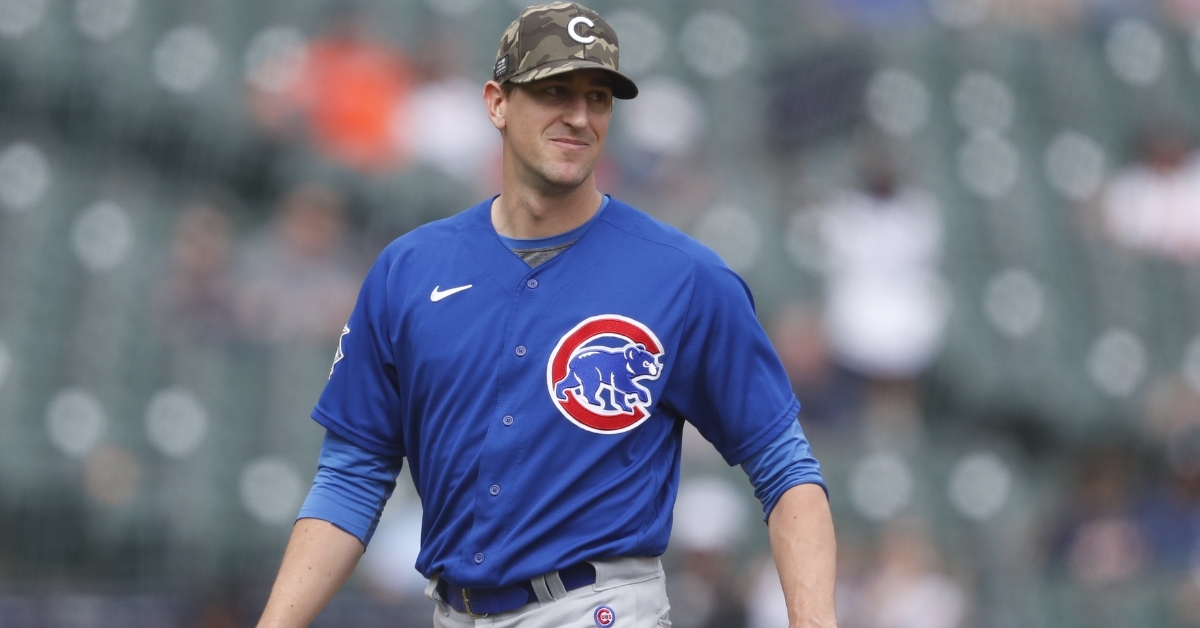 | | |
| --- | --- |
| Cubs News: 2021 Season Report Cards: Kyle Hendricks, Zach Davies, Jake Arrieta | |
---
| | | |
| --- | --- | --- |
| Friday, October 15, 2021, 9:13 AM | | |
As we continue our season report card series, we have finally reached the pitching side of things which was a struggle all season. The Cubs had one of the worst rotations in terms of ERA and one of the worst in overall velocity. That doesn't bode well when most of their starters struggled to hit their spots consistently.
To make matters worse, the Cubs used 11 starters during the season, with nine of them making at least four starts with the team. Depth is always good to have, but sometimes too much depth is an issue as it shows how much a team is struggling in a set area. The starting pitching will be broken down into three separate installments to make sure everyone gets covered. Here is part one:
The de facto ace of the Cubs staff, Hendricks has been as consistent as they come since he made his MLB debut in 2014. Not known as a flame thrower, Hendricks turns back the clock and pitches like the Greg Maddux days of the 1990s using location over velocity to get things done.
Hendricks has been solid for his career, going 83-55 thus far with an impressive 3.34 ERA. Add in a 2-4 postseason record with a 3.12 ERA, and Hendricks is no stranger to pitching in big games. Not only have the results been impressive, but so has the command, which is what sets him apart from anyone else on the Cubs staff.
For the lack of velocity, Hendricks has done well posting double-digit wins four times, including a career-high 16 in 2016 when he also led the NL in ERA with a 2.13. Hendricks was not only on pace to surpass 16 wins this season, but was leading the National League in wins for much of the season before falling apart the final two months of the year. Despite that, he still finished 14-7, but a career-high 4.77 ERA is cause for concern.
Grade B: Hendricks is the only pitcher from this year's rotation guaranteed a spot next season. That is going to be critical as this team didn't have enough starters. From a results side, Hendricks pitched phenomenal winning double-digit games again and proving he is worthy of being an ace for this team.
However, his career-high home run rate, career-high ERA, and career-worst walk to strikeout rate didn't bode well, and it is a significant area of concern. Hendricks still has two years left on his contract and is approaching 32 years old. Unlike most starting pitchers who lose velocity with age, the Cubs shouldn't have to worry about that with him, considering he doesn't throw hard. They do have to worry about his mechanics and hitting locations, both of which seemed to be missing this season, and it hurt him in the second half.
Acquired as part of the Yu Darvish deal with San Diego, the veteran righty Davies was brought in to stabilize the middle of the rotation and pitch his way into a future role with this team. Like Hendricks in terms of a soft tosser thriving on command, Davies has put together a 56-48 record while posting a 4.14 ERA.
However, he has been getting better with experience as he too owns three double-digit win seasons, with a career-high 17 coming in 2017. Despite a shortened season in 2020, Davies put together an impressive season going 7-4 while posting a career-best 2.73 ERA. That is the Davies the Cubs were hoping they were getting, and if they could get that version of him, it would've been huge.
Instead, Davies was marred in the worst season of his professional career, going 6-12 with a 5.78 ERA. Not only was his command at an all-time worst, but so was his performance, as he didn't win a single start over the final two months of the season. A big reason for that are his struggles to face a lineup three times which often had him out of the game before the fifth inning and with the team trailing.
Grade F: This was a big year for Zach. Not only was he looking to show that his 2020 season was not a fluke, but he was looking to pitch his way to a multi-year deal with someone in the process. Not only does 2020 look like a fluke, but Davies will have a hard time finding a contract longer than one year as this season was a complete nightmare for him.
There were many surprise signings during the 2021 offseason, but none were more surprising than Arrieta returning to the Chicago Cubs. The once-beloved started has had an interesting career, where he has gone 115-93 with a 3.98 ERA. The brunt of his success came with the Cubs in his first go-around, where he put together one of the best four-year runs in MLB history.
During that span, Arrieta went 64-29, including a 22-7 season in 2015, where he earned the NL CY young posting a 1.77 ERA. His ERA over those four seasons was 2.82, so he established himself as one of the most dominating starters in the league during that time. Arrieta signed a three-year deal with the Phillies after his tenure with the Cubs and hasn't been the same pitcher since.
Injuries have played a significant role in his recent struggles, but his three-year run with the Phillies was a nightmare as the Cubs brought him back in hopes of rediscovering his magic. Through one month of the season, that magic was back as Arrieta was the best starter on the team, going 4-1 with a 2.57 ERA across his first six starts. After that, it was all downhill as the recent struggles for Arrieta continued.
Not only was command an issue, but he couldn't stay healthy, which resulted in a 5-11 mark with a 6.88 ERA. The remarkable resurgence by Arrieta to begin the year was quickly forgotten as the Cubs were forced to cut ties with him a second time, but this time it was performance-based, not money.
Grade F: As surprised as I was to see Arrieta return to the Cubs, I had extremely high hopes for him this season. Through one month, Arrieta may not have been overpowering hitters, but he was rediscovering himself as a pitcher, and it was working. Whatever happened after that is something he would love to forget, as 2021 was a nightmare.
Given the way he finished the season and watching him struggle at the level he did, I would be willing to bet his days as a starter could be over. The injuries, mixed with the workload he endured since 2014, have finally caught up to him, and he is now suffering the consequences in a big way.