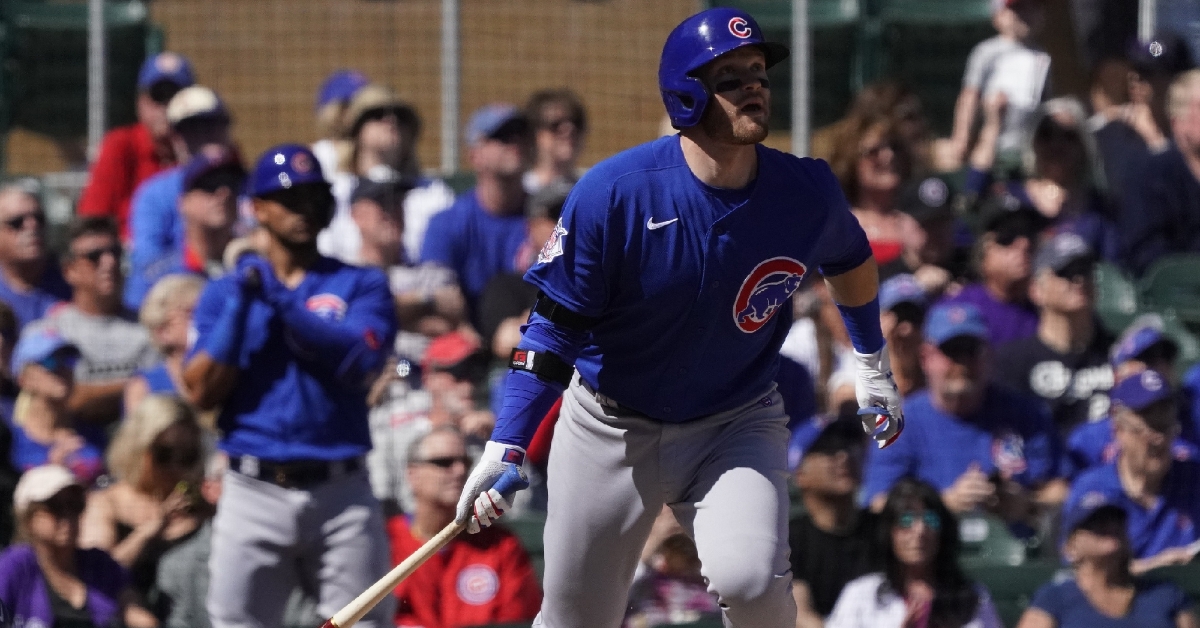 | | |
| --- | --- |
| Cubs News: 2022 Season Prediction: Happ, Suzuki, Heyward, Ortega, Ramirez | |
---
Now that we have shifted through all the infield positions, we can focus on the outfield. Of all the positions on this team, this is the one with the biggest number of questions as five or six guys will make the case to start this season. In terms of overall production, the Cubs outfield was near the bottom of the league in home runs, average, and RBIs, which has to change going forward.
Adding guys like Clint Frazier and Seiya Suzuki might help a little bit. Still, the overall success of the outfield will have to come from Brennen Davis and some other prospects who may not be ready until later in the season. For now, the Cubs are going to mix and match based on matchups as they try and at the very least be more productive than last season in the outfield.
Ian Happ: Whenever you watch Ian Happ play, you immediately see his potential. After all, he is a switch hitter with power who can play multiple positions. When it comes down to Happ, it comes down to consistency as Happ often has one good season followed by a bad season. To take it a step further, Happ typically has about two good months a season while the rest is mediocre.
If there was a player on this roster needing a good season, Happ might be it as he could be without a job next year should he struggle again. Unlike seasons past, look for him to be the starting left fielder this season and play most of his games there.
Prediction: 125 games, .267 average, 19 homers, and 64 RBIs
I think Happ has a more consistent season this year than in the past, mainly because he knows where he will play. When you ask a player who moves around a lot, they will tell you that it sometimes affects how they play on the field. No one will argue the potential he has, but now it is time to put that potential together. Should he do that, I could see better numbers than this, but you have to go based on his past to get a good feel.
Seiya Suzuki
Last, but not least comes the Cubs big offseason prize in Seiya Suzuki. Signed to a five-year, 85 million dollar deal, Suzuki surpassed Shohei Otani as the highest-paid Japanese player in history. With that comes a ton of expectations that may or may not be met. Looking at the type of player he was in Japan, and Cubs fans may be expecting MVP numbers.
I want to pump the breaks on that as the NPB in Japan is an entirely different league. Regardless, I still think Suzuki puts up solid numbers, which will make this contract look like a bargain. He will be one to watch this season.
Prediction: 135 games, .287 average, 27 homers, 86 RBIs, 15 SB
Given that the MLB season is longer than the NPB, look for Suzuki to get plenty of rest to stay fresh. However, when he is on the field, I expect him to produce at a high level capable enough to bring rookie-of-the-year considerations into the mix.
This is one of those signings that will help the Cubs now and in the years to come. He has a chance to become the next face of this franchise, and fans worldwide will love him and embrace him with open arms.
Harold Ramirez
One of the earlier signings by the Cubs this offseason was adding Harold Ramirez from Cleveland. New GM Carter Hawkings is familiar with Ramirez given his time at Cleveland and felt he would be an excellent addition to this team. Given that he has yet to report to camp due to some travel issues, no one knows when he will report or what his role will be.
Before the Suzuki signing, Ramirez was one of those guys seen as a fifth outfielder. Now, he may be designated for a minor league role until the Cubs figure out the best option. Regardless, he is a great depth piece for this team and one of those signings that could work in their favor.
Prediction: 51 games, .250 average, five homers, 19 RBIs, 6 SB
Ramirez may not play a ton this season, but he will play nonetheless. A big part of his action will come via injuries but look for him to make an even bigger impact post-trade deadline. This is a guy the Cubs love the makeup of, but now they need to find the best way to get him in a game.
Clint Frazier
Another under-the-radar offseason signing would be the addition of Clint Frazier to the outfield. The once former top prospect in the New York Yankees system, Frazier has never lived up to that billing as injuries derailed his development while inconsistency saw him on the way out of New York.
When he did play, he showed flashes of that top prospect billing, but those moments were few and far between. Now with the Cubs, Frazier has a fresh start and could see action on a more regular basis with the DH coming to the NL. Hopefully, he pans out, as this could be an absolute steal for the Cubs.
Prediction 119 games, .262 average, 15 homers, 47 RBIs, 19SB
Frazier is one of those guys that I'm anxious to see this season as I want to know what he is all about. Judging by what you have seen from him in spring thus far, you get a guy who is fearless in the field and shows a keen eye at the plate. He also has some underrated power that may come full circle this season. Any way you put it, this is someone who will have a chance to prove himself this season.
Another great story around the Cubs last season was the emergence of Ortega. Signed as a minor league free agent, Ortega not only got called up early in the season, but then played his way into a starting CF role with this team. Despite being unable to hit lefties, Ortega crushed righties and hit near .300 last season while taking over the leadoff role.
As things sit right now, look for Ortega at the very least to open the season as the starting CF and have a shot at holding down the leadoff role again. No one is asking him to produce the way he did last season, but anything close to that would be a win for the Cubs. This could be a classic case of a late bloomer for Chicago and someone that could help this offense.
Prediction: 134 games, .276 average, eight homers, 43 RBIs, 21 SB
Ortega will get plenty of action this season, even if most of that action comes against right-handed pitching. Apart from that, you have the typical pitching changes where he could be brought in as a pinch hitter and go in to play the field.
A low-cost option for this season, Ortega is the perfect bridge player for this team waiting for Davis' arrival. That could come sooner rather than later, but the Cubs will cross that bridge and figure out what to do with both men once that happens.
You have to put Heyward up there with Alfonso Soriano in terms of the worst free-agent contracts in team history. The most significant difference was that Soriano at least produced offensively while Heyward has done next to nothing on the offensive end. Add in his declining defense, and you have an albatross of a contract to hang onto for two more seasons.
I am willing to bet that if the Cubs find a team willing to take on his contract, they won't hesitate to get a deal done. That is the problem, what team wants to take that on. At this point, the Cubs may be stuck with him for another season and then could cut ties with him before next year.
Prediction 100 games, .250 average, 11 homers, 37 RBIs
I think it is safe to say that Heyward may be designated for a platoon role or even a bench role this season. If that is indeed the case, there are far worse options than him, but how much would he play. With the arrival of Suzuki, I don't see Heyward getting a ton of time in RF anymore, as he said he is more than happy to make the switch to CF. The Cubs are about to find out the type of team player he is this season.