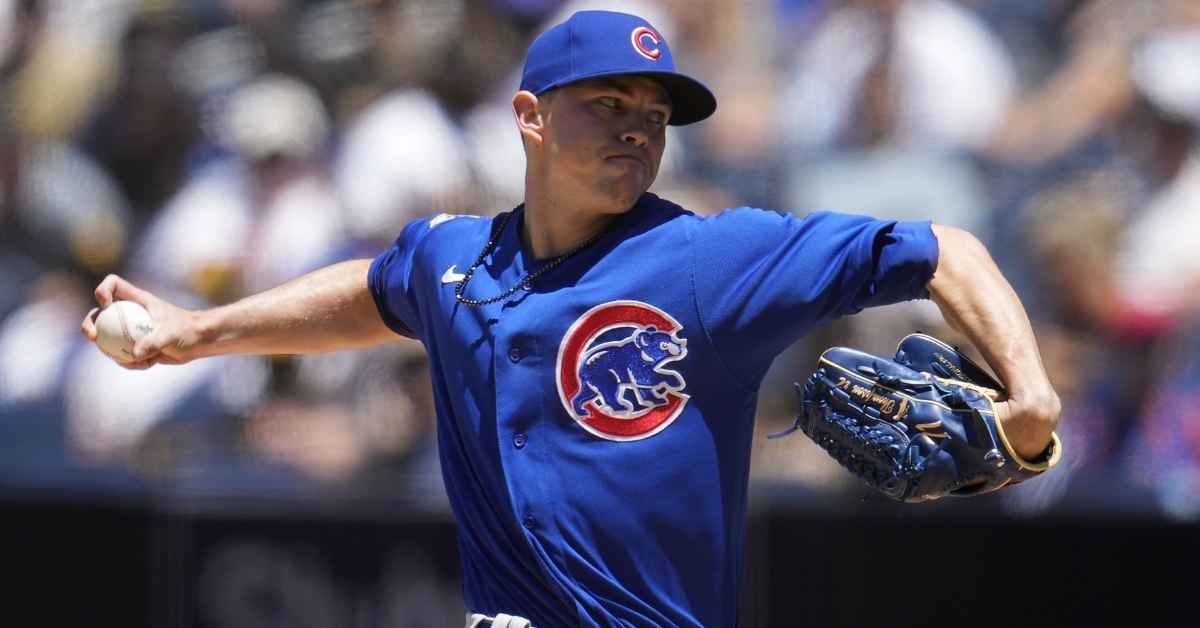 | | |
| --- | --- |
| 2023 Season Projections: Cubs Bullpen | |
---
| | | |
| --- | --- | --- |
| Friday, March 3, 2023, 10:00 AM | | |
We have reached the final installment of our season projection series as we move to the Cubs bullpen. Not only is this the biggest question mark on the roster right now, but it has been an area that has seen struggles for the better part of two seasons. While the Cubs may have started and finished strong, trading away most of their key cogs two seasons in a row sent them into a tailspin until David Ross figured some things out.
With a new season comes a new look pen, which the Cubs have. This team has a mix of former closers, starters, and young guys eager to make something happen this season. With rosters at 26 instead of the old 25-man format, most teams use an eight-man pen. The Cubs are no different, as six spots are accounted for as long as everyone stays healthy.
One of the biggest pieces to the Cubs pen this season will be the emergence of Adbert Alzolay. The former starter and top pitching prospect in the Cubs system, Alzolay has dealt with injury after injury since his minor league days as his days as a starter appear to be over. That being said, Ross feels he can be an excellent weapon out of the pen and will most likely be a multi-inning or late-inning arm this season.
Projection: 48 games, 2.64 ERA, 24BB, 67K, 10 saves.
Alzolay will be moving around a lot this season, as he brings a ton of versatility with him. Unlike his inconsistencies as a starter, he has pitched very well out of the pen, which should continue this season. Look for him to fill any role from long relief to closer this season.
The million-dollar question heading into camp this season was what to do with Keegan Thompson. Well, that question was answered early in camp as Ross has permanently moved him to the pen. That is a good thing when considering his ERA as a starter was 4.86 compared to 1.65 in relief. Thompson now has an opportunity to not only be a dominating reliever, but could be the closer, as he has the best stuff on this staff.
Projection: 65 games, 2.37 ERA, 31BB, 117K, 23 saves.
Like Alzolay, look for Thompson to start the season in a long relief role where he can fill many roles. However, as the season goes on, I will not be surprised to see him finish as the closer. Not only does he have the stuff to be the closer, but the moxy, too, as he was near impossible to hit when he came on in relief.
Of all the returning pitchers in the bullpen this season, Rowan Wick has the most to prove. The once late-inning reliever and closer went through his worst season last season to the point where he was removed from any high-leverage situation. That saw his innings drastically reduced down the stretch. With a clean slate for 2023, Wick is looking to get back on track and provide the Cubs some excellent depth.
Projection: 52 games, 3.67 ERA, 25BB, 53K.
Although Wick may not be a high-leverage arm anymore, he does have an opportunity to establish himself as a middle reliever this season. Without dealing with the late-inning pressure, look for him to rediscover some of his old form. Sure, the walks need to come down a bit, but he can get guys out as long as he throws strikes.
One of the biggest surprises last season was the emergence of Brandon Hughes. After not being on anyone's radar last season, Hughes got off to a great start in AAA and earned the call to the show in May. Once he arrived, his great season continued as he emerged as a real weapon for the Cubs.
He started the season as a middle reliever, moved to long-relief, and saw closing opportunities by the end of the season. Look for him to have a chance to close games early, but he is also the lone lefty in the pen, so his role will be different this season.
Projection: 64 games, 3.24 ERA, 17BB, 59K, 15 Holds, and eight saves.
Hughes put on quite a show last season to the point where he became one of Ross's most trusted arms a season ago. Ross will have to put a lot of trust in him this season as he is the only lefty in the Cubs pen. That would have been an issue a few years ago, but with a three-batter minimum in place, it isn't as desperate to have multiple lefty arms.
Michael Fulmer
The most recent Cubs signing, at least among the pitchers, was the addition of Michael Fulmer to the Cubs pen. The former Detroit Tiger and Minnesota Twin was linked to the Cubs all offseason before the two sides agreed. He will now be thrown into a mix where he can contribute in any way to help this team win.
Projection: 58 games, 3.14 ERA, 31BB, 67K, 10 holds, and 12 saves.
Fulmer has been impressive since being converted from starter to reliever. In fact, he saved his career by making that move. Like Hughes, Thompson, Alzolay, and others, Fulmer will be allowed to close games this season. Even if he is not a full-time closer, this guy will give Ross plenty of options throughout the season.
Brad Boxberger
Another free agent pickup, the Cubs added Brad Boxberger to their pen on a one-year deal. The long-time veteran spent the past two seasons with Milwaukee, where he was their most-used bullpen arm. Despite that, he pitched very well and should be able to continue that in Chicago.
Projection: 73 games, 3.78 ERA, 19BB, 52K, 18 Holds, and five saves.
Every team needs a guy that can be a rubber arm. When it comes to the Cubs, Boxberger could be that guy, as he will be a middle to late-inning option for Ross. Even if the ERA is up from the past few years, if he can give the Cubs better than 70 innings this season, it will surely be a win.
This name may come as a surprise, but I am looking for Mark Leiter Jr to lock down one of the final two bullpen spots. Released earlier this offseason, Leiter Jr elected to return to the Cubs on a Minor League deal and has been given a non-roster invite to spring. Looking at his season from 2022, Leiter was brilliant out of the pen, posting a 2.46 ERA with more than 30 innings of work compared to his 5.40 ERA in 19 innings as a starter.
Projection: 37 games, 3.15 ERA, 14BB, 37K.
Leiter was outstanding after moving to the pen last season to the point where it looked like he could be a lock this season. Following his surprising release, many felt he wouldn't stick in the organization, so seeing him return made many people smile. He has the potential to be something special if he can rekindle his success from last season.
Those are seven names that I expect to be locked once camp breaks. That leaves one more opening as Ryan Borucki, Jeremiah Estrada, Roenis Elias, Jordan Holloway, Anthony Kay, and Julian Merryweather will all get looks at that final spot.

Upgrade Your Account
Unlock premium boards and exclusive features (e.g. ad-free) by upgrading your account today.
Upgrade Now