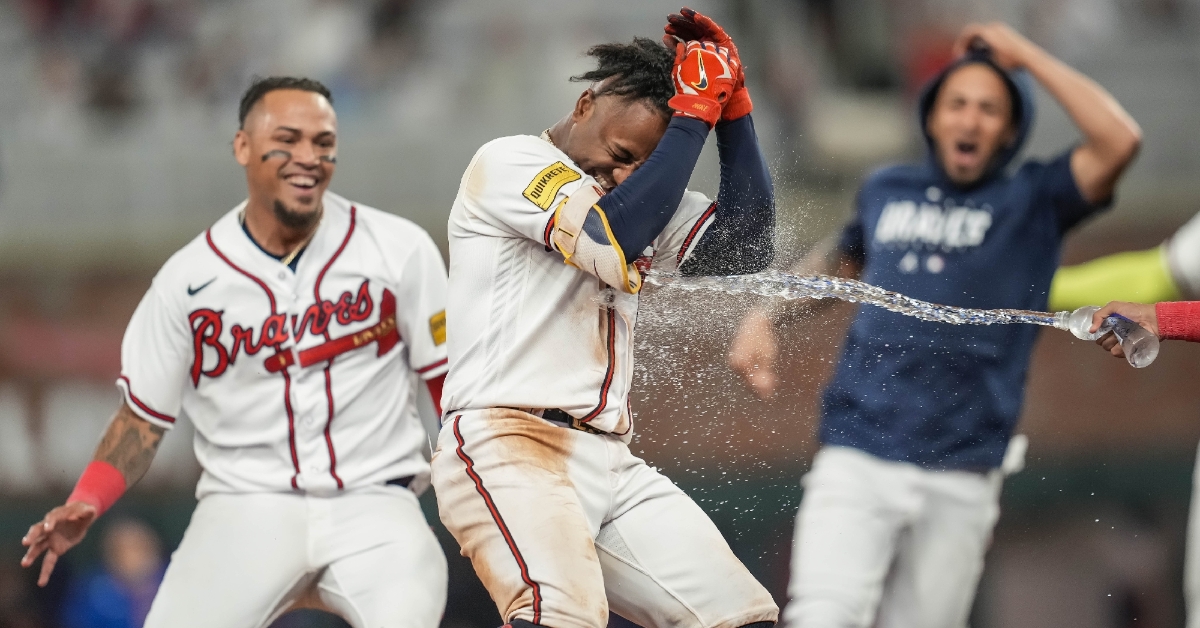 | | |
| --- | --- |
| Another Heartbreaker: Braves walk-off Cubs in extras | |
---
ATLANTA - Coming off arguably their worst and most painful loss of the season, all eyes were on the Chicago Cubs (82-76) at Truist Field on Wednesday and how they would respond. Anytime you lose a game like that, it hurts, but when you are battling for the final playoff spot with less than five games, it makes that loss so much worse and magnifies the problems this team has had all season.
Locked into another great game with the Atlanta Braves (102-56), the Cubs were well on their way to bouncing back as they opened up a 3-1 lead and held that until the later innings. That is when the Cubs bullpen entered the game and let the game get away as they are entirely shot at this point in the season.
Despite the Braves battling back to tie things up, the Cubs rallied not once but twice against the Braves as they played Atlanta to a 4-4 tie before heading into extras. In the extra frame, it was Ian Happ putting the Cubs on top again as David Ross called on Daniel Palencia to close things down. Hoping to give his team a strong inning, it wasn't meant to be as RBI hits from Ronald Acuna Jr. and Ozzie Albies proved to be the difference as the Braves walked off the Cubs 6-5 in 10 innings to deliver another heartbreaker.
"We believe in the group," Cubs outfielder Ian Happ said after the game. "We've got four games left to get this thing done."
What looked to be a game where the Braves offense would do damage it was Jameson Taillon coming through as he backed up his impressive outing last time out with another great showing. Not only did Taillon hold the Braves to just one run through six, but he did it with less than 70 pitches before Atlanta started to get to him in the seventh. In total, Taillon can head into the offseason riding a positive wave of momentum as he allowed two runs on three hits in six innings while also striking out three.
While the Cubs rotation is in a great position health-wise, the same can't be said about the Braves, as both Max Fried and Charlie Morton are on the IL. That meant it would be up to an unproven arm to deliver a strong outing as Darius Vines battled through six innings, allowing three runs on four hits, with only two of them earned. Vines was backed by some instant offense in the first inning as Olbies delivered a solo shot two batters into the game to put the Braves in front 1-0. That was the first of several big hits for Albies, who continues to destroy the Cubs.
Following that run, it was the Cubs offense going to work on Vines, with Cody Bellinger leading off the second with a single and then advancing to second on the Seiya Suzuki walk. Bellinger moved to third later in the frame and then came home on a passed ball to tie things up 1-1. That was one of the turning points early in the inning as Jeimer Candelario fouled off the passed ball, but it wasn't called, thus having manager Brian Snitker tossed from the game.
The third inning is when the Cubs offense appeared to be settling in against Vines as Mike Tauchmann and Happ connected for a pair of solo blasts, and just like that, it was a 3-1 lead. Those would be the game's final runs for quite a while for the Cubs offense, but it didn't seem to matter as Taillon was locked in on the mound. After allowing a leadoff double to Marcell Ozuna to begin the second, it was all Taillon as he retired the next 15 hitters he faced to keep the Cubs in front 3-1 through six.
That string ended in the seventh with Austin Riley leading off the inning with a walk and then advancing to third on a Matt Olson single to put runners on the corners with no outs. One batter later saw Ozuna ground into what looked to be a huge double play only to have Nico Hoerner overthrow Dansby Swanson as the Braves second run scored, but worse, kept two batters on base with no outs as Taillon was pulled from the game in favor of Drew Smyly.
Faced with a challenging situation, Smyly made the pitches he needed to, including a massive strikeout of Sean Murphy for the second out as he escaped the jam with the Cubs still leading and Julian Merryweather on to pitch the eighth. There once was a time when Merryweather was the best reliever on this team, but those days are long gone, as his arm appears to be cooked.
Merryweather would not only allow a one-out single to Acuna, but after he stole his 69th base to reach scoring position, the pressure fell on Merryweather to prevent any damage. Unfortunately, it was Albies coming through with another big hit as his single brought home Acuna to tie things up 3-3. Albies was later thrown out trying to steal second to end the inning, but once again, the damage was done as the Cubs pen coughed up another late lead.
With Kirby Yates on to pitch the ninth, it was the Cubs finding a way to respond as Swanson took one for the team to reach base with one out before advancing to second on a Candelario walk. That set the stage for Mr. Clutch Yan Gomes, and as he has done so often this season, he came through as his broken-bat flare to right brought home Swanson and put the Cubs on top 4-3. The Cubs had a chance to add on, but after a horrible at-bat from Miles Mastrobuoni gave them two outs, the offense couldn't get the job done.
While the Cubs wait for Adbert Alzolay to come back, Ross has had to mix and match his pen to find a closer as Mark Leiter Jr. was taking his turn in this one. Leiter got off to a great start by retiring the first hitter he faced, only to allow a long Ozuna homer to left field to tie things up 4-4. Michael Harris followed that up with a double before advancing to third on the Jose Cuas wild pitch, but that was it as Cuas escaped further damage and sent the game to extras.
As they did in the ninth, it was the Cubs coming through first as Happ added his second RBI on a sacrifice fly to put the Cubs in front 5-4 and only three outs to go. Without many options to go to this late in the game, Ross chose to go with the young fireballer Palencia with hopes of one good inning to save the day.
Palencia has been outstanding in his recent outings, but after allowing an RBI single to Acuna Jr., it was the Braves tying things up while also having the winning run on base. One pitch later, Acuna made history as he swiped his 70th base of the season to become the first player in MLB history to have 40 homers and 70 steals in a season.
That steal was the key play in the game as Albies delivered in the clutch with a line drive single to right field and brought Acuna Jr. home to walk off the Cubs 6-5, sending them a massive blow to their playoff hopes.
"I thought we brought it today," Cubs second baseman Nico Hoerner said. "Just like we're going to bring it tomorrow and the next day, and trust that in the next four games, that plays out as best it can. That's what we can control."

Tags: Cubs Baseball
,
Ian Happ
,
David Ross
,
Daniel Palencia
,
Jameson Taillon
,
Cody Bellinger
,
Seiya Suzuki
,
Jeimer Candelario
,
Nico Hoerner
,
Dansby Swanson
,
Drew Smyly
,
Julian Merryweather
,
Yan Gomes
,
Miles Mastrobuoni
,
Adbert Alzolay
,
Mark Leiter