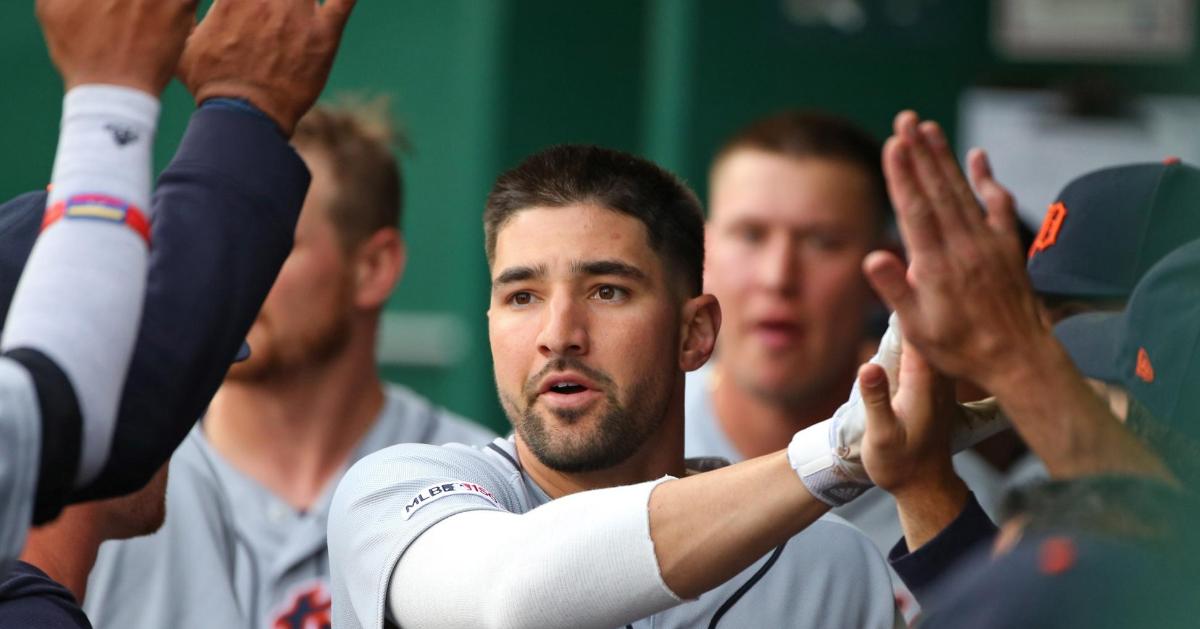 | | |
| --- | --- |
| Breakdown of Cubs trade deadline deals | |
---
| | | |
| --- | --- | --- |
| Thursday, August 1, 2019, 2:27 PM | | |
The Cubs were rather busy at the trade deadline, yet quiet at the same time. However, their official trade season got started a bit earlier than most as they traded for Martin Maldonado following the all-star break for the injured Willson Contreras. The Royals received lefty swingman Mike Montgomery in the process.
What made sense at the time to move on from the struggling Montgomery and bring in a veteran presence to fill in for Contreras, Maldonado spent less than three weeks in a Cubs uniform before being dealt again. Here are the rest of the deals the Cubs made and my thoughts on those deals.
DEREK HOLLAND: The Cubs went out and added veteran lefty Holland from the Giants on July 26 for Cash Considerations. This an under the radar deal for the Cubs as it has the potential to be a low-risk high reward deal. After performing well as a starter much of his career, Holland was moved to the bullpen where he struggled mightily. That forced the Giants to DFA him which made the deal for him that much easier for Chicago to navigate.
Hoping a change of scenery does Holland well, he does possess two qualities the Cubs lacked this season. First of all, he can start if needed giving the Cubs another option should someone need to miss a start. The second quality he possesses is the most important and that he is a left-handed specialist. With Kyle Ryan as the Cubs lone lefty reliever, the Cubs never had a true left-hander that they could put in a vital situation to get guys out.
Don't let Hollands 5.58 ERA fool you, as lefties are only hitting a 188 off him this season making him an important piece going forward. I expect him to be counted on early and often as the Cubs want to see what he has left as a reliever. Who knows if things pan out, he may turn out to be that lefty specialist they have been longing for since Travis Wood left the World Series team? These are moves that don't stand out but generally help organizations in the future.
DAVID PHELPS: Another under the radar but potential key trade was adding Phelps to the bullpen for AA starter Thomas Hatch. Not only did the Cubs add help to a pen desperately needing it but they managed to do so without giving away any big-league talent.
Phelps was another former starting pitcher who had Tommy John surgery before last season. Now entirely removed an in his new role of pitching out of the pen, Phelps has logged 17 innings in 17 games posting a 3.63 ERA with 7BB and 18K. He is getting healthier by the day and is the perfect mold for Wrigley Field atmosphere. Expect him to be a back inning of the bullpen guy that could fill multiple roles if needed.
Hatch was the player that was sent Toronto's way in the deal. The former first-round pick has had his ups and downs during his three-year minor league career especially this season as he is has gone 4-10 with a 4.59 ERA at AA Tennessee. Hatch has been much better as of late so Toronto is hoping a new culture and environment could bring him back to his true potential.
TONY KEMP: Throughout the entire trade deadline process, the Cubs remained quiet as Kemp looked like the lone deal they would make on Wednesday.
Acquired for recent acquisition Maldonado, Kemp is a veteran presence that can be deployed in a variety of infield positions, especially second base. Although his numbers are less than ideal with a 227 average to go with 7HRs and 17 RBIs, Kemp is a professional who knows exactly what his role is on the team.
With Ben Zobrist still figuring out his personal issues, to Daniel Descalso being a complete bust in his first season on the north side, the Cubs second base position has been a revolving door all season and is the clear weak spot in the lineup. Sure, Kemp will not wow you with anything spectacular, but he will provide you another option to play second base and can be used in a variety of situations that will help come September and beyond.
Maldonado was sent to Houston in this deal which was the likely scenario once Contreras returned. After the Cubs traded for him to fill in for Contreras, Maldonado never got the chance to settle in as his lack of offense hurt him from seeing more action. He was a professional about his situation and knew that he was on the block once again and that he was as Houston has acquired a veteran backup who should see more playing time in Houston.
BRAD WEICK: This was a deal that we found out about after the deadline had passed as the Cubs had the paperwork already filled out. Lefty reliever Weick is heading to Chicago from SD in exchange for Carl Edwards Jr. The 27-year-old lefty has struggled in his 30 games this season posting a 6.57 ERA despite posting a 9 BB 31K ratio.
The Cubs I feel took out a flyer on him given the potential he has and looks to send him to Iowa to work on his craft with hopes of sending him to Chicago this season. Edwards goes the other way in this deal. You must feel for Edwards here as he has gone through a lot the past few seasons.
After bursting onto the scene in 2015 and 2016, Edwards seemed to lose his confidence on the mound the past two seasons, and the results showed. Armed with some of the nastiest pitches when right, Edwards struggled with his command since the all-star break last season forcing him to be moved up and down the AAA pipeline many times. If SD can somehow unlock his potential and get him back to what he was in the past, not only did they pick up a tremendous late-inning arm but a potential future closer as his stuff has that ability.
JIMMY HERRON: Another move that we found out about after the deadline was the Cubs trading away Myrtle Beach outfielder Herron to Colorado for international pool money. Last years third-round pick, Herron was struggling to get things going in his first full professional season with the Pelicans hitting just a .220 with 4HR and 30RBI. However, with 44BB and 66K, Herron did possess a good eye at the plate, and his 19 steals shows he can steal bases.
Not only are the Cubs loaded with outfielders, but they needed to unlock some cash flow in the process and did so in the international market. This now opens a spot for fast-rising Brennan Davis at South Bend as I see him moving to Myrtle Beach before the season is over.
NICK CASTELLANOS: The biggest and perhaps most important trade in the NL central happened right at the buzzer as the Cubs acquired Castellanos from the Tigers. Although his numbers were slightly down this season with a .273 average and 11 HR 37 RBI's Castellanos gives the Cubs another outfielder that can play the corner spots and a righthanded bat that kills left-handed pitching.
It is no secret that the Cubs have struggled as a hole against lefties so bringing in his bat will make their lineup that much more in-depth and better against southpaws. This gives the Cubs a chance to sit either Heyward or Schwarber against lefties as both are floating near .200 against southpaws. Although Castellanos is a technically a rental, the Cubs didn't have to give up much for him as they sent two minor league arms Detroit's way. The Tigers also kicked in some cash to sweeten the pot.
Why this deal intrigues me the most is because of what he has done in the past, last season. Yes, he is technically a free agent after this season, but he does have a player option that he could exercise if he chooses too. Castellanos also leads the American League in doubles in one of the biggest parks in the game. Move to a smaller park in Wrigley, suddenly those doubles turn into homers, and the numbers and productions go up.
ALEX LANGE: 2017 first-round pick Lange, was one of the two pitchers sent the Tigers way as he has had a tail of two seasons. After starting the year with the Pelicans and posting a 1-9 record with a 7.36 ERA, Lange somehow earned a promotion to AA. That appeared to be the right move as his season has been drastically different with the Smokies going 2-3 with a 3.92 ERA. Although his command remains an issue, Lange has turned it around in AA which is something that caught the Tigers eye.
PAUL RICHAN: Of all the names the Cubs dealt away, Richan could be the one that hurts the most down the road. A second-round pick in 2018, Richan was not on the top 30 list to begin the season but has risen the prospect boards since the season has started.
After riding a rough April with Myrtle Beach, Richan has become the ace of their staff going 10-5 with a 3.97 ERA. That includes a 3.24 ERA over his last ten starts as he has turned into a must-see pitcher. Richan is not going to blow you away by any means, but with an 18/86 bb-k ratio, he is a command pitcher that has no trouble working the corners. Detroit is hoping that continues for them with hopes of adding him to their rotation soon.