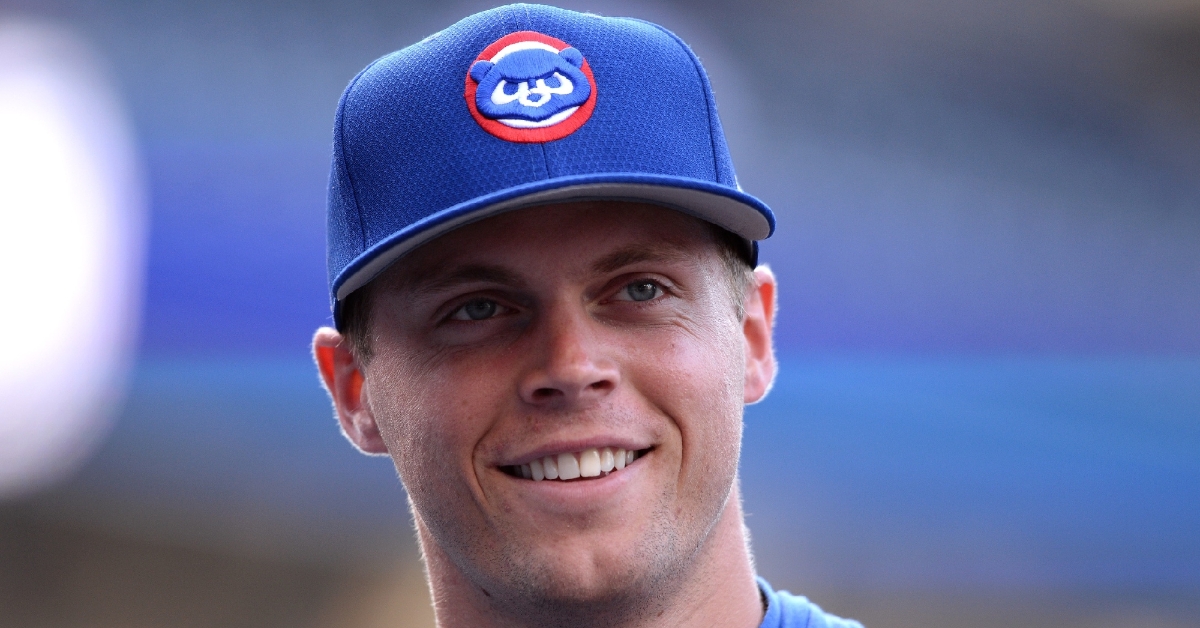 | | |
| --- | --- |
| Breaking down MLB Pipeline's Top 30 Cubs prospects (Part 6) | |
---
We have reached part six and the last part of our top 30 prospect installment series, where we have reached the top five. This is the point on the prospect list where you get to the difference makers and ones on the verge or already making headway on an MLB roster. While some of these players are still two years or more out, they will be the future of our team if they continue to develop as most expect them too.
#5 Cole Roederer (OF South Bend): While I am not surprised to see Roederer on the Cubs top prospect list, I am kind of surprised to see ranked as high as he is considering the struggles he went through last year. Make no mistake about it, the 2018 second-round pick out of high school certainly endured his struggles in 2019, but that could mainly be the fact that he is still adjusting from high school to pro ball and that it was the first time he has played in a full-season league.
Roederer crushed the ball in the Arizona Rookie league his first season, hitting .275 with five homers and 24 RBIs in just 36 games. That kind of production led the Cubs to believe he could contribute at a full-season level, so they sent him to South Bend in 2019. For the year, Roederer struggled with his average hitting just 224. He did however make up for that in the power department leading the team in homers (9) and RBI's (60) while stealing 16 bases. Keep in mind he is just 20 years old and still fresh out of high school.
While being compared to Andrew Benintendi out of high school, injuries allowed him to fall back to 77, which the Cubs couldn't pass him up at that point. As he continues to round out and develop, the tools are there for him to hit in the .280-.290 range and consistently give you 20-25 homers. He has a quick swing that produces excellent exit velocity, but he still needs to adopt a more thorough approach. Roederer has gotten too pull happy, especially over the past season, and needs just to let his power do the work for him.
#4 Miguel Amaya (C Tennessee): Formally the Cubs top positional prospect in the system, Amaya has fallen back to No. 4 while now being just the top C and third-ranked position player in the system. That is not because he hasn't been good, but instead because the Cubs have couple of legit stars we will be getting to shortly. Amaya's name is one Cubs fans have been hearing for a while now especially since signing with them in 2015 as a free agent at just the age of 16. Now at 21, Amaya is hoping to start rounding into the catcher the Cubs expect him to be.
While his offense and defense continue to be a work in progress, Amaya has made great strides for the defensive part of his game while his offense has remained consistent. His catch receiving skills need work, but his pitch framing, blocking, and strong-arm behind the dish are miles ahead of where most are at this stage in their career. He threw out a career-high 35% of runners last season.
Offensively, Amaya continues to go through growing pains but expect him to be an all-around contributor when he puts it together. While I am not as sold on him as others are offensively at this point, I have been impressed with his ability to control the strike zone and his excellent eye at such a young age. Now with more than 300 games under his belt, Amaya has yet to hit above .256 and has a career average of .243 with 27 homers.
Last season his average dipped from .256 in South Bend in 2018 to .235 for Myrtle Beach, but that is to be expected when your one of the youngest players in that league. His 11 homers and 57 RBIs led the Pelicans as he continues to prove he can be a run-producing threat.
This year will be a massive step for Amaya as he now heads to AA Tennessee to play in the Southern League. If you ask most minor leaguers, they will tell you the Southern League is the toughest league to play in. Should he get through this season and post similar numbers to last year, I firmly believe that he will be on the Cubs sometime in 2021 or to open the 2022 season.
#3 Brennan Davis (OF South Bend): No positional prospect is gaining more steam than that of OF Brennan Davis. The former two-sport high school star and 2018 second-round pick spent last season in South Bend as Myrtle Beach should be his destination next. Coming into the draft, teams were trying to figure Davis out as he was an athlete, but never really had a set position. Well, it appears corner outfielder is his true calling, and the Cubs got a steal in him.
At 6-4, Davis is huge, but at just 175 lbs., he certainly needs to fill his frame out a little bit. As a player with 30-30 potential, Davis has the most significant upside among any of the Cubs position players, and he is not even 21 years of age yet. He has already started to show that power by tightening up his stances in the box to drive the ball the opposite way with more authority.
Although skinny, his bat speed and tall frame give him above-average pop now while the strength will come later. Davis has also used his above-average to good speed to his advantage but must take better routes on the ball in the OF. Much like Roederer, Davis crushed the ball in the AZL league as a rookie earning a full-time gig in South Bend this season.
While the .305 average was impressive, his eight homers and 30 RBIs are even more impressive as hand injuries limited him to just 50 games. Had he been fully healthy last season, there is no telling what he was going to do at the plate, which comes as no surprise hearing his name in trade talks last season. Davis is the one OF the Cubs have in the system that can play all three positions, and they would be foolish to let him go for anything less than a Christian Yelich or Mike Trout package.
#2 Brailyn Marquez (LHP Myrtle Beach): The fastest rising prospect and my favorite prospect in the Cubs system is that of flame-throwing lefty Brailyn Marquez. In case you have lived under a rock the past season, the 21-year-old 2015 international signee is making waves through the Cubs minor League system and opened scouts' eyes with his 101 MPH heater during all-star weekend last year. Keep in mind he is just 21, so there is no telling what is left in his arm.
Standing 6-4 and 185 pounds, Marquez is an imposing figure on the mound that generates plenty of power from his arm slot. A player who was throwing in the low 90's at age 16 has gotten even better as he has gotten stronger and changed his pitch mechanics the past few seasons. Last year, Marquez consistently clocked in the 97-98 range with his heater but had no issues hitting triple digits maxing out at 102 MPH. Add in his 91 MPH change that still needs some work and an 89 MPH slider, and he can make life miserable for any hitter.
While the Cubs have him as a starter right now, his low ¾ arm slot makes it difficult for him to find a consistent release, which may lead to injuries later. Ideally, if I am the Cubs, I look to transition him from the starting role to the pen this season as they could use him as their version of Josh Hader.
In 55 career starts, Marquez has pitched solid, going 16-12 with a 3.19 ERA. That was aided by his 9-5 season a year ago in which Marquez had a 3.13 ERA, including a 1.71 ERA in five games with Myrtle Beach. While his command was an issue early, his 0BB 14K performance in his final start for South Bend seemed to have turned the corner as he was dominant ever since. Let's see if he remains a starter long term.
#1 Nico Hoerner (SS/2B Iowa/Chicago): Nico Hoerner is the Cubs top prospect and rightfully so as the middle infielder made it to the show last year. A first-round pick for the Cubs out of Stanford in 2018, Hoerner was a surprise face on the MLB roster last year, but now finds himself in a battle for the starting second base job out of camp.
While the tools are there to be a great top of the order or even leadoff hitter, the experience is not as he has only played in 89 career minor league games across two seasons as injuries have cut both his seasons short. Still, Hoerner has been impressive as he has hit a 297 across the minor leagues with five homers and 28 RBI's.
Injuries did benefit Hoerner last season, however, as injuries to both Javy Baez and Addison Russell paved the way for a September callup once Dixon Machado went down in AAA. During his brief 20 game stint for the Cubs, Hoerner continued to show he was great hitter batting a 282 while his aggressiveness and eye at that plate was way worse than he would have liked. Hoerner also showed surprising pop as well, hitting three homers and driving in 17.
Now with a full spring training with the Cubs, Hoerner is approaching this offseason as if he will be the teams starting second basemen. While nearly every fan you speak to certainly wants and expects that to happen, keep in mind the kid has just 109 total games of baseball experience under his belt, so he does still need some seasoning. That alone has me feeling like he will be ticketed to Iowa for at least one month or so just to make sure he is fully ready.
Whatever the Cubs decide with Hoerner, he will be one of the few Cubs prospects on the MLB roster this season and has the potential to be a fixture for the next decade. Not only that, should he continue to show his patient approach as he did in the minors, but Hoerner also has leadoff hitter written all over him, which is something the Cubs would love to have.