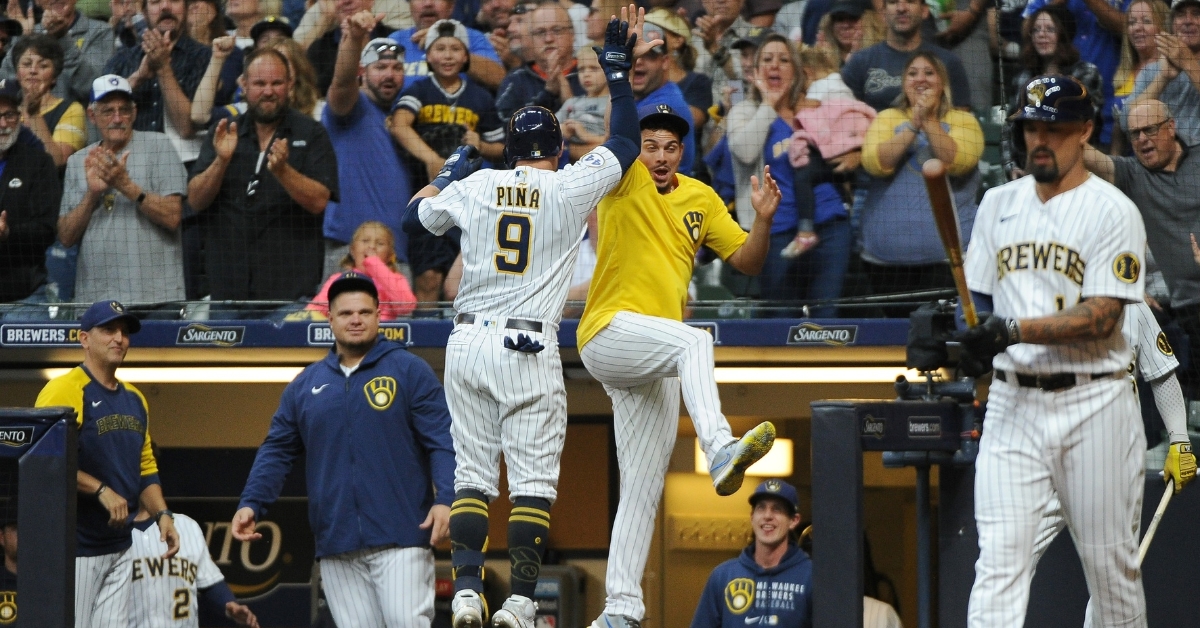 | | |
| --- | --- |
| Brewers rally late against Cubs to clinch postseason berth | |
---
| | | |
| --- | --- | --- |
| Sunday, September 19, 2021, 11:21 AM | | |
MILWAUKEE – The Chicago Cubs (66-83) simply can't buy a win against the Milwaukee Brewers (91-57) as they have now lost 11-straight games against their rivals to the north and are just 3-15 against them this season. Those results are putrid at best, but it hasn't come without trying, as the Cubs gave the Brewers another great battle last night.
Against one of the top pitchers in the game in Corbin Burnes, the Cubs were finally able to string some runs together off him despite him striking out 11 hitters in six innings of work. He did walk three and allowed six hits as he wasn't at his best, and the Cubs capitalized on the rare chances he gave them. Unfortunately for the Cubs, they had a trio of pitchers playing deuces wild with Justin Steele, Adbert Alzolay, and Scott Effross, each allowing a pair of runs in the Cubs' 6-4 loss.
Steele continues to struggle in the rotation as he can't seem to put hitters away. After dominating at times in the pen, Steele has averaged around 20 pitches per inning as a starter as his lack of command and inability to put hitters away has hurt him. The home run ball has also been an issue for him, and that was the case yesterday as he allowed a Manny Pina homer in the second inning that saw the Brewers take a 1-0 lead.
It didn't take long for the Cubs to rally in the second, and that all started with a leadoff single from Steele followed by the Rafael Ortega single, putting two men on with no outs. Two batters later, Ian Happ came through with an infield hit, loading the bases for Willson Contreras. After Lorenzo Cain robbed him of a potential homer in the first, Contreras stepped in looking for a huge hit only to have Luis Urias rob him of a single with a diving stop up the middle. Contreras did at least drive in a run on the fielder's choice as the Cubs pulled even 1-1.
That lead didn't last long as the Brewers went back to playing long ball off Steele with Eduardo Escobar getting into an off-speed pitch and depositing it over the left-field fence for the 2-1 lead. Looking to strike back in the fifth, Frank Schwindel extended the Cubs inning with a two-out single bringing one of their hottest hitters in Happ up to the plate. At this point, big hits are a given for him, and Saturday was no different as Happ took Burnes deep to straightaway center for the two-run shot giving the Cubs their first and only lead of the game 3-2.
Ever since moving to the bullpen to have his innings monitored, Alzolay has been impressive, but was not at his best on Saturday. After allowing a Christian Yelich double just two batters into his inning, the Brewers were back on the board, with Urias cashing through with an RBI single to make things 3-3. One inning later saw a rare Jace Peterson homer, and once again, the Cubs were trailing Milwaukee 4-3 as the Brewers bullpen was about to take center stage.
Craig Counsell has had a recipe for success when it comes to the bullpen, and that all starts with Brad Boxberger and finishes with Josh Hader. With Boxberger called on to pitch the seventh, Contreras made sure the Cubs wouldn't go away quietly as he barreled up another pitch and crushed it 446 feet to dead center, pulling the Cubs even again 4-4.
Looking to keep pace and potentially send the game to extras, David Ross called on Effross to pitch the eighth as he has now strung several strong outings together. However, this was not one of those nights as Pina unloaded for his second homer of the game a few pitches into his sequence, giving the Brewers a 5-4 lead. They went on to add another run off the Kolton Wong infield single sending the game to the ninth up 6-4. With Hader on the mound to close things out, the Cubs made things interesting by putting a pair of runners on base, but as usual, they couldn't come away with the crucial hit and fell 6-4.
RISP
One of the Cubs biggest issues as a team the last several years has been hitting with RISP as they have ranked 25th or worst each year since 2018. Although things have gotten a little better in that department with some of the new guys running the show, it continues to be an issue and one that has come full circle when facing this Brewers team.
When you have a 3-15 record against a division rival, there are many things to point to as part of the problem. You immediately look at the ERA, where the Cubs have a 7.00 ERA, and the Brewers sit at 3.00. Milwaukee is also averaging 8.92 runs per game against the Cubs, while Chicago has countered with 3.14.
Home runs have also been massive for the Brewers as they have outhomered the Cubs 20-8 so far this season, and history shows us that when you out homer your opponent, you tend to win a lot of games. Perhaps the most telling story about their season series is batting with RISP, where the Cubs hit just .143 compared to .380 for the Brewers.
A .143 average with RISP isn't going to win you games, but hitting a .380 is flat-out nuts. That means that even if the Brewers hit less than .230 as a team, chances are they will have multiple hits during the game with runners on base, and sometimes that is the difference. They are a clutch-hitting team and continue to show why they are one of the best teams in the MLB.
Matt Duffy and his September
While most of the talk within the organization has surrounded Schwindel and Happ the past month, one player has been lost in the shuffle. That would be Duffy, who has taken over the everyday second base job for a struggling David Bote. A big reason for that has been his bat-to-ball approach and an impressive September where he is hitting close to .300 for the month.
There has also been a considerable uptick in his power-hitting four homers in September compared to just one homer the previous five months. Duffy has always been one of those bench-type players that teams love to have on their team, but he has also been a reliable starter when given a chance.
He finished second in rookie of the year voting to Kris Bryant in 2015 and hasn't reached that same level again. The way he has played down the stretch reminds a lot of teams what he can do, and that alone could land him back with this team next season for a similar role.
What is wrong with Yelich?
Not that long ago, Yelich was coming off one of the most impressive September runs in MLB history en route to the 2018 MVP. One year later, he was playing at an even better level and was one of the best if not the best player in baseball for two seasons until he fouled a ball off his kneecap in September 2019.
Since that time, Yelich has been a shell of what he was when he first arrived in Milwaukee, as both his average and power have taken a drastic hit the past two seasons. Injuries have been a big reason for that, but when you look at the numbers he put up in Miami before coming to Milwaukee, you had to think a decline was coming.
No one expected Yelich to be the .330 hitter with 40 homers and 100 plus RBIs the rest of his career despite looking like someone who could do that. That doesn't mean he was a bad player, to begin with. Before his arrival with the Brewers, Yelich hit a .291 with the Marlins while averaging 23 homers and 22 steals.
Those are good numbers, but not great, and Yelich benefitted from the American Family Insurance Park effect in a big way. For whatever reason, he hasn't been able to get back to form, and yet the Brewers are still winning and winning more than ever. That is what is scary when you think of this team right now.
Not only do they have three elite pitchers and have the best pitching staff in the National League, but if Yelich starts to hit the way he is capable of, this lineup becomes that much more lethal. As good as this team has been all season, Yelich is the key ingredient for them in the postseason, and they could win it all if he heats up.